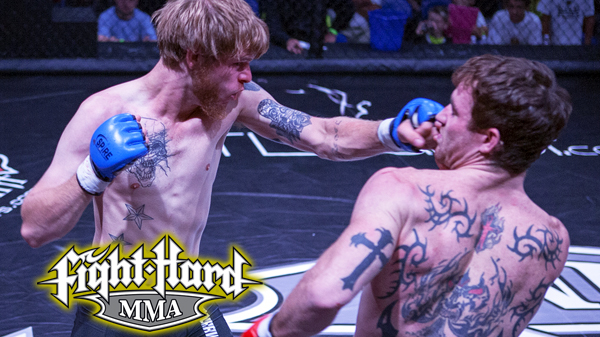 Fight Hard: Newman vs Lukowsky - Event Recap
It was classic Damian Newman. Bloodied, bruised, victorious.

Newman got the tap on top-ranked Spire bantamweight Ira Lukowsky in the third round of Saturday's main event of Fight Hard amateur bantamweight championship fight.

Newman and Lukowsky came out throwing heat and neither took their foot of the pedal until there was a definite victor.

Lukowsky's vaunted boxing skills lived up to their billing.

In the first round, he continued to pop Newman's bushy, red-haired head back and landed an effective and strong jab. He bloodied Newman's nose midway through the first round before landing three power shots that Newman somehow absorbed, shook off and eventually worked a takedown. In a near "Rocky" moment, Newman came back strong to close the first round and had Lukowsky in legitimate trouble. Both fighters ended the round bloodied and battered.

Round two saw a more fluid Newman as he was able to better gauge distance. Lukowsky got docked a point for holding onto the fence and then spent the better part of the round cinched in Newman's body triangle. Newman worked an armbar late in the second round and it nearly cost him the fight as Lukowsky rained down several punches to close it out.

The third saw Lukowsky get Newman to the floor but Newman kept it active on the bottom, peppering with punches. Newman made an arm bar attempt and then eventually pulled down the triangle to get the submission in a fight that vaulted to the top of the best amateur fights of this or any year.

For interviews with Newman and others be sure to check the site tomorrow.

In the night's co-main event, Montuelle Prater out of Cahokia MMA chopped away at Jeremiah Curtright to get the eventual victory in the third round.

Prater and Curtright had some fiery exchanges in the first round but in the second, Prater began a barrage of leg kicks to Curtright's left thigh that eventually pushed him to the breaking point.

Academy of Courage's Curtright showcased a mountain of heart as he pulled himself to his feet multiple times. But the viciousness behind the Prater leg kicks forced him to submit.

It was a top night for women's MMA.

Michelle Pearce made a point of smothering Molly Welsh. Pearce, out of the Academy of Courage, powered through and ground and pounded her way to first round TKO victory.

Levi Rose and Sheldon Smith had just finished the best round of action on the night when an injured thumb left Rose unable to continue.

Susie Wyatt from Finney's MMA earned the roar of the crowd with her slick armbar victory over Liz Turpin. The 48-year-old 'Mama Beast' needed just a few seconds to secure the win.

Stephanie Alba's distinct advantage on the ground led to her unanimous decision victory over
Katelyne Radtka. Alba was suffocating and unrelenting in picking up the win.

Kain Royer's dominated Randy Porter and eventually earned a first-round submission win.

Hannah McVitt picked up her second win of the summer. McVitt's superior grappling led to a TKO victory in the first round over Katy Hahler.

Matt Murphy continued his string of solid showings with a first round rear naked choke of Kory Johnston.

Fight Hard returns to the Family Arena on October 5th.