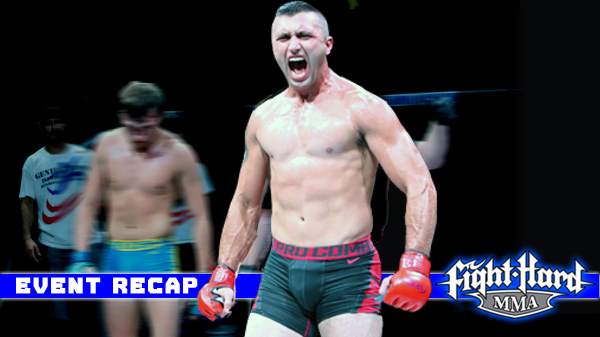 Fight Hard: Roper vs Powers - Recap
With a Unified Midwest Middleweight strap on the line, Wes Powers and Kevin Roper took it to a razor-thin finish.

Fight Hard MMA returned to the Family Arena on Saturday with Powers and Roper in the main event for the cross-promotion amateur championship that includes MMA Sport Federation.

The two Illinoisans grappled and grinded their way through three, four-minute rounds with Powers coming away with the 29-28, 28-29, 29-28 split decision victory.

For interviews with Powers and other winners from Saturday's event, check back on Monday at knucklejunkies.com.

Roper caught a Powers' kick and followed with a stout punch to the face and took it to the ground early in round one. Powers attempted an armbar and following the ensuing scramble, Powers ended up in mount and was heavy on top. Roper was in survival mode but Powers did sneak through some ground and pound before eventually taking Roper's back to end the round

The second saw the action favor Roper's grinder style but in the third Powers went back to his strength, controlling Roper on the floor. He worked his way to mount where he delivered some effective ground and pound.

In the co-main event, Levi Rose had Cristian Santana hurting on his feet, especially after landing a big knee to the midsection, but when Rose went in for a takedown, Santana snared the Indiana product into a guileteone. Santana put on the squeeze and Rose eventually went completely out as Santana got the first round victory

Travis Draper added another feather to his decorated cap.

Draper, out of St. Charles MMA, was all over Montuelle Prater early and often. Draper had Prater's back in the first round and was in the same position in the second when Draper was able to pound out a TKO win at 1:31 in the second.

In the fight of the night, Charles Johnson won a 29-28 unanimous decision victory over a game Matthew Nall. While Nall was effective and at times winning on the ground, Johnson, another SCMMA product, was able to land some devastating ground and pound and had superior boxing.

Nall surprised the pundits and maybe even Johnson in the first round. He pulled Johnson down and pressed him against the cage, using a distinct strength advantage. But Johnson, a former cross country and track & field standout at SEMO, shook free..

Johnson started to loosen up in the second and was pulling away before Nall once again threatened on the ground, taking Johnson's back. Johnson foreshadowed bringing down two powerful shots while standing over Nall. CJ was sharp from the jump to start the third, dotting Nall with crisp punches. Nall landed two upkicks in the round, one of which doing more damage than he thought.

Now with the demands and the commitment needed to be a college athlete behind him, Johnson has had a focused summer on improving and adding arrows to his quill.

"I've been in the gym almost five days out of the week," Johnson said. "I'm really working on my ground game. I like my stand up but I see a lot of improvement. We have a lot of people (at SCMMA) to learn from so I'm trying to grasp jiu-jitsu and soak the whole thing up."

When a young fighter is ripe with potential and riding a wave of enthusiasm, fight career decisions can be hasty and passionate. But Johnson is in no rush to make the jump to the pro ranks. He knows that time will come and when it is good and ready.

"I really don't feel that I'm at that level yet," Johnson said. "When I look at myself I look at myself compared to the best in the UFC. If I don't feel like I'm on that level then I know I have other areas to work on."

Two womens bouts were featured prominently on the night.

Sullivan's Ronni Lawrence was silky smooth on the ground as she garnered a submission win in the first round over Brittany Young.

Michelle Pearce looked as good as she ever has in winning a unanimous decision over Shawna Tyler. Pearce showcased a handful of nice trips and dominated while on top.

Pearce and Lawrence will now meet in October for the first-ever Fight Hard MMA women's 125-pound championship.

At lightweight, Fred Freeman, out of Modern Combat Systems, put together a memorable performance, winning by rear naked choke in the first round over Aushton Dickerson, who took the fight on short notice.

St. Charles MMA's Ben Huskic won via triangle just 54 seconds into the second round over Astin Broom.

Jason Huncovsky, out of Finney's MMA/Hit Squad, landed a short, but powerful left, that floored Mario Hudgins and resulted in a first round TKO win in their light heavyweight bout.

Brandon Pearson won with a second round armbar over Demetrius Cannon.

David Tejeda got the evening off on an bitter note. After the horn sounded to end the round round of his bout with Montrel James, the two jawed back and forth before Tejada eventually bumped James. As the two fighters were separated and more posturing followed, referee Josh Stewart called for a disqualification of Tejeda for unsportsmanlike conduct. Once Tejada was removed from the cage he came charging back in before running out to the back of the Family Arena.

Fight Hard MMA returns in October with a female-heavy card for National Breast Cancer Awareness month.

Photo courtesy of Sara Levin Photography.