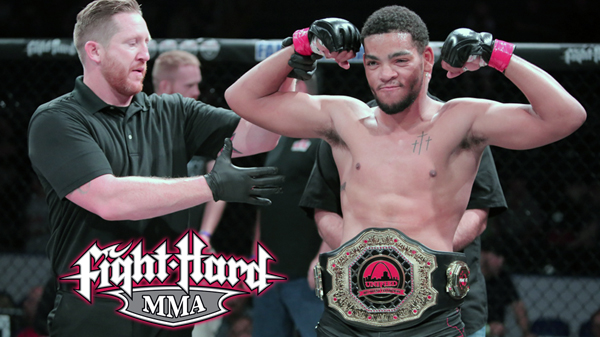 Fight Hard: Tamayo vs Clay - Recap
Two unified amateur title bouts headlined Fight Hard's return to the Family Arena on Saturday.

By the time the popcorn and empty cups were swept up and the large crowd spilled out into the parking lot, Lucas Clay and Dusty Chandler were your new lightweight and heavyweight champions.

Clay faced upstart Sam Tamayo in the main event. Tamayo, out of Granite City's CMMA, is a standout wrestler who got the title-shot opportunity when Clay's original opponent, Zack Davis, unceremoniously withdrew from the card a week earlier setting up a match-up between two fighters with bright futures.

Tamayo tagged Clay early in the round but the St. Charles MMA product was able to recover, clinch Tamayo up and push him against the cage.

"When he hit me with that first punch and I took it, I knew he couldn't hit me with anything better," Clay said. "He put everything into it."

Tamayo, who was fighting in just his fourth fight, was able to change positions on the cage. Once Clay had a little separation, the crafty striker landed a spinning back fist that wobbled Tamayo. Tamayo then shot in for a takedown and Clay timed it perfect, sinking in a choke he learned just this week and earned the first round submission victory.

"It worked exactly how we trained it," Clay said. "We knew he was going to pressure me into the cage, I just pushed him off and created that space. I knew I was going to hit (the backfist) and I knew right after he was going to try to shoot in on me. He was going to come right back with something."

The finishing choke Clay picked up just days before from teammate and Fight Hard MMA professional lightweight champion Zach Freeman.

"That was Zach Freeman's guillotine," Clay said. "You just lock it in, figure four, and lean back until the head pops off or he taps."

At just 19-years-old, Clay is the promotions top 177er and is now 7-1.

It was the double the fun for Chandler.

Chandler, out of the Academy of Courage, avenged an earlier loss in his career and earned the Fight Hard unified heavyweight title when he tapped Max McNeely in the third round.

"In the first fight we stood up and traded a little bit more," Chandler said. "We're 1-1 and I know there is a rubber match coming and I look forward to that competition."

McNeely had a sound start to the fight, snaring an early takedown and transitioning to side control. McNeely worked a kimura before Chandler was able to spin free and closed out the round in McNealy's half guard. With blood trickling from his nose, Chandler came alive in the second round. He drug McNeely down to the floor near the half-way mark, passed guard and eventually got mount. Chandler dropped punches down but McNeely was able to slow it down so that damage was minimal.

"I didn't let my hands go like I wanted to but I was able to pretty much take him down at will and control him once we got there," Chandler said. "He went for some good submissions but I defend and grinded out a three-round fight on him."

In the third, a mid-round scramble resulted in the fight getting back to the ground where Chandler was able to clinch the win.

"I'm happy with some aspects of my game," Shelton said. "He kinda of came in saying how great his submissions were and I didn't think he could take me down and he got me down once in the first round. I wanted to show my dominance on the ground and show that I can roll with the best of them."

Chandler is now the third Academy of Courage fighter to win a Fight Hard title.

"It means a lot to bring this belt back," Chandler said. "We brought back a couple of belts this year and I wanted to put the icing on the cake and bring back another one. We'll put it up on the wall next to Mighty Michelle Pearce's, and Justin William's belt and we'll get back on the grind and get ready for the next one."

Miguel Lisboa once again dominated on the Fight Hard stage. Lisboa, out of Pedigo Submission Fighting in Mount Vernon, IL, won for the fifth straight time at Fight Hard with each victory coming in less than one minute.

Lisboa manhandled Aushkton Midkiff, getting him to the ground with ease and finishing the fight with a rear naked choke.

"I feel like I should get a (lightweight) title shot," the 22-year-old Lisboa said.

Lisboa improved to 6-1. When he turned 17 he moved to Illinois from Puerto Rico.

"My grandmother moved us here for better schooling and opportunity," Lisboa said. "Everything is much better here. Stuff in Puerto Rico ... it isn't so good."

He has been at Pedigo's, a school that is blazing a trail with its stable of young, high-level grapplers and rising amateur fighters, for four years.

"I used to do a little bit of boxing in Puerto Rico so a friend told me to come try this out," he said. "I went with him, liked it, and stuck with it. We have a lot of great things going on at our gym. We're all around the same age and we all love to train."

Montuelle Prater got a call Friday night to fight Luis Pena and that was just too short of notice to face the rangy striker even for a veteran of the fight scene that Prater is.

After Prater got an early takedown, Pena got the fight back to the feet and went to work. Pena, a new addition to St. Charles MMA from Arkansas, mixed up his punches and kicks and used his distinct range advantage. Prater never could solve the range puzzle, swinging wildly and never really connecting. Pena kept Prater pinned against the cage until the end of the first round.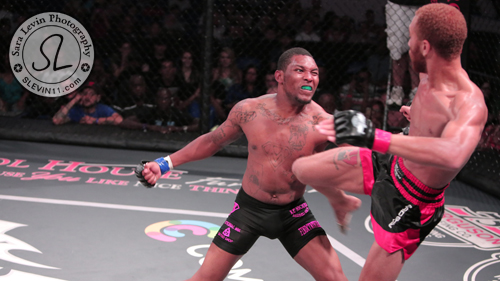 Pena boxed away at Prater to start the second round and eventually took his back where he got the submission via rear naked choke in the second round.

"I this point in my career I feel very comfortable on my feet," Pena said. "I feel I could stand with just about anybody right now."

The 22-year-old Pena's road to his Fight Hard debut is an interesting tale.

He was a state champion wrestler and wrestled for a year at Arkansas Baptist College. His coach in Arkansas is a friend and former collegiate wrestling teammate of St. Charles MMA's coach Mike Rogers. He was sent to St. Charles to get some training in and what was originally going to be a two-week camp turned into Pena staying put.

You've heard stories of fighters literally living in the gym, well Pena is one of them. He's taken up residence there 24-7, night and day.

"It's awesome but at times its not," he said. "I'm not gonna lie. At times it gets annoying. There is almost always someone there. I don't have like my own space. But at the end of the day, for someone like me who lives, eats, and breathes this sport, being able to wake up any hour of the day and go train is amazing. I came up here thinking that I was only going to be here a couple of weeks and the Mike's like, you're staying. So I stayed and will continue to do so until Mike kicks me out."

Saturday was Pena's 11th amateur fight.

"I've had people tell me I should go pro and I've had people tell me I shouldn't go pro," he said. "It doesn't matter to me. I want to stay as active as possible. I'll take another one tomorrow if need be."

Aaron Kuhl showed plenty of toughness in his MMA debut against Ed Williams.

Williams, a BJJ brown belt, landed an early slam and slid to side control. Kuhl defended well and was able to escape the round. In the second, Williams landed three big rights and eventually took Kuhl's back. Williams again got the fight to the floor and 'The Predator' eventually earned the kimura submission late in the third round.

In other action, Eric Ellington earned a decision victory and Cort Romeus swarmed Johnny Cox from the moment the bell rang and got a 35 second first round TKO victory.

An emotional Jordan Collins earned is first Fight Hard win with a unanimous decision over Gonzalo Ponce. Collins said afterward that Saturday was his 51st fight of his career.

Gladiator MMA's Joe Taylor landed a heavy knee to the midsection off a scramble to earn a first round TKO win over Joe Taylor.

Jake Wilyard jumped on an early guillotine in his bout with Kenny Murray. Wilyard held on to the choke for nearly half of the first round before getting the eventual submission victory.

Alejandro Wajner, another SCMMA product, put together an impressive debut, scoring a first round TKO over Floyd Shahan.

Fight Hard partners up with Gladiator MMA in October to bring professional MMA back to the Family Arena. Find out more information in the weeks to come.

Photos courtesy of Sara Levin Photography.