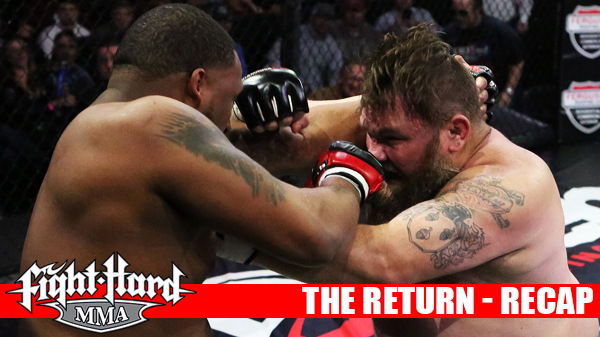 Fight Hard: The Return - Recap
Fight Hard MMA weathered a card that had been flipped flopped like a Sunday morning pancake.

On a night hailed as its return and two years removed since its last night of MMA, Fight Hard set up shop Saturday night at the Chaifetz Arena. Saturday's card not only lost original main eventer Charles Johnson on fight week but also Lucas Clay vs Cody Carrillo, the promotional debut of Charles (Crazy Horse aka Felony) Bennett never materialized, and Johnson's original opponent, Demetrius Wilson was forced off the card due to lack of blood work despite finding a replacement opponent earlier in the week.

Stepping into the main event slot was Bo Kunz. Kunz, a popular St. Louis area fighter back in his amateur and early pro days, shared a spot on the card with his son, Austin Cornell, who was on the undercard.

In Saturday's super-heavyweight bout, the 305-pound Kunz met 267-pounds of Jordan Mitchell from Indiana.

Mitchell was successful with some kicks early in the first round as Kunz was loading up for one big shot and couldn't find it. Quickly, it got into a slug-out mode with Mitchell getting the better of the exchanges. Sensing danger, Kunz got a takedown and pinned Mitchell against the fence.

Kunz looked to be in a position to finish the fight but the tides quickly changed as Mitchell got back to his feet, scored takedown of his own and pounded away to get a TKO with 45 seconds left in the first round. Mitchell improved to 5-11 while Kunz fell to 3-6.

In the evening's co-main event, Elmar Umarov representing St. Charles MMA submitted Carl Jefferson via guillotine choke at 2:51 in the third round.

Umarov made sure Jefferson had little room to work the entire fight.

In the second round, Umarov looked like he had a triangle or a arm bar locked and secured but Jefferson managed his way free. Umarov then chased a head and arm submission that Jefferson again successfully defended. The pace slowed for the remainder of the round with the referee standing things up at the 24-second mark. In the first, Umarov pressed Jefferson against the cage and eventually landed a nice trip. Umarov stayed tight for the entire five minutes. He mixed in some ground and pound while Jefferson was content to defend and trap from the bottom.

Mark "Sharky" Slyter utilized a heavy top game the neuter Antwaun Mosely. Slyter earned three takedowns in the opening five minutes and made it to mount in the waning moments of the first where he landed a few more exclamations. Mosely touched up Slyter in the second round but once again the wrestling prevailed. Slyter stayed dominant until sinking in the rear naked choke and getting the tap at 4:21 in the second round and improving to 5-2.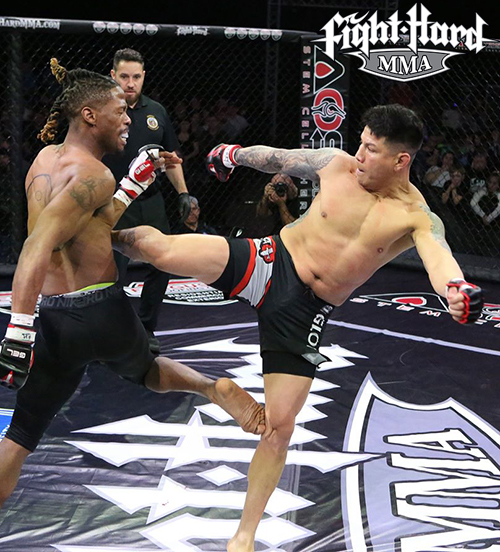 Kevin Brown's wild and unorthodox style led to instant offense in his bout against Gaston Marabotto. Brown, the self-trained welterweight out of St. Louis, failed attempt at an armbar landed him in harm's way as Marabotto chased a submission. But upon the stand up, Brown unloaded with successive right hands to KO Marabotto at 3:12 in the first round.

In the featured bout of the all-amateur undercard, Jamese Taylor won a one-sided affair over TJ McDermott.

In a striking-heavy contest, Taylor came out strong from the jump, landing leg kicks and keeping McDermott at range. Taylor, who is not known for his ground game, got to mount after a scramble towards the end of the first.

Early in the second round, Taylor started finding a home for his punches and he scored a nice trip takedown late in the round following some clinch work on the cage.

McDermott showed grit but Taylor kept putting on the offense in the third round en route to a 30-27 unanimous decision

Austin Cornell's superior wrestling led to a unanimous win over Richard Jones. Cornell's highest offensive output came in the first round. Cornell scored a quick takedown and after an oddball scramble ended up in a dominant position, landing shots from the back. Cornell improved to 3-0 as he put together back-to-back rounds of suffocating wrestling. Jones showed admirable defense throughout the contest but could never keep himself out of danger.

The night started with two amateur K1 bouts. Sebastian Grant showed plenty of panache in a three-round unanimous decision win over Brian Heathcock. Luis Mangil peppered Jason Newman with leg kicks and earned a TKO win in the first round.

See Bob Barton's full gallery here.