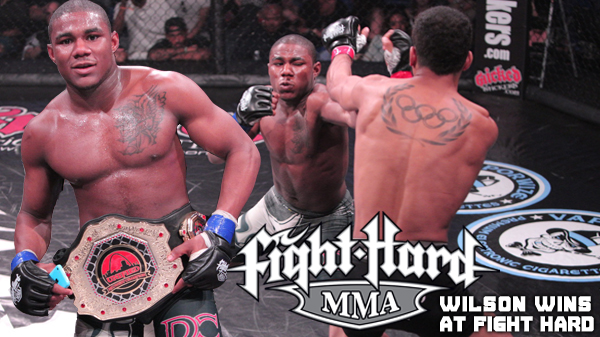 Fight Hard: Wilson vs Johnson - Recap
On a night when much of the talk was of a proposed upcoming Fight Hard reality show, two young amateurs had their dreams realized in the form of championship gold.

In a match-up of two of the best young flyweight talents in the Midwest, Demetrius Wilson, a Fort Zumwalt North grad, returned from his adopted home in Emporia, KS to defeat the local favorite Charles Johnson and become the new Unified Midwest Flyweight Champ.

The match started with both fighters moving well and trading leg kicks trying to slow down their opponent. Both fighters landed choices cuts with Johnson showing damage on the back of his thigh.

Wilson's game plan looked to be to try and ground the speedy Johnson, but Johnson remained elusive for most of the first round until the remaining seconds, when an uppercut from Wilson had his opponent on wobbly legs.

In the second, Johnson dodged multiple takedowns from Wilson before one stuck and the powerful wrestler from Kansas spiked Johnson on his head. Johnson remained calm and was able to immediately escape from a bad position. Late in the round Johnson scored his own takedown but Wilson ended up on top, taking the back of Johnson before the bell sounded.

In the final round, the much quicker Johnson continued to stay out of danger. A clench near the cage saw Johnson receive a low blow, halting the action for several minutes. Once action resumed a nasty Wilson leg kick hurt Johnson who immediately switched stances. Johnson hit a beautiful hip throw but landed in the guard of Wilson who locked on a guillotine mere seconds before the round ended.

When the scorecards came back Wilson was victorious 30-27, 30-27, and 29-28 to take home a unanimous decision and the new flyweight title.

In the evening's other title fight, Lithuanian monster Julius Anglickas, in only his second MMA fight, made short work of a much more experienced David Nowland to take home the Unified Midwest title.

The 23-year old Anglickas, who recently won the local Golden Gloves tournament engaged immediately throwing combinations to the head and body. A vicious hook sent Nowland to the canvas, one punch from the top was all Josh Stewart needed to see to wave off the fight, crowning Anglickas the new champion in just 24 seconds into the first.

"Coming into this fight I knew I had to trust what I had been doing," Anglickas said. "I knew this person had many more fights, looking at his video I knew he had a lot of holes, so I knew the records didn't mean anything, I knew if I executed, the victory would be mine."

Anglickas believes his fear of losing helps him stay sharp and ultimately helped him win the belt.

"The whole time I was thinking, 'Oh my God I'm going to lose this fight'," Anglickas said. "Me fighting scared the whole time helps me to fight smart, fight harder, and train harder. I think it's important that I stayed scared instead of becoming too confident, and that's when I think I would not perform at my best."

Anglickas, who hopes to one day teach athletics to the younger generations, understands the importance of being a good role model to a huge number of children that were in the crowd on Saturday.

"Everyone told me that after fighting here I wouldn't want to fight anywhere else and it's true." Anglickas said. "The crowd were very supportive. I signed a lot of signatures. I want to bring a good influence to the children. I signed so many autographs and took so many pictures with little kids, that I hope they see now every fighter is not a horrible person. That there are still good people."

The "Machine" chalked up another win at Fight Hard. Derek Clardy, out of Modern Combat systems, systematically dismantled Jeradon Brown for three rounds to take home a unanimous decision.

Clardy stayed out of trouble, and used his powerful punches to break down the guard of Brown. Clardy even surprised his coaches by nearly finishing the fight with an arbmar in the final moments of the fight. The judges were unanimous and Clardy took home the victory.

Clardy's teammate at MCS, KJ Jones, battled Tavae Lewis for three hard rounds with both fighters taking charge of the fight. The crowd was really into this fight and stayed engaged for all three rounds. In the end Jones takes home the narrow a decision victory.

Jiu-jitsu phenom Andrew Wiltse continued his experiment with MMA and scored his second victory. Wiltse, who continues to collect medals in national BJJ tournaments, often finds trouble finding opponents willing to fight him in the cage.

Wiltse found out Saturday afternoon, while assisting at a jiu-jitsu seminar for his coach Heath Pedigo that his opponent had bailed and the search for a new one had begun.

"I kind of wish I knew who I was going to fight, but I'm just glad he got me a fight," Wiltse said. "I didn't really cut any weight for this fight, but it's still a lot of pressure when you know you have to fight."

Wiltse immediately secured the takedown once the fight started, and once he took the mount, never stopped punching until the ref stopped the fight.

"I didn't want to get punched." Wiltse said. "Everyone said if you do MMA you're gonna get punched, now two MMA fights, no punches."

Wiltse and his brother traveled into town a week early to prepare for the fight a St. Charles MMA, literally sleeping on the mats at the gym each night. With his second MMA victory in hand, Wiltse can finally catch a good night's sleep.

"I'm going to sleep awesome tonight." Wiltse said.

Heavyweight prospect Max McNeely tested the waters in the competitive St. Louis scene and made quite a splash. McNeely, who primarily fought in the southern part of the state, showed off a versatile offense submitting local favorite Dusty Chandler.

McNeely and Chandler exchanged heavy leather before Chandler took the fight to the ground where McNeely was waiting, and finished with a kimura from inside Chandler's guard. McNeely improves to 7-2 and may be one of the best heavyweights in the state of Missouri with Nick Pohlmann turning pro last fall.

Jon Rosener from Watson Martial Arts picked up his first win in over a year with a submission victory over Brandon Runyon. Rosener picked up Runyon with a big slam and finished with a text book armbar that should made his coach Kyle Watson very proud.

Heavyweights Donny Hancock and Matthew Matteson came out slugging, with Hancock coming out on top, leaving his opponent a bloody mess.

Rising straweight prospect Kelly D'Angelo continues to impress. With UFC vets Steve Berger and Jake Hecht in her corner, D'Angelo made short work of Sheena Brandenburg, picking up a first round armbar submission.

"I kind of get bored with one thing, so I sort of move back and forth a lot." D'Angelo said. "I started with boxing, but we had a lot of wrestler in our gym, so I started messing around with them for an extra workout. After that I realized there were so much more than just boxing. You can train all different kinds of stuff in one day to get ready for a fight, and never get bored."

With only two fights under her belt, D'Angelo showed off a very polished ground game, with good stand-up, and impressive composure.

"I know in a stressful situation you can just take it in and digest it in a calmer manner. I trusted in my coach, and the guys I train with to let me know I was ready for the fight. I knew I would have to work hard for this because she has a lot of experience and I knew she'd bring her A-game tonight."

D'Angelo's teammate Jason Newman scored the first victory of the night with a victory over Jake Willyard due to submission by strikes. Newman and Willyard traded punches from inside and out of the clench, but it was Newman who landed more quality shots, and remained the last man standing.

Fight Hard returns June 13th to the Family Arena. Photos courtesy of Sara Levin Photography.