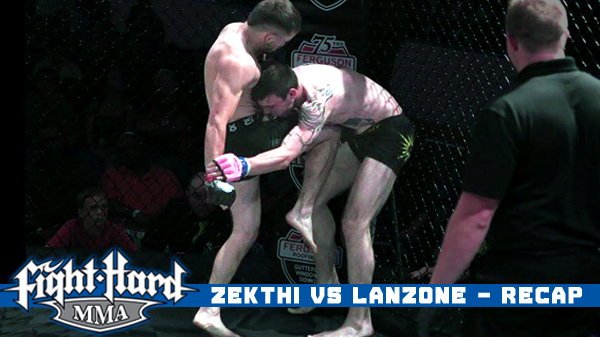 Fight Hard: Zekthi vs Lanzone - Recap
With heavy hearts, Fight Hard President Kenny Nowling kicked off the show with a touching tribute to the recently departed Levi Rose. Rose passed in a tragic automobile accident on Memorial Day, and was a fan favorite among many at the Family Arena.

Main Event participant, and Unified Midwest 135-pound champ Erion Zekthi had been on a year long break since winning his title. A match that saw the 22-year old Zekthi defeat the aforementioned Rose in a three round battle.

On Saturday, Zekthi was matched up with Trevor Lanzone in Lanzone's first trip to bantamweight, a challenge he sought out in order to face Zekthi.

Training out of KC's Glory MMA & Fitness, Lanzone who has strong ties to the area, walked into a hostile environment when Lanzone arrived to weigh-ins a couple pounds over.

In the first round Lanzone and Zekthi seemed to feel each other out with Lanzone's range seemingly keeping him out of danger, but it didn't take long for Zekthi to draw on his strengths and pull from his wrestling base taking Lanzone down and controlling most of the second half of round one.

In the second it was more Zekthi who threatened the takedown and landed a stiff shot that sent Lanzone to his back. An ill-timed upkick landed low on Zekthi who needed a few minutes to recover. This gave time for Lanzone to get his wits about him and he avoided any more trouble in the second.

The third was all Zekthi who continued to push the pace, sensing Lanzone starting to tire. Zekthi would again drop Lanzone, but was unable to get the TKO victory.

"I felt very slow, that first round," Zekthi said. "There was some ring rust, I didn't think there would be. As the fight went on, I got more and more confident, and the gap between me and him grew, and grew. "

Although starting slow, Zekthi kicked it into high gear towards the end of round one, and continued throughout the rest of the fight.

"I dropped him twice in that fight," Zekthi said. "One time he kind of like kicked me in the dick. The second time I can't remember if it was the second or third round, but I thought it was going to be over. I hit him hard with an uppercut and he dropped. He reached for the leg and did what he had to do to survive."

Zekthi improved to 8-0, and will take one more amateur fight in late summer before eyeing the pro ranks.

The scrappy strawweight Justin Williams from the Academy of Courage looked impressive as he improved to 10-2. Williams wasted no time getting his hands on Donte Butler, peppering him with strikes before he could get the fight to the ground where he latched onto the arm and did not let go until ref Josh Stewart pulled him off.

Williams becomes the first Unified Midwest Strawweight champ and the second champ for his team at the Academy of Courage joining Michelle Pearce.

Julius Anglickas continues his path of destruction. The soft-spoken Lithuanian faced arguably the toughest test of his young career in facing undefeated Seth Golay.

Golay seemed to come into the fight with the plan to out-wrestle Anglickas and avoid his heavy punches. This was not the case as Anglickas was able to stop the takedowns of Golay while landing heavy shots.

In the second Anglickas landed a brutal knee from the clench that sent Golay to the ground, where the fight was finished shortly after.

Anglickas improves to 5-0 retaining the 205 title in the process.

Brandon Karcher wow'd the crowds with an early candidate for submission of the year.

Karcher halfheartedly shot in on opponent Carl Jefferson, who held onto the back of the head of Karcher as he came up. Sensing the positioning, Karcher executed a textbook flying armbar that had his opponent screaming for the ref to stop the fight.

"We drill it in practice," Karcher said. "We're all so high level it's just not easy to pull off subs on your teammates. I have hit that a lot in gi and no-gi tournaments. I like to have fun, I like to go out there and take chances."

Fighting out out Pedigo Submission Fighting in Mount Vernon, Karcher trains with high level grapplers including recent IBJJF Blue Belt World Champ Andrew Wiltse. Karcher himself grabbed a silver medal at the IBJJF World Finals, one of the most prestigious jiu-jitsu tournaments in the world.

"I was kind of wondering how he was going to sprawl on my shots," Karcher said. "Obviously I wanted to get it to the ground. I knew he was going to be strong and hit hard. I decided to whiff on a shot, and when I came up he kind of held onto my head in a half-thai clench. I was able to just pinch down on the head and it came right to me. "

Karcher impressed many with the submission including promoter Kenny Nowling who demanded the production team replay the submission on the big screens in the arena.

Heavyweights Dusty Chandler and Joe Norris weren't shy in their match-up. Norris appeared to be getting the best of Chandler, holding him down and landing punches, but Chandler found another gear and reversed the tide to score a first round TKO

Miguel Lisboa joined his PFS teammate Brandon Karcher in the win column with another submissions victory. Lisboa is an exciting fighter to watch and can score armbars seemingly out of nowhere.

AOC's Dan Uhlenbrock was simply too much for Mariques White and scored a quick first round TKO from the mount.

Eric Williams and Joe Mueckenheim battled to a decision that left many in the crowd noticeably unhappy when Williams got the nod from the judges.

One of the early fights that energized the crowd was a fast paced sprint of a fight between LC Hamid and Hector Friely.

"When I go into a fight," Hamid said. "All I think about is plan a, plan b, and plan c, just kill him. Coming up to the fights I was preparing a lot, my team prepares me a lot. All the hard work is done in the gym, so when I come into the fights it's just bonus time."

Hamid improved his MMA record to 4-2 and is now 2-0 since switching up camps to St. Charles MMA.

"Once I moved to St. Charles, I've been getting a lot better on my ground," Hamid said. "I'm more kind of a striking guy, this is my second MMA fight with them and both wins have come by armbars. Before this I've never won a fight on the ground."

Hamid made no bones about it when he campaigned for a shot at the 125 title in his post-fight interview with Nowling in the cage.

"I want these guys to push me," Hamid said. "Every time I go up there I want a better opponent, a more skillful opponent. I am looking toward that flyweight title, I'd love to get that chance."

Ronell Mayes defeated Eloy Pluma when Pluma's eye swelled shut between rounds and the doctor wouldn't let Pluma from the gym at Seven Corner Road continue.

Josh Krejci and Delante Blanks kicked off the night in a fast pace fight that saw Blanks get the sub when Krejci shot in hard and didn't protect his neck.

Fight Hard returns on Saturday July 18th. Photo courtesy of Sara Levin Photography.