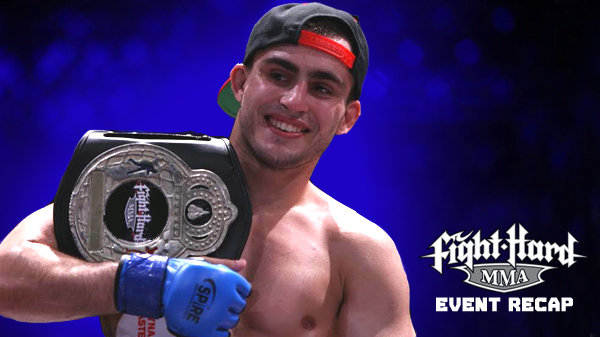 Fight Hard: Zekthi vs Rose - Recap
In front of the area's biggest crowd, one of the region's top, young prospects gained a whole lot of new fans, and a shiny new belt.

St. Charles MMA's Erion Zekthi was victorious in the main event on Saturday, fending off a strong challenge from Indiana's Levi Rose. Rose had difficulty stopping Zekthi's takedown and it would ultimately cost him the match.

The two bantamweights came out quick from the start each looking eager to exchange. After absorbing a few punches, Zekthi switched gears and launched a tenacious ground assault. Late in the first Rose latched onto Zekthi's arm from the bottom, but Zekthi was able to keep the pressure on his opponent and keep Rose from extending his hips for the submission.

The second round saw more of Zekthi in control, luring Rose into striking before hitting the takedown.

Zekthi highlighted the third round with a spinning wheel kick that just missed the target. He would eventually get mount, but was unable to get the stoppage and cruised to a unanimous decision.

With the victory Zekthi improves to 7-0 and becomes the Gateway to the Top Bantamweight Tournament winner. The tournament was a partnership between Fight Hard MMA and MMA Sports Federation to not only recognize each other's champions, but each held opening round matches for the tournament that was ultimately decided on Saturday.

Look for interviews with Zekthi and several of the other winners on Monday.

Susie Wyatt took on a girl 20 years younger but was unable to continue her streak of submission victories Wyatt made no bones about her gameplan looking to close the distance early and often seemingly trying to will Lawerence to the ground. Lawrenece showed good submission defense and stayed calm when in bad spots including a scary looking armbar in the first.

Midway through the second Wyatt developed a nasty looking mouse under her left eyes. Cutman Sid Gee was able to keep the swelling under control, but the bad looking eye no doubt paid a part in the judge's decision.

Ultimately, Lawerence proved to be too elusive and out maneuvered Wyatt for most of the fight. The elder grappler's only offense came in the form of submission attempts, but was unable to get one to stick.

Lawrence improves to 6-3 and has two victories under the Fight Hard banner.

The night was not without controversy. Gracie Humaita's AJ Siscoe was victorious in his match-up with Mark Chappell. After a brief scramble between the two bantamweights, the fight went to the ground, and Chappell locked on a kneebar. Siscoe tapped to the submission, but under Spire rules it was deemed illegal and Siscoe was immediately awarded the victory.

Montuelle Prater won his second straight after a bit of a rough stretch with a victory over Joseph Estrada. The two had a lengthy feeling out period, much to the dismay of the fans who began a chorus of boos. Once the action begin, it was non-stop until the finish in the second. Prater showed he had more than just a powerful right hand and picked up a rear naked choke victory, something one of his mentors, Chris Heatherly could be proud of.

After absorbing some nasty leg kicks, Rodell Thomas used a big slam to ground his opponent where would eventually get the TKO.

After over a year layoff due to a massive knee injury, Ian Butler returned and didn't waste anytime against Toby Gvillo. Butler landed a nasty knee from the clench to the stomach of Gvillo, sending him to the canvas, forcing referee Mike Green to stop the fight.

After losing the first round to LC Hamid rebounded in the second to snatch a nasty armbar in a wild fight with Donte Butler. Butler confused Hamid in the first by mixing up his takedowns, but Hamid stayed composed even when mounted, and hung onto take the come from behind victory.

Miquel Lisoba had the KO of the night against Dan Uhlenbrock. Lisboa from Pedigo Submission Fighting mounted Uhlenbrock and landed a brutal punch to knock out his opponent.

Josh Boyer from Berger's MMA was victorious by triangle, one minute and thirty one seconds into the first, and Steven Coleman won his amateur debut with a unanimous decision victory over Eloy Pluma in the nights opening contest

Fight Hard returns July 12th to the Family Arena.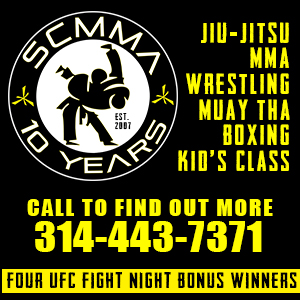 Nemesis Fighting Alliance
| Sat, August 17th
Casa Loma Ballroom, St. Louis, MO
KCFA
| Sat, August 24th
Independence Event Center, Independence, MO
Shamrock FC: 322
| Fri, September 6th
River City Casino, St. Louis, MO
Sub 5
| Sat, September 21st
TBA

Tweets about "KnuckleJunkies OR @knucklejunkies"