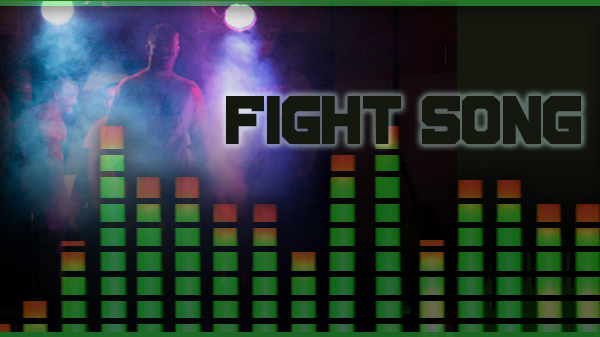 Fight Song
Walkout music is often the first impression the crowd gets of a fighter. It sets the tone and announced the arrival of the combatant and his team. The gambit of music runs from Country to Heavy Metal to Rap.

We have a running joke that you can't go to a local MMA show without hearing "Bad Company" or Roy Jones Jr's "Can't Be Touched" which is sadly true.

These song more than any other are the popular choice of our local athletes. While catchy, they're not very original, and its time to choose something else.

Here are a few more tracks that desperately need to be retired. Click on any word in bold to see the video:

Eye of the Tiger - Worked for Rocky, but Rocky you are not. Time to let this blast from the past enter retirement. A more suitable choice would be You're the Best Around by Joe Esposito

Lose Your Self - We're a long way from 8 Mile, and this track from Eminem needs to hit the road.

Ain't No Grave - One of the best songs by the man in black, but lets find something a little less dated, and something a little more inspiring.

While there are several tired or expired choices out there, there are some fresh ones that make us fist pump the air as they begin to play. Here are a few of our favorite walk out tunes from local fighters:

Real American (Hulk Hogan Theme) -- Adam Cella. It's hard not to get swept up in Cellamania when this 80's classic hits the speakers. Cella has adopted pro-wrestling icon Hulk Hogan's charisma and emphatically marches to the cage accompanied by his hero's signature tune. The words "I am a real American" are as timeless as apple pie, and clean-cut Cella personifies that all-American quality.

Hair of the Dog -- Brian Schell. While the name might not sound familiar, the chorus of "Now you're messing with a son of a bitch" probably is. Forty-one year old Schell is as tough as shoe leather and his decision to use this classic from Scottish hard rock band Nazareth makes perfect sense. Interesting side note: Hair of the Dog was recorded in 1975, well before many of Schell's opponents were even born. The only thing this song needs is more cowbell.

Amazing Grace -- Mike Green. Decked out in his signature green garb, Irishman Mike Green wears his nationalism on his sleeve, literally. His decision to use this cover of an almost 300 year old song by Celtic punk band Dropkick Murphys fits like a well-worn glove. When the bagpipes hit the air, and 40 year old Green begins his march to the cage, everyone in the crowd knows a brawl is about to begin.

Honorable mentions: Kenny Loggins' Danger Zone (used by Tommy Sthair), Kung Fu Fighting by Carl Weathers. I can't remember who used this but it was very, well received by the fight fans in attendance..

If you're having trouble coming up with your own favorite walk-out tune, here are a few suggestions:

Walk by Pantera - Edgy and in your face. The wall of noise from Dimebag Darrel's guitar comes crashing through the speaker and overtakes the listener.

Almost anything from the Ride the Lightning album by Metallica. Creepy, and powerful. I would especially recommend Creeping Death for its thunderous drums and haunting, gritty vocals. For Whom the Bell Tolls is also a great choice from this album.

If you're really looking to win the psychological war and create an ultra-creepy vibe that will make your opponent wonder what they're getting themselves into, I would suggest Ted, Just Admit It by Jane's Addiction.

If dub-step is your thing then I highly recommend Bangarang by Skrillex. A choice like this will fill the building with energy and get the crowd behind you. Another great choice would be Genesis by French electronic duo Justice

A fan of country? Why not use Hank William Jr's ode to violence: I'd Love to Knock the Hell out of You.

R&B fans, I haven't forgotten you, here's something I would recommend: Kid Cudi's Pursuit of Happiness.

What are your favorite walk-in songs? Reply to this article and let us know!