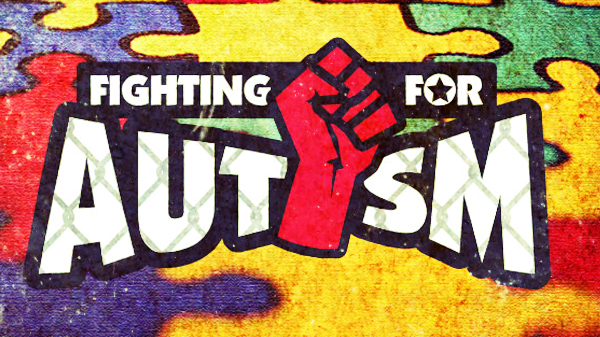 Fighting for Autism
By
Debo
| Knuckle Junkies
An organization with strong local ties is working to make an international impact.

Fighting for Autism is an autism awareness and advocacy organization that works to spread awareness for children and families that live with Autism Spectrum Disorder (ASD). During the last few months it has made quite an impact on the local MMA community, gathering information and bringing additional awareness to autism and what families deal with on a daily basis.

Fighting for Autism has a worldwide presence with headquarters in Sydney, Australia, (led by founder and President, Christian Mitchell) which oversees Australia, New Zealand and Pacific Island Operations, as well as operational sites in London, United Kingdom, (led by Managing Director of European Operations, Paul Greany) which oversees all European Operations.

United States and St. Louis operations are led by long time Missouri fight official and judge, Brian Higginbotham. He and his wife have a young son with autism. Higginbotham manages all USA, Canadian and Caribbean operations. All sites work together with the intention of making a global impact on Autism.

Higginbotham has been involved with the local fighting and combat community since 2004 working out of St Charles. He has worked in a number of different areas including officiating, judging and promotions.

During his years in the business he has been employed by a number of different sanctioning bodies.

"It is the type of business it is hard to walk away from and that is why I enjoy staying involved," Higginbotham said.

He was able to learn the promotion end of the business thru close friend Brandon Schwinn. So he naturally found a fit for creating awareness and educating more people about autism in the fight community thru Fighting For Autism.

"Outlets like Knuckle Junkies and those involved in the MMA community are what we need to be able to continue educating people on the facts about autism," Higginbotham.

One of the major questions that most have is simple and straight forward. What is autism or autism spectrum disorder? Both are general terms for a group of complex disorders of brain development. These disorders are characterized, in varying degrees, by difficulties in social interaction, verbal and nonverbal communication and repetitive behaviors. Autism can be associated with intellectual disability, difficulties in motor coordination and attention and physical health issues such as sleep and gastrointestinal disturbances. Some persons with ASD excel in visual skills, music, math and art.

Fighting for Autism focuses on enhancing the quality of life for children and families living with autism through an ever-evolving set of initiatives and programs. The primary vehicle for Fighting for Autism operation is the fight industry, including Mixed Martial Arts (MMA), Muay Thai, Boxing, BJJ and other combat sports.

Fighting for Autism utilizes "Fighter Ambassadors" around the globe, including high-level professional and amateur athletes in the industry, whom advocate and spread awareness of autism and the Fighting for Autism mission in the public eye. Fighter Ambassadors are selected based on a variety of criteria and are placed into an "Elite Team" group based on their geographic location.

Fighting for Autism USA/Canada Elite Team currently has also partnered up with some very high profile local professional "Fighter Ambassadors" and numerous other highly recognizable faces in the mixed martial arts community to give the charitable organization a support team which they have taken the time to educate in advance. Some of those area professional fighters involved with Fighting For Autism include Alex "The Spartan" White; UFC featherweight, Josh "The Gremlin" Sampo; UFC flyweight, Dan "Johnny Irish" O'Connor; Titan flyweight, Eric "The Hedgehog" Irvin; a veteran lightweight, Kain "The Destroyer" Royer; a middleweight and prominent matchmaker and Ian "Silverback" Butler; a budding lightweight.

Additionally, Fighting for Autism has the following non-fighter Ambassadors in the US Joe Worden, Destruction MMA in Park Hills, Jared Daniels-Block, Modern Combat Systems in St. Louis, Debo Knuckle Junkies MMA, Fighting for Autism Anti-Bully Program Director from Wentzville and Dave Davis, The Voice of Fighting for Autism, Professional Fight Announcer out of Johnston City, Illinois. Fighting for Autism Australia/New Zealand Elite Team most notable Fighter Ambassadors is Mark Hunt, a professional heavyweight fighter fighting out of Juggernaut Gym in Sydney, Australia who is signed with the UFC.

Some of the promotions in the St. Louis area that are pushing the organization are Rumble Time Promotions, MMA Sport Federation, Nemesis Fighting Alliance and Fight Hard MMA.

Fighting for Autism initiatives and programs is constantly evolving to provide the most beneficial impact to the organization's wide mission of enhancing the quality of life for those living with autism. Some initiatives and programs currently underway are: Fighter Ambassador Program, Mentor Program, Anti-Bullying Initiative, Autism Friendly Training Program, Awareness and Acceptance Initiative, Technology Initiative and a Fundraising Initiatives.

The tablet technology Initiative has been tested and launched. One of the key symptoms is children with Autism who don't speak. This program allows families to sell 20 Fight For Autism tee shirts at a cost of $20 per tee shirts. Once the quantity of 20 is reached the family is sent a free Kindle Fire HD tablet and the proceeds go directly back into the Autism community.

"Tablets are huge for both educational and therapeutic use with all ages but particularly effective with children ages three to five years old and they are easy to navigate", said Higginbotham.

To connect, follow and support Fighting for Autism, visit their website at www.FightingforAutism.com and find them on both Facebook at Facebook.com/FightingforAutism and Twitter though @FightforAutism. Media, donor and sponsor inquiries can contact Brian Higginbotham, Managing Director of US Operations at (636)466-3376 or via email at brian.higginbotham@live.com.