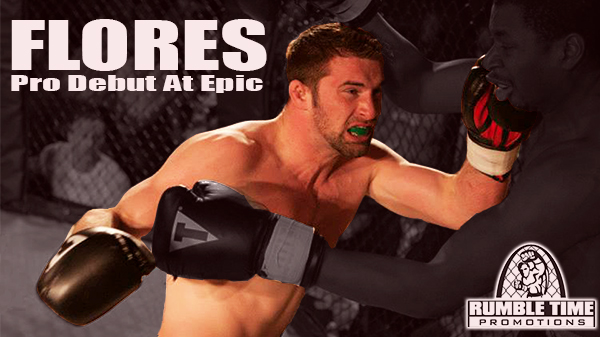 Flores - Pro Debut at Epic
On Saturday at Rumble Time Promotion's Epic, one of St. Louis' fastest rising stars will be making his professional debut.

Ty Flores, from Berger's Fit or Fight MMA, will erase his 9-1 amateur record when he steps into the cage to face Chad Williams in an intriguing match-up between two middleweights who look to build on impressive amateur resumes.

Flores, 21-years old from Arnold, has polished his skills under the tutelage of one of St. Louis MMA's pioneers: Steve Berger.

After retiring from his own very successful MMA career, Berger piloted the career of his protegee Chris "Stump" Heatherly, helping him realize his goal of fighting in the UFC,

He looks to do the same with a fresh crop of young fighters like Flores, Kyle Kurtz, Ken Porter, and others. The first step for Flores starts on Saturday.

"I'm really excited," Flores said. "I've worked really hard for this for a really long time. It's two years ago to the month that I had my first win in MMA competition."

It was shortly after his taste of success in the cage, Flores took an extended trip to Miami, Fla., where he loaded his bookshelf with a library of new techniques.

"When I went down to Florida, I was pretty much just a jiu-jitsu fighter," Flores said. "I worked a lot on my boxing, my stand-up. I had awesome coaches down there. I got introduced to the gi. Every day I trained twice a day, no matter what. I fought all the time."

He would return with a couple of wins under his belt and armed with a well-rounded skillset.

"When I came back to St. Louis in April ('14)," Flores said. "It all started to come together, things just started to fall in place. I got better as a fighter, and my confidence in my stand-up grew, wrestling, jiu-jitsu, everything."

Flores would rattle off four straight wins in his return, including a fight of the year candidate over Denver Sells who at the time was considered the best amateur middleweight in the area.

He would refine his stand-up with a couple of kickboxing matches in the early part of this year, making the final tweaks for his debut on Saturday.

He credits the fight with Sells as a watershed moment for his amateur career.

"That was a really special fight." Flores said. "It wasn't until after that did I think I could be an 85'er. I had started to get a little bigger since I got back, eating healthier and working out more seriously. They call him 'Mini Jake Collier', and I cross-train with Collier quite often. He's a scary guy, and when you hear that, it's not something you really want to go against."

Sells and Flores would battle for three rounds with Flores taking home a unanimous decision.

"After that it was a huge confidence builder." Fores said. "This is the toughest guy in the area and I'm beating him in the stand-up, beating him at his own game. I can take him down and beat him there. I'm glad it could be an exciting fight as well "

With confidence gained from the Sells fight, and measuring himself against teammates, Flores knew the time was right for a jump to the deep end of the pool.

"A lot of people told me I was ready," Flores said. "Actually, back in September Steve wanted me to go pro, but I didn't feel I was ready so I had a couple more fights. In the training room I was going good against all the other pros, beating them and being very competitive. It was an indicator."

Training like a professional is something Flores has always done, and could be a reason he's matured so quickly into one of the area's best prospects.

"I've always trained like a pro." Flores said. "Since I lost my fight, my only loss an an amateur, I've always trained once if not twice a day. No matter what gym I was at, I was always training with the pros. I'm always in fighting shape. It's not too big of a difference me."

Williams, Flores' opponent on Saturday, is known for his smothering wrestling. Something he refined at Missouri Valley College in Marshall winning a NAIA Championship his senior year.

"That's something I've definitely trained for." Flores said. "I go with really good wrestlers here like Chris Heatherly. I think if I can defend a takedown from him, I can defend a takedown from Chad. Even if it does go to the ground, that's my fight too. I looking for a quick finish."

In preparation for Saturday, Flores returned to Miami for some fresh training partners. Trading punches with fighters from two of the Nations' best fight camps.

"For this camp I went down to Florida for a week." Flores said. "I was hanging with the black belts, going with the American Top Team guys. I even went over with the Blackzililans and trained. It was a really good trip."

Not one to stay out of action for very long, Flores hopes to keep up his busy schedule in 2015.

"Never looking past a fight," Flores said. "But win or lose I'm ready for the next one."

Photo courtesy of Jimmy Range Photography.