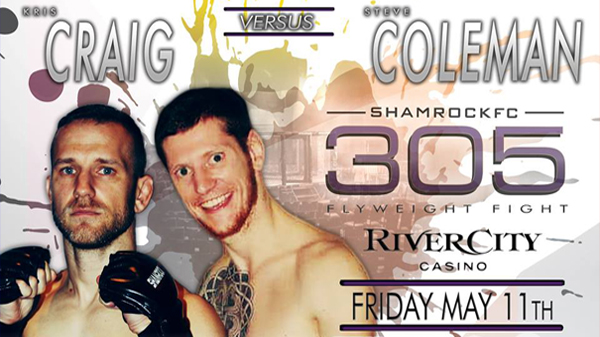 Flyweights featured at SFC 305
Two talented and seasoned flyweights will kick-off the main card Friday night for Shamrock FC 305 at the River City Casino.

Both Steven Coleman and Kris Craig put together long, storied amateur careers, combining for nearly 40 amateur fights, and now on the cusp of their venture into the pros, the two will meet for the first time.

Coleman (1-1) will look to stymie the forward-pressing Craig, who is making his pro debut. Coleman made his MMA debut in April 2014 for Fight Hard MMA. He fought for eight different promotions before making his pro debut in June 2017, when he submitted Ray Allard in the third round. Two months later, Coleman suffered a decision loss to Sheldon Smith.

Aside from a three-year stretch in Montgomery, AL, 26-year old Coleman, has spent all of his days in St. Charles County. He was never much of an athlete in school, dabbling in baseball, cross country and track along the way.

"Once I got a job, I liked the taste of money," Coleman said. "So I really didn't get into sports."

Coleman began training under TJ Mohler for purely self-defense reasons. Once things started to connect, he began competing in jiu-jitsu tournaments and then before he knew it, he made his first step into the cage where he won a unanimous decision in front of a big crowd at the Family Arena.

"After that, I was hooked," Coleman said. "I fell in love with the sport and the art in martial arts."

When his training with Mohler came to an end, Coleman along with Tyler Madding and Dustin Chandler transferred to the Academy of Courage to train under Kain Royer. Coleman would go on to amass an 18-3 amateur record before turning pro,

"I really enjoyed my amateur career," Coleman said. "Maybe I'm a little twisted in the head, but it's fun. Getting punched in the head doesn't bother me. I like trying new things and seeing what I can do."

Though just two fights into his pro run, Coleman is well aware the need to continually improve and to tinker.

"I need to mix up my game more," he said. "I need more head movement and mix in some angles and not come straight forward so much."

Though both have been around the block, notoriety is just now starting to come to Coleman and Craig.

"I think some people have overlooked (Craig) because of his height and because he is older for the game, but he is a tough dude with crazy power for a 125er," Coleman said. "I feel like I'm just your average guy coming in off the street with no other combative background and didn't do a lot of sports. But being an underdog, I think it's an advantage mentally. I feed off it. (Craig) said he is going to KO me, I'm game. I'm ready."

In pre-fight banter, Craig (who is known for his wrestling) has suggested that the two should make Friday's bout a punching and kicking affair only. But Coleman isn't buying it.

"His natural wrestling instincts will take over once I touch him up a few times," Coleman said. "His instinct will be to go to the ground, and I expect a war there and on the feet."

Coleman currently puts in anywhere from 60-70 hours a week as a lead supervisor at a factory and has a four-year-old daughter.

"She is my main ingredient," he said. "She is the fuel for all of this."

Though making his pro debut, Craig is no up-and-comer. At 37-years-old, this financial planner knows his competitive time clock is ticking away.

"I only have a couple of years left in my MMA body and then its back to jiu-jitsu or something," Craig said. "I do this cause it's fun. My life is not defined my MMA. If (co-workers) ask, I tell them, but I don't go around bragging about it."

In wrestling, Craig was a four-time state qualifier at Pattonville and placed third in state as a senior. He went on to wrestle at Meramec College. MMA was an afterthought in Craig's mind mostly due to, at the time, when he finished college, there wasn't much an avenue for a lighter-weight fighter.

"I liked watching (MMA), and I was always interested, but it wasn't even on my radar," he said. "At the time, the lowest the UFC went was 145, and that wasn't even an option."

Craig's grappling connections eventually led him into jiu-jitsu where he was successful as a white and blue belt. Fighting out of Finney's MMA, Craig eventually became a former Shamrock FC title holder and has fought exclusively for SFC his entire career.

"I have been fortunate," Craig said. "Andrew Berger has told me stories about fighting on old Illinois shows out in the middle of nowhere where a lot of strange stuff has happened, or the promoter makes changes randomly on you."

His amateur career is dotted with a couple of wins here, followed by a loss, back and forth never sustaining a dominant streak. He has landed and has been on the receiving end of wicked knockouts. The ups and downs were precisely what he was looking for in his ammy run.

"Who cares about being the best amateur?" Craig said. "Amateur fights were where I did my training. I could have wrestled, taken down, and laid on every opponent I faced but I forced myself to do other things. I have a lot of things I can do that people have never seen."

The fact that Coleman and Craig haven't met before is something of an anomaly. Flyweight standout Corbin Howard wrecked the plans of the two facing off last year when he defeated Coleman at the beginning of 2017. Howard got the eventual title match with Craig and won spectacularly via KO.

"When Steve lost to Corbin I told (SFC matchmaker) Rob Donaker to go get Corbin," Craig said. "I always want the hard fights. I was really disappointed with the Howard fight. The plan was to win and then go pro. But losing as I did to him, I couldn't say I was ready. So, I went out and got a KO (over Avoran Graham)."

There is nothing easy about putting away Coleman, who was rarely – if ever – finished as an amateur.

"Steven never quits, and he never quits on himself," Craig said. "He grinds people. He tells himself to find a way to win. Friday will be a hard battle for me, but if we stay standing, I win this fight easy."

After several years of handling its own pay-per-views, Friday will mark Shamrock FC's debut on the Flo Combat network. For more information on how to watch, visit FloCombat.com.

Ticket information can be found at the Shamrock FC store.