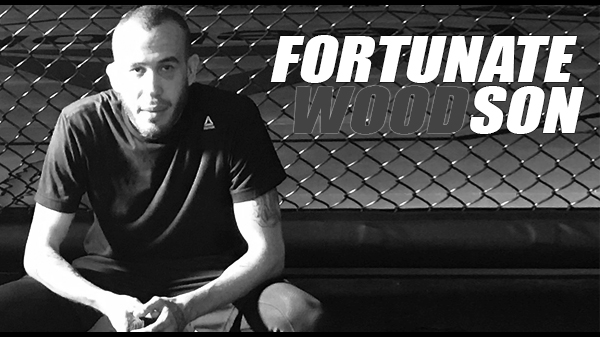 Fortunate Son
It was to be the biggest night of his life and had it not been for fate, it wouldn't have even happened.

Sean Woodson had done the hard part, as they say.

A last-minute substitute on last week's Dana White's Tuesday Night Contender Series, Woodson shaved 24 pounds off his 6-foot-3 frame in just five days all to fight Terrance McKinney. But moments after weighing in, Woodson's body and mind started playing tricks on him.

"I couldn't breathe. I couldn't catch my breath," he said. "And I didn't know why."

Woodson was feeling sharp pains in his back and he thought the dramatic weight cut had done something critical to his lungs. Thankfully, Woodson's circle had his back.

"I was really starting to panic," Woodson said. "Were it not for Jordan Dowdy and Megan Sanders, I'm pretty sure I would have called an ambulance. But they were calm and cool. Jordan had been through something similar and told me it would go away in 20-30 minutes."

They were right and Woodson would go on the next night to defeat McKinney in spectacular fashion, landing a Jorge Masvidal-esque knee to the head as McKinney went for a takedown in the second round.

The jaw-dropping finish paired with the way Woodson rebounded from a rocky first round led to the St. Louis featherweight and The Wolves Den fighter getting picked by Dana White to receive a contract with the top promotion in the sport.

"I think the fight had to go they way it did in order for me to get signed," Woodson said. "The fact that I got dominated in the first round but kept my composure, fought through adversity, and finished it the way I did, that got me the contract."

Woodson, 27, is a lifelong St. Louisan who improved to 6-0 with the win over McKinney (7-2).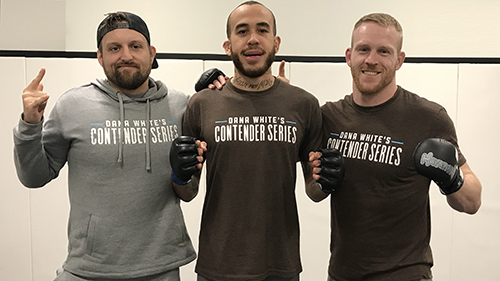 Woodson and Dowdy, his confidant and teammate, landed at the UFC's Performance Institute on the Wednesday prior to the fight. Andrew "Mop" Ebers, the head coach at the Wolves Den, came in on Monday. From the jump, Woodson said the UFC treated him like he was a regular, not a last-minute replacement brought in to be fed to the hungry contender. He even had access to the PI after normal hours.

In the fight, the first round went how the gamblers and keyboard warriors predicted. McKinney took Woodson to the mat and was looking to finish in the first round as he had done in six of his wins. But with McKinney draped on his back and chasing after a rear naked choke, Woodson showed excellent submission defense and showed a veterans moxie.

"I would have worked a lot harder to get to my feet, but I couldn't believe how much energy he was using trying to finish," Woodson said. "I have been in that position a millions times and there were definitely some little things I would have done differently. But I was content to just let him squeeze himself out."

When the bell rang, Woodson sprung to his feet and jogged to his corner like the past five minutes had been nothing. McKinney? Notsomuch.

"I glanced over and I saw how he plopped down on the stool," Woodson said. "I told my corner, 'I don't need a stool.' I wanted him to see me standing up."

In the second round, Woodson and his 79-inch reach started making the difference against a gassing McKinney. Following a scramble, McKinney had his back to the fence and as Woodson closed, went in for a takedown. Woodson timed things perfectly, landing a heavy knee that crumbled the Washington-based fighter at 1:49 in the round.

"I kind of slowly approached him," Woodson said. "Once I got in range, I leaped into it."

The win didn't necessarily seal the deal on getting a contract. Woodson had to sit on set with the other three winners and wait while White decided either yay or nay.

"I wasn't expecting to get a contract," Woodson said. "All of them were panicking but I was already on top of the world. (White) played it off like he wasn't going to sign me and then about midway through he changed his tune and I knew he was going to and I was like, holy shit."

The whole experience was a whirlwind. A hurricane of emotions

"That week was the hardest of my life," Woodson said. "After making weight, my main focus was to win that fight and that would be huge and hopefully they would have me back on the Contender Series with a full camp and show them a full performance. "

Now Woodson is fixated on presenting himself in full in his official UFC debut, which he is hoping comes later this year.

Photos courtesy of Jordan Dowdy