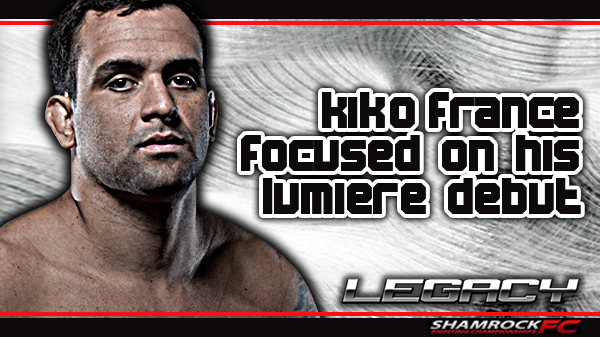 Kiko France focused on his Lumiere Debut
After over a year away from the cage, Francisco 'Kiko' France will dust off his slick and lauded jiu-jitsu skills.

France's bout against fellow light heavyweight Dan McGlasson is one of the featured fights at Shamrock Fighting Championships Legacy on Saturday at Lumiere Place.

"I don't see him escaping this fight," France said. "He has big hands with small gloves, so he has a chance. I respect him and I know it's not going to be an easy fight but he has not fought a guy at my level."

France is renowned for his BJJ prowess. Back in the day at the American Top Team gym in Columbia, MO, France was the BJJ instructor for a crew that consisted of University of Missouri wrestlers Michael Chandler, Ben Askren, and Tyron Woodley.

"I kind of fell into that," France said of his coaching path. "Those guys had no interest in the gi. So, I stopped training gi for a little while."

This marks the fifth year of France competing in MMA while he has over 15 years of BJJ experience.

Growing up in Brazil, France was immersed in the BJJ culture. Once he finished high school he gave his parents the-then disappointing news that he was going to bypass college in order to train jiu-jitsu.

"That was my only focus," France said. "I knew then that I needed to go for it."

France jumped right into professional MMA because of his BJJ black belt and also he didn't want to risk getting hurt for no income.

He has amassed a 7-2-1 record and has fought the likes of Keith Jardine and James McSweeny and for promotions, Strikeforce and Fight Me MMA.

France has bounced around over the years, making a stop in Arizona to train with the likes of Ryan Bader, CB Dollaway and the crew at Power MMA.

For his fight with McGlasson, France trained some in Brazil and also at Finney's MMA.

"I came here to work on my striking," France said. "I am starting to trust it more. I'm still a grappler, but I'm getting much better with my hands. I can put people down."

Barring the scars of ACL surgery on both knees, France still gets out of training what he did 15 years ago in Brazil.

"There is always something different to learn," he said. "It's still a lot of fun."

France foresees having three more fights and then reassessing the situation. If a call from a major organization doesn't look like it will happen, he will focus on teaching.

"I learn every day when I'm coaching," France said.

There are only 29 $60 tickets remaining for Saturday's event and they can be found on ticketmaster.com as Saturday looks to be another sell-out for Shamrock FC.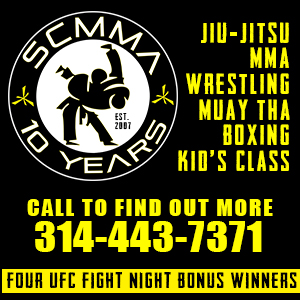 Shamrock FC: 317
| Sat, April 6th
Ameristar Casino, Kasnas City, MO
Nemesis Fighting Alliance
| Sat, April 13th
Casa Loma Ballroom, St. Louis, MO
Shamrock FC 318
| Fri, May 10th
River City Casino, St. Louis, MO
Shamrock FC 319
| Sat, June 8th
Ameristar Casino, Kansas City, MO

Tweets about "KnuckleJunkies OR @knucklejunkies"