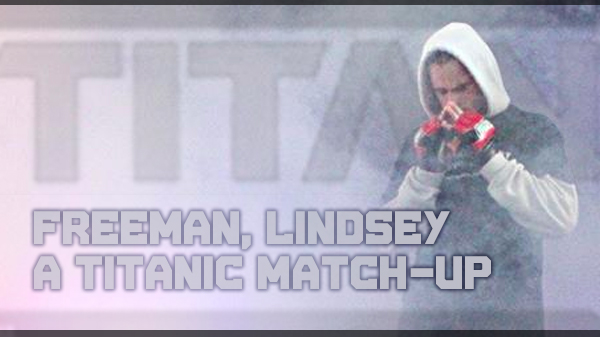 Freeman, Lindsey: A Titanic Match-up
Opportunity is knocking and Zach Freeman is ready to answer the door.

Freeman (7-0) will fight fellow unbeaten Jake Lindsey (7-0) in the co-main event of Titan Fighting Championship 25: Fight for the Troops 2. The event will air live on AXS TV.

Freeman follows in the footsteps of St. Charles MMA teammate Alp Ozkilic, who made quick work of Antonio Banuelos last Friday on AXS TV with a 37-second TKO. This will mark the third week in a row a fighter from St. Louis has fought live on AXS TV.

Freeman knows he has his hands full with Lindsey, but he is no stranger to tough-as-nails competition. In his last two fights, he defeated Kansas City standout Aaron Derrow (July) and followed that up with a victory over local pro Robert Washington in January of this year.

Lindsey is coming off a victory in April over Marcio Navarro to win the VFC lightweight title. "The Librarian" is training partners with Bellator's David Rickels. Rickels is slated to take on Michael Chandler for the Bellator lightweight championship in July.

"I look to have my toughest fight yet," Freeman said. "It sounds like he's a lot like me. He's beat quite a few good guys. Supposedly nobody will fight him in Nebraska or Kansas."

And a lot like Freeman means, tough, strong, hard-nosed and well-versed in all aspects of MMA.

"I look at like how do I beat myself," Freeman said. "I'm going to look to be a smarter fighter this fight; pick my opportunities instead of forcing them."

Freeman and Lindsey are fighting at a catchweight of 160.

"There's nothing tougher to beat than a guy who hasn't lost," he said. "I look at it like it's going to be a crazy fight. We're both going to want it bad. I'm interested to see how this plays out."

One area to look for, if you're a Freeman fan, is when it comes to submissions. Four of his victories have via the tapout. In Freeman's first five fights as a pro, he finished them all in the first round, with his last two have gone the distance.

It has been one of the smoothest, most productive camps leading up to a fight for the "Altar Boy."

Along with his usual array of workout partners that include: EJ Brooks, Eric Irvin, Jimmy Donahue and whomever may walk through the doors at SCMMA, he has also ratcheted things up in the weight room with a new strength and condition coach, Justin Stouder.

"I'm feeling explosive and strong," Freeman said.

After accepting the bout with Lindsey in March, Freeman was presented a fight from CFA to tussle Luis Palomino. Palomino went on to fight and beat Washington on Memorial Day weekend.

"I think either fight puts me on the map," Freeman said. "I'm still kind of an unknown name in the world of mixed martial arts. I think a lot of fighters are aware of who I am but as far as fans, I'm still trying to break through. So hopefully I can impress like Alp and make a good name for myself."

There's less pressure on the road with friends, family, and tickets so there should be as little stress as possible.

"With the good comes the bad," Freeman said of fighting at home. "There are a lot of things that go on here that people don't realize that's completely stressful."

Freeman knows that if he is to spread that name, it was time to pack his bags, branch out and go into someone else's backyard.

"I've only fought in St. Louis and St. Charles my whole life and now I'm going to unfamiliar territory," Freeman said. "I could keep fighting around here but I need to branch out. I need to go taste what it's like to be the guy not being cheered for and when it comes to the judge's cards, I really have to beat this guy. I look at it like its more adversity and no matter what I'm going to walk away a better person. It's just another competition. What I did last week and the week before, it's only going to make so much of a difference. I've been training my whole life for this so I'm ready."

Tune in Friday to AXS TV to see Zach Freeman vs Jake Lindsey as the co-main event for Titan 25. Join Zach's friends and family at the Tilted Kilt in St. Charles for the Official Viewing Party starting at 7pm.