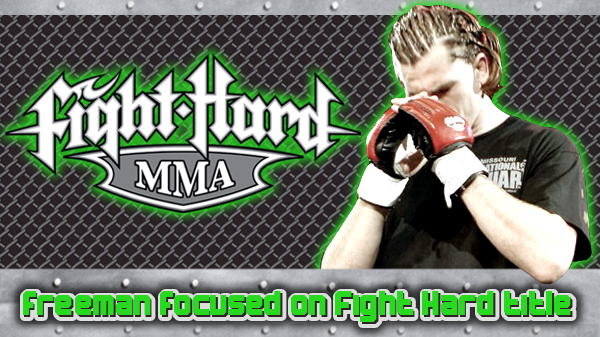 Freeman focused on Fight Hard title
Zach Freeman and Robert Washington first crossed paths a few years back at a NAGA tournament in Illinois. On Saturday, the two will look across to each other as the cage door slams shut in Fight Hard MMA's main event at the Family Arena. At stake will be the first-ever Fight Hard lightweight championship belt. The bout will be the highlight of this pro/am card as these two hard-charging lightweights love to go full tilt boogie.

"I don't think it is going to go five rounds," Freeman said. "I think me and Robert both fight very explosively and powerfully. It will be a very tiring fight if it goes out of the first or second round. We'll both be looking for a knockout and whoever controls the wrestling and the center of the ring wins this fight. I'm not going to let him just dance around and try to box me."

Freeman, out of St. Charles MMA, is 6-0 and is coming off a 2012 that saw him go 3-0, including two first-round stoppages. SCMMA head coach Mike Rogers feels Washington is Freeman's biggest challenge to date.

"I think Robert is the toughest guy he has fought," Rogers said. "The thing about Robert is that he has had a lot of tough fights. He has gone through a lot. He's fought some of the toughest guys around. He's been in a lot of big organizations. I think both of these guys are going to make marks and that win or lose, both of these guys are going to have bright futures in MMA."

On multiple occasions Rogers has seen first-hand the damage both of these fighters can do and the unique skill set they each posses. Washington, who trains at Finney's Hit Squad, has been a regular for some time at SCMMA's Sunday spar sessions and workouts.

"This fight is kind of a bummer. I really like Robert," Rogers said. "He's done some nice things for me. He's helped find fights for my guys in the past. He's just a nice guy. I think the reason they're fighting is because the money is so good. I didn't want them to fight but I can't tell someone not to make money."

For this fight, Freeman not only kept his regular hours at SCMAA. Assistant coach Dustin Severs has been preparing his boxing and his wrestling, and teammates like Jake Roberts and the rest of the crew put him through the grinder, but he also logged plenty of lonely miles back and forth on Interstate 64.

In Mt. Vernon, IL, Heath Pedigo operates Pedigo Submission Fighting. Pedigo is a purple belt under Rodrigo Vaghi whose Fenton-based Vaghi Jiu-Jitsu is an affiliate and partner with SCMMA. Freeman has proven time and again to be lethal on the ground. Of his six wins, four have come from submission. At Pedigo's he tinkered with his game and add new wrinkles to his submissions.

"Zach came out and we do a lot of, for lack of a better term, new age jiu-jitsu," Pedigo said. "I really try to stay up to date and even ahead of the game and Zach was able to brush up on some new techniques."

In Freeman, Pedigo sees a fighter who is starting to evolve both mentally and physically.

"Zach is pretty much the full package," Pedigo said. "He is able to control things with his wrestling ability and his BJJ under (Rodrigo) Vaghi is extremely solid. But most of all he is tough and you can't learn tough. He is definitely focused. He's a really open minded guy who is continuously learning new things. Every time we roll he is adding things."

As great of a match up Saturday's showdown is, it nearly didn't happen.

In December, Freeman got an offer from Resurrection Fighting Alliance to climb aboard their ship. RFA is led by Ed Soares, the head honcho of Black House MMA, home to UFC superstars Anderson Silva, Lyoto Machida, and many others.

"I had already verbally accepted the fight with Robert then RFA called," Freeman said. "They're a pretty big promotion. They asked me to fight Dakota Cochrane on Jan. 18 and after discussing everything it came down to that either opportunity was a good opportunity for me. We decided to stick with what we have because I might need these regional promotions one day and I don't want to cut anybodies throat. It was a hard decision. It wasn't easy but I'm sure I will get another opportunity in the future."

Washington is 15-6 and in the midst of a three-fight win streak. A powerful wrestler in his own right, he is also blessed with freakish knockout power in his two mitts.

On the surface, it would appear that Washington has the advantage when it comes to fisticuffs and Freeman gets the nod if the scrap hits the canvas.

But according to Rogers, that's not necessarily the case.

"I don't know that there is a big advantage for Zach on the ground and I don't know that there is a big advantage for Robert in striking," Rogers said. "They both have the ability to do damage standing up and they both have the ability to do damage on the ground. As Zach's coach, I'm not looking to tell him that he has to put him on the ground to win. That's not the fact. It's one of those things where they are both pretty well-rounded fighters."

Don't forget you can still vote for a chance to win an autographed hat by both Freeman and Washington. Click on over to the KJ Poll for more information.