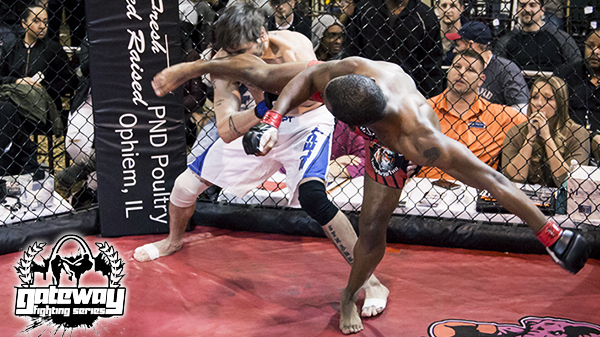 Gateway FS: Destiny - Recap
It was a home run over the left field wall.

With its best card to date, Gateway Fighting Series had it all Friday night at the Heart of St. Charles. GFS: Destiny's pro/am lineup delivered on all ends, with lights-out knockouts and well-matched grinders all along with some of the best talent the region has to offer.

All that being said, the main event and co-main event took less than two minutes combined.

In the main event, Iowa's Sarah Patterson won her third straight fight with a submission victory over popular regional lightweight Tamikka Brents. Brents manufactured little offense and Patterson got the action to the ground where she methodically earned a submission victory via rear naked choke in one minute and 35 seconds into the fight. It was Brents' first fight since September of 2014.

In the co-main event, Ken Porter took his frustration out on Joseph Pearson, who no-showed Thursday's weigh-ins, with a Knockout of the Year candidate. Porter quickly closed the distance on Pearson before a firing off a spinning back kick that landed on Pearson's forehead. Porter swarmed to finish but little was needed as the fight was called at the 26-second mark. The win improved Porter to 10-3, having won six of his last seven fights.

For video interviews with several of the winners from the night, keep an eye on all of Knuckle Junkies' social media platforms.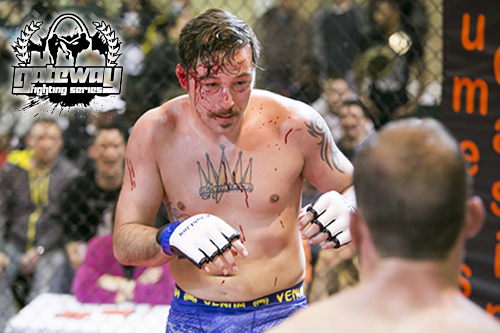 Sal Woods returned to action for the first time since 2014 and he was greeted often by the sharp right hand of Frank Sloan. Sloan evened his record to 3-3 with a 30-27 unanimous decision win.

In the first round, Sloan was able to stick and move early and clipped Woods with a nice overhand left. Both Sloan and Woods started to mix it up and traded shot for shot with nary a combination in site. Woods was doing a good job stalking Sloan down and cutting off the cage but Sloan would land power right hands that eventually opened Woods up over his eye. As the round came to a close, Sloan shot in for a takedown. Woods defended and ended up on top and Sloan muscled his way back up before the round ended.

In the second, Sloan continued to be effective while being backed up, working the body and finding a home for his right hand. Sloan would land again, popping Woods' head back. Sloan then scored a trip and ended up in Woods' half guard, mixing in elbows and punches. The fight got back to the feet briefly before Sloan ended up in side control. Sloan made his way to mount with one minute left but was unable to do much damage.

Sloan caught a heavy kick to start the third and made his way to side control. Once back to the feet, Sloan landed a right and followed with a takedown. From there, he stayed on top for the rest of round, chewing up the clock and battering Woods with the occasional punch or elbow.

Quartus Stitt shook off a three-fight win streak in devastating fashion. Stitt needed just a short right hand and 32 seconds to get the KO finish of Kyle Kurtz. Kurtz dropped to 6-4.

Those in the know were eagerly anticipating Dakota Bush vs Cjay Hunter and the two young lightweights didn't disappoint. In the end, it was the 22-year-old Bush - out of Cuba's The Smith Pit - who came away with a 29-28, 29-28, 30-27 unanimous decision to improve to 3-0.

In an action packed first five minutes, Bush started things off by landing a nice combination. Hunter then secured a body lock takedown and true to his nickname, 'The Groundshark', worked to the back looking for a rear naked choke.

Busch lumbered his way to his feet with Hunter glued to his back. Bush defended but Hunter was going nowhere and drug him the floor again. Bush isolated an arm that slowed progress and he eventually landed a ton of elbows before another takedown by Hunter. With Hunter glued to Bush's back once again, Bush again climbed to his feet. As the round closed, Bush perfectly timed a forward roll as the bell sounded that planted Hunter on his face.

In the second round, Bush went immediately to the takedown and dropped several elbows and punches with some landing and some not. Hunter locked Bush down in his half guard so Bush pinned Hunter against the fence, mixing in shots. Bush finally passed and the two ended up in a north/south position. After a quick scramble, Bush was back in half guard. Hunter controlled posture and Bush mixed in the occasional strike. Hunter got back to his feet and took Bush down briefly before the round ended.

Bush pressed Hunter to the fence, dropped to a double leg, and made his way to mount to start the third. Hunter got things back to full guard and controlled Bush's posture but did little else to get out from the bottom. Bush would land occasionally, just enough to avoid a stand-up, before Hunter threw up a triangle. Bush sprung free and was back in Hunter's guard.

The fight went to the scorecards with the judges scoring 29-28, 29-28, 30-27 in Bush's favor.

Fred Freeman landed a nasty knee that opened up even a nastier cut in his bout with Jason Powell.

In the second round, the two clinched against fence and Freeman landed one knee and then another that split Powell open above the eye. Powell responded with a powerful takedown but the fight was halted due to the cut. Upon inspection by ringside physician Melvin Maclin, the bout was called due to doctor's stoppage with Freeman getting the TKO win at 1:23.

In the first round from the clinch, Freeman executed a nice trip to the floor. Powell kept Freeman in his guard and controlled posture. Freeman worked in occasional shots to the body and Powell defended elbows well. Powell through in a few elbows from the bottom as Freeman mixed in punches to the body before the fight was stood up with 10 seconds left in the round.

In the emotional apex of the evening, Nick Turnbo faced Josh Sampo in an exhibition grappling match. Turnbo, who is diagnosed with cerebral palsy, has recently begun training Brazilian Jiu-Jitsu at Sampo's home base of St. Charles MMA. Sampo is one of the more decorated and accomplished fighters to come out of St. Louis, having won the CFA featherweight title by submitting Olympian Alexis Vila and parlaying that into a four-fight run in the UFC en route to an 11-4 record. Against Turnbo, the pair were wearing MMA gloves, and Turnbo took the opportunity to land a few shots while in Sampo's guard. After a brief scramble, Turnbo was able to secure an arm bar forcing Sampo to tap out.

Brittney Cloudy continues to climb the ladder to what looks like a very promising career in the sport.

Facing Savannah Shahan, Cloudy found a home for her quick right hand often in the early part of the first round. After some clinch work against the cage, Cloudy scored a trip takedown and made her way to mount. Shahan reversed and Cloudy ended the round with an arm bar attempt.

Shahan - whose chin and toughness needs to be applauded - tried to make it a gritty fence fight but Cloudy got separation and worked some kicks and started landing ones and twos before finishing the fight with a KO at 1:07 in the second.

Also on the undercard, GFS featherweight amateur title holder Trevon Crawford won by a 30-27 unanimous decision over Jace Burcham.

Crawford pressed Burcham against the fence and worked that into a takedown. From inside Burcham's guard, Crawford landed plenty of shots to the body. Burcham latched on to a submission late in the third but it was too little too late.

The pair traded takedowns in the second with Crawford doing more ground and pound with his opportunity. In the first round, Crawford did a nice job going to the body while in Burcham's guard.

In the evening's only K1 bout, Lillie Seggelke earned a unanimous decision win over Katelyn Jessie.

Daniel Jefferson pulled off a bit of an upset with his 29-28 unanimous decision win over grappler Dillon Pousson.

In a nice back-and-forth, Christopher Peterson earned a split decision win over Stephen Becker.

In the night's curtain-jerker, after a brief exchange, long-limbed Calvin Williams cinched up triangle to get the submission victory over Zach Burcham at 1:08 in the first round.

Gateway Fighting Systems returns to the Heart of St. Charles on Friday, April 21st.

Photos courtesy of Sara Levin Photography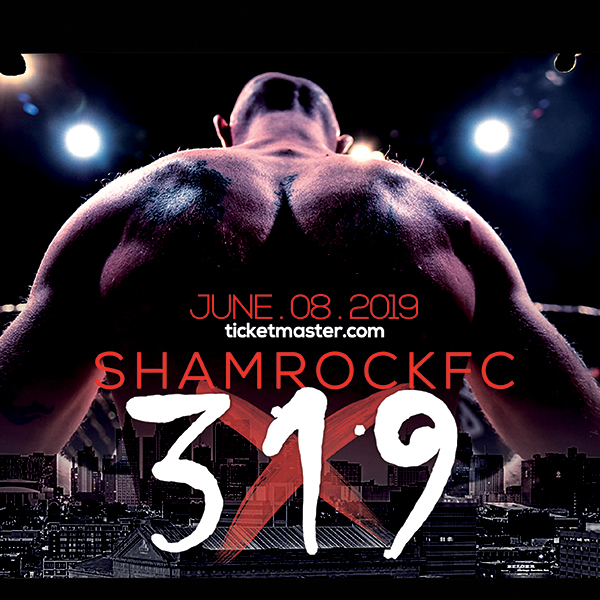 Nemesis Fighting Alliance
| Sat, October 5th
Casa Loma Ballroom, St. Louis, MO
Shamrock FC: 323
| Sat, October 12th
Ameristar Casino, Kansas City, MO
Shamrock FC: 324
| Fri, November 1st
River City Casino, St. Louis, MO

Tweets about "KnuckleJunkies OR @knucklejunkies"