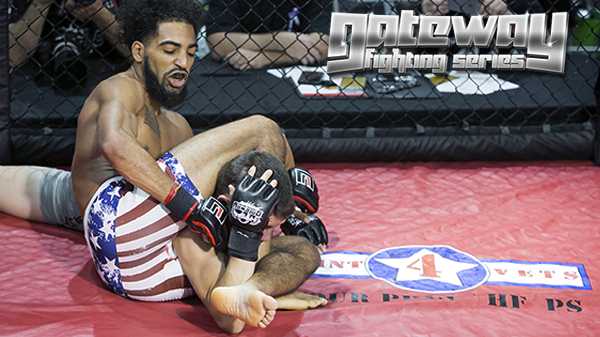 Gateway FS: Inferno - Recap
Detoured but determined to deliver.

Despite having to relocate venue locations in a matter of days, Friday's Gateway Fighting Series: Inferno carried thru its mission.

The pro/am MMA event was held at the visually-unique Lamborghini Gold Coast Athletic Centre in St. Charles.

In the main event, Lucas Clay faced a last-minute opponent in Aaron Mitchell. Clay, a talented welterweight, remained undefeated even with an uneven performance. Both fighters' unorthodox approaches made for a choppy flow to the fight but in the end, Clay was too technical on the feet and ground and remained undefeated at 2-0 with a unanimous decision victory.

Charles Johnson is a lot to handle.

Johnson improved to 4-0 with a unanimous decision over Michael Graves. With dogged determination, Graves went after the takedown on Johnson for all three rounds. In a bout that had plenty of scrambles, reverses and position changes, Johnson, out of St. Charles MMA, calmly stayed in control throughout, throwing whipping hammerfists and searching out submission attempts throughout.

"I knew he was going to try and pressure me to the cage and take my back," Johnson said. "Every time he tried to get to that double leg takedown he would circle to my back trying to get to that and I just wouldn't allow that to happen. It was a game plan that would work for him in a small cage but I was ready for it. Everybody I train with is bigger than me so when I'm in the gym it's a dogfight every day. I have to go through that grind of takedown defense against bigger guys. It's just constant. It's something you become accustomed to. When I got into that position in the fight I was very comfortable and I knew what I needed to do to keep him from being where he needed to be. The short term goals are to stay healthy and look for a good fight. Any name opponent. I'm just trying to get my name out their regionally and nationally."

Steven Coleman had his offense in high gear.

Making his pro debut, Coleman – out of the Academy of Courage – got in nearly three full rounds of work against a tough Ray Allard before getting an armbar finish at the 3:32 mark of the third round. Coleman put together a blistering first round with knees and elbows aplenty and once the fight hit the floor, Coleman hunted after a submission. Coleman continued to rough Allard up in the second round, doing the bulk of his damage from mount.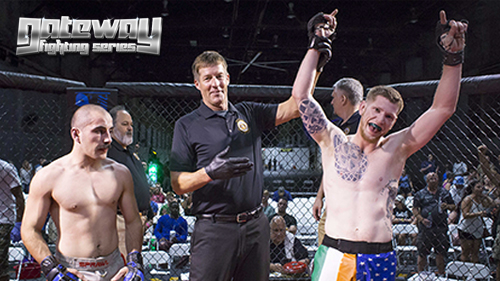 GFS had four amateur title belts up for grabs.

Tra'von Butler retained his light heavyweight championship with a lopsided TKO over Dalton Knight in the second round. It was all Butler who connected with a monstrous kick to the head to send Knight onto the canvas and forced referee Mike England to call off the bout.

Two of the premier amateurs in the region went at it at middleweight. Jeremiah Curtright - fresh off a runner-up performance at the UMMAF National tournament – faced Kevin Roper in one the better amateur bouts of the year so far.

In the first round, Curtright landed a tremendous uppercut that nearly floored Roper but the Wolves Den product recovered and dumped Curtright on his back. Roper remained in top control for the better part of the round and he mixed in solid punches from up top.

Roper poured in on from the word 'go' in the second round and nearly got the finish at one point. Meanwhile, Curtright could never consistently get his offense going as Roper suffocated with pressure. In the third it looked like Curtright was going to rally when an upkick connected, hurting Roper who started to back up.

"In the first round I was rocked," Roper said. "That was the first time I'd been rocked in a fight. I didn't want to get finished so I just covered up and went in on that single and got it. Once I was there I knew I was good because I knew he couldn't do much off his back so I just stuck with my wrestling."

The 29-28 decision victory gave the 23-year-old Roper the GFS middleweight title.

Arnold BJJ's Brandon Breault scored an impressive KO of Tyler Roussin to win the GFS welterweight K1 title. Despite an early low blow that paused the action Breault was relentless with his offense, chasing Roussin around the cage before the ref finally waived off action.

For the GFS Adaptive Rules Championship, Garrett Holeve earned a first round submission over David Steffan when Steffan shot in for a standing single leg, and Holeve latched onto his neck.

In other undercard action, Chris Peterson defeated Josh Boyer by second round TKO in a wild fight, Boyer tried to bring things to the ground, but Peterson was able to escape Boyer's guard where he worked the ground and pound. Boyer landed awkwardly on his elbow when Peterson tried to slam his way free, and seemed to favor it through out the remainder of the fight. A second slam forced Boyer to turtle and Peterson finished with a TKO.

Ryan Dascenzo vs. Arvin Mills was ruled a no-contest due to an accidental elbow that cut Mills wide open forcing fight doctor Melvin Maclin to waive off the fight.

In K1 action, Alejandro Socorro from Watson Martial Arts won a split decision over AJ Graham. Colette Gille won by TKO over Kira Franke and Rodney Cotton kicked off the card with a unanimous decision win over Kyle Ondo that featured a bloody third round.

Photo courtesy of Sara Levin Photography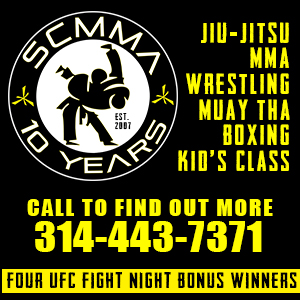 Nemesis Fighting Alliance
| Sat, October 5th
Casa Loma Ballroom, St. Louis, MO
Shamrock FC: 323
| Sat, October 12th
Ameristar Casino, Kansas City, MO
Shamrock FC: 324
| Fri, November 1st
River City Casino, St. Louis, MO

Tweets about "KnuckleJunkies OR @knucklejunkies"