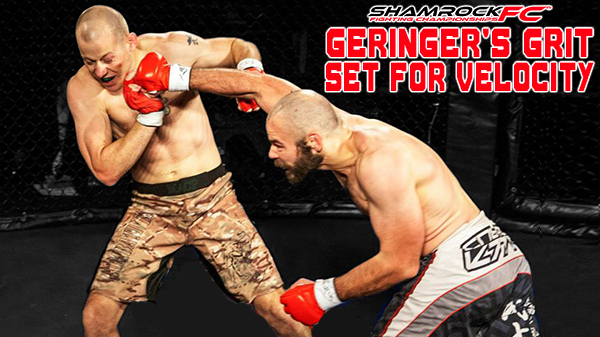 Geringer's Grit Ready for Velocity
Jesse Geringer can credit a set of worn-down truck tires for his rise to St. Louis-area MMA glory.

Geringer, who will face Raymond Gray on Saturday at the sold out Shamrock Fighting Championships: Velocity show at the Lumiere Casino, had captured the eye of local MMA trailblazer Steve Berger in a fight against Jake Collier, one of Berger's Fit or Fight club members, in the summer of 2009.

Geringer had gained a leverage advantage against Collier, promptly taking him down and jostling for position. Unfortunately for Geringer, Collier managed a powerful right hand from the bottom to stun Geringer. Collier wound up winning by knockout at the 1:55 point of the first round.

Collier has since advanced through the ranks and has logged an 8-2 professional record that includes competing on the UFC Fight Night card in December against Vitor Miranda. Despite suffering the KO loss to Collier, Geringer had shown enough to impress Berger who had the unique perspective of working as referee of the fight.

"It was just one of those things, Berger said. I was really impressed with Jesse. I just thought, 'wow, this kid's a hell of a fighter."

That's where the truck tires enter the picture.

Geringer was working at a local tire and battery shop when Berger brought his truck to the shop for new tires. By coincidence, he saw Geringer working and reached out to him to compliment him on his ability and, specifically, what he had seen in him during his fight against Collier.

"He was really cool," Geringer said of Berger. "He came in to get four tires for his truck. He told me I was doing pretty well [against Collier] until that point [of the knockout]."

Such positive feedback from Berger carries plenty of weight. The 41-year-old owner of Fit or Fight had risen through the MMA ranks during its evolution into the popular international sport it is today. Berger had three stints with UFC and had submitted only once during his career his most recent fight in 2012. Berger fought Robbie Lawler in UFC 37.5. Their fight was selected to represent the event on Fox's The Best Damn Sports Show Period. That have Berger and Lawler the distinction of fighting in the first nationally televised MMA fight by a cable company.

"I knew about him when I was younger," Geringer said. "I remember the first time he came into the gym [what was then Matt Hughes' HIT Squad]. I was kind of like in awe of him."

After their talk at the tire shop, Geringer gravitated to Berger's gym. It has helped the 26-year-old welterweight start his professional career with two wins in as many fights. Geringer made his pro debut with a unanimous decision against Nick Grant in late 2013 at the Warriors for Heroes MMA vs. PTSD event. Little more than a year later, Geringer improved to 2-0 with a first-round submission guillotine choke against Henry Lindsay at the Rumble Time Promotions Triumph show.

Geringer had earned a 7-3 amateur record against some of the region's toughest fighters. The decision to turn pro was not a difficult one once he gained confidence his skills were ready for the challenge. Geringer juggles college coursework with a part-time job at Imo's Pizza as well as his grueling training schedule.

"Fighting for free is fun," he said. "But it's nice to get a check at the end of the night as well."

Berger said Geringer has been a model pupil.

"He puts his nose to the grindstone," Berger said. "He never complains about what I tell him to do. He's tough. I expect him to do well and I expect him to have a good fight."

Geringer's toughness both physical and mental was challenged when he suffered a knee injury during a sledding accident in the winter of 2010-11. A strained ligament and torn MCL sidelined the up-and-comer and forced him to start his climb from the ground floor, again.

"I babied it for a while," Geringer said. "Coming back was kind of tough. I just worked on my hands back then. I think it worked out for me."

Gray enters this weekend's fight with a 1-1 pro record and will fight for the third time in the first four months of 2015. He lost his pro debut by unanimous decision against Adam Osmoe on Jan. 16 before rebounding with a unanimous decision win against Wayne Collier on Feb. 28.

Geringer said he has studied Gray and is confident heading into Friday's bout.

"I'm pretty aware of his game," Geringer said. "I do believe if there were a card deck of skills I'd have a bigger stack than him. But I'm not taking him lightly by any means."