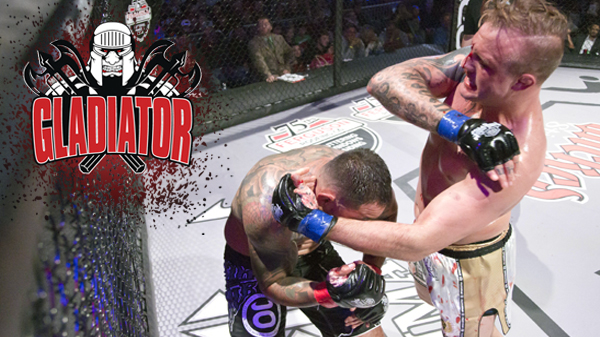 Gladiator MMA: Sursa vs Silva - Recap
When it was announced that Thiago Silva was going to headline Gladiator MMA at the Family Arena, finding an opponent was arduous.

Names like Brandon Vera, Keith Jardine, and others were bandied about to take on the 12-time UFC veteran.

Thirty-three-year-old Texan Marcus Sursa stepped up to the plate and took the Siva fight and on Saturday he did what little thought he could, flattening Silva in the second round with a short, crisp elbow to the head to pull off the upset victory.

"It was motivation that everybody counted me out. It was motivation to prove this is where I belong," Sursa said. "We planned that the whole camp. That's was the shot we were trying to hit him, behind the ear, because he shell covers so we planned for a lot of those strikes and we just put them in the game plan and landed them. It was a blessing that it landed."

Sursa also drew strength from a cause. All of the proceeds and money made off of his t-shirts went to a cancer awareness and research foundation for childhood cancer at University of Nebraska Medical Center.

"Everybody counted me out. But you know who had my back? It was the kids that I came here for and fought for," Sursa said. "If we want to change the world we have to start with the kids and that was my job tonight. I didn't fight it for myself. I had a bigger cause than myself. We're blessed to be here and do what we love. I work a full-time job, 40 hours a week plus and I do this for my dreams."

Silva was having his way with Sursa in the first round. The Blackzilian was getting off his punches and landed a handful of elbows on the feet that split Sursa open.

"He's pretty basic. He comes out and throws the same kind of combos," Sursa said. "He came out with a hard left hook, low kick. Inside kick, outside hook right hand. So I did a million of those blocks during the camp so I was ready for those. The only thing that he caught me off guard on was the elbow. I went to block the jab but he snuck the elbow in on me which is OK because I wiped it off on his face and ran right back into him. It intimidated him, I think. He wanted me to back up and retreat and surrender is not in my vocabulary."

The win improved Sursa to 16-9 and he has won five of his last six. Silva fell to 16-5.

Valdir Araujo is known for his blitzkrieg style. In the evening's co-main event, he went his bag of jiu-jitsu tricks and defeated Iowa's Victor Moreno via knee bar.

There is plenty to like about Yuri Villefort, one of three Blackzilians on the card. Villefort showed why he is a fun to watch prospect when he faced Doug Jenkins out of South Dakota. The unorthodox Jenkins did fine early but a heavy knee by Villefort led to the first round TKO.

Illinois' Wes Powers took an extremely short notice fight against Chris Beal and won his pro debut at light heavyweight with a triangle.

A patient, more mature Lucas Gwaltney was on display at Gladiator MMA. Gwaltney is well-known for his free spirited, balls-to-the-wall style over a near-40-fight career. Against a sound, technically-sharp Chris Manuel, Gwaltney stuck with what was working for him and won by unanimous decision.

"I hate being the guy that backs up like that but it was a smart thing to do against a shorter guy with a black belt in judo and black belt in jiu-jitsu," Gwaltney said. "He's very crafty. He could have taken me down, he could have submitted me, you can't be that guy that just rushes."

Gwaltney used his length to pepper Manuel with jabs and straights that landed a number of times in the first.

"Everybody always tells me to do that," Gwaltney said. "I'm hard headed. I just like to come straight forward. I hit this kid hard and props to him, he took it. I'm very happy that I won and I definitely need the money for the kids for Christmas. This came at a great time. I thought the crowd was good. I think everyone is a little spoiled on the free tickets and they need to get out here when the pro's fight."

Manuel, an American Top Team product, first in Florida and now in St. Louis, threatened numerous submission attempts on both the knee and ankle. But the shoe-leather-tough 29-year-old from Streator, Ill showcased his own kind of escapes, shucking Manuel like a puppy nibbling at his pant leg.

"I was looking over at my corner, Ty Flores and Steve Berger, and they were looking at me like, are you going to defend this or just look at me," Gwaltney said. "I'm looking at them like, what do I do? I didn't really know so I just started scrambling back and forth and tried to bully my way out of there. I can't say that he ever had me in pain but I knew I was in a position that I didn't want to be in so I got those cartoon legs running and got out of Dodge."

The win ends a two-fight losing streak for Gwaltney and was his 39th professional fight. Manuel fell to 9-3.

David Waters won via rear naked choke off a scramble over Josh Epps.

Matt Murphy started the night with a crisp TKO of Gary Becker. The "KO Kid" improves to 4-4.

A series of unfortunate events caused the cancellation of a few of the schedule bouts. The eagerly anticipated bout between Lucas Lopes and Sal Woods was scrapped 40 minutes before showtime when Lopes was sent to urgent care with symptoms of dehydration and upper respiratory illness. Also falling off the card only shortly before the first bell was the featherweight contest between Zach Fears and Cjay Hunter. Fears showed up to the event without proper paperwork and the bout was cancelled.

Fight Hard MMA returns to the Family Arena on December 18th for an all-amateur show, stay tuned for a preview of that event in the coming weeks.

Photo courtesy of Sara Levin Photography.