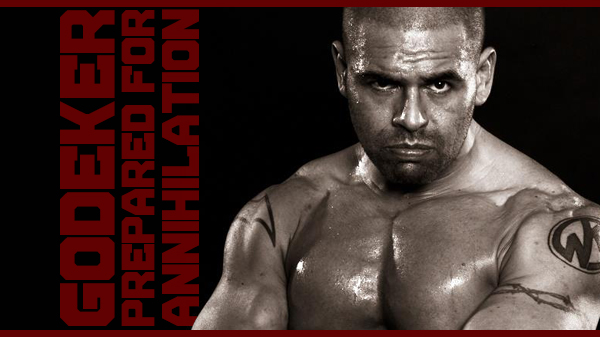 Godeker prepared for Annihilation
By
Debo
| Knuckle Junkies
(Photo courtesy of Joe Nuelle and Shamrock FC)

Mixed martial arts is one of the most fast paced, entertaining sports in the world right now. When Marc "Oh My" Godeker steps in the cage Saturday he will be looking to entertain and even his professional record. Godeker- representing Finney's MMA - is originally from Grand Island, Neb. He made his professional debut January 26, 2013 falling to Brian Schell who won by submission 4:03 in the second round. Godeker hopes to post his first professional victory in a matter of days at Lumiere Place Casino.

Godeker, 30, will take on longtime professional and journeyman fighter Ryan Scheeper (23-29) from Clinton, Iowa in the co-main event in the light heavyweight division. Scheeper is coming off a March 20th defeat in 38 seconds to Logan Clark in Rochester, Minnesota on the Brutal Rochester card. Scheeper has fought most of his fights in Iowa and South Dakota. He previously fought on a Shamrock FC card in April of 2012 losing in the first round to Ryan Sutton. Scheeper has taken on some other familiar professionals in Dan McGlasson, Steve Berger and Sal Woods falling in the first round to all three area opponents.

Godeker has been training at Finney's for two years. He is coached by BJJ ace Ezra Lenon and has been working in the gym on improving cardio and on his stand up skills.

"I want to get more comfortable in my stand up game." Godeker said. "I would like to use my jab and overhand right to setup the single and double leg takedowns."

Godeker is no stranger to the world of sports entertainment. He moved to Eldon, MO from Nebraska in 2001 where he enrolled in The Harley Race Wrestling Academy. There students are trained in the proper techniques needed in the world of professional wrestling. Godeker spent a significant amount of time (2001-2004) in the world of professional wrestling with the World League Wrestling promotion company founded by Race as an independent wrestling promotions company that promoted young prospect in the states and in Japan. Godeker also spent time performing in Japan and has participated in roughly a dozen shows for World Wrestling Entertainment (WWE) with majority owner and CEO Vince McMahon.

In 2004 Godeker had a change of heart, putting professional wrestling behind him and getting back to his wrestling roots. He had a solid high school wrestling career in Nebraska. He returned to Missouri in 2004 and started a private training practice at The Power Play in DesPeres. Godeker began training high school, college and local professional athletes who wanted to improve their strength and conditioning. He was enjoying the transition from professional wrestler to strength and conditioning trainer.

"The one thing I did miss was that aspect of entertaining," Godeker said.

So he began to train and adjust his training as he started to prepare for his first amateur fight. He was used to the vigorous and grueling training he was involved with in pro wrestling and while attending the Harley Race Wrestling Academy. Godeker still had the drive to compete, train and the ability to entertain something he really missed from 2004-2010.

So in late 2010 Godeker began to train for his first match as an amateur where he would debut in December of 2010. He lost in his debut by unanimous decision to Kenny Hopen. Godeker would avenge his debut lose to Hopen by defeating him twice in 2011. In all, Godeker managed eight fights in the cage before making the jump to the professional ranks. He fought 21 rounds at the amateur level finishing with a record of 4-4 before turning professional in 2012.

Godeker is currently a private strength and conditioning trainer at Power Play Training where he has works primarily with the St Louis University High School hockey team. This past season, with his guidance, SLUH hockey team won its first state championship in the school's history.

He admits he does not know much about Scheeper other then he has been in the professional ranks since 2005 and a veteran of nearly 60 professional bouts. Even with his experience in the cage Godeker understands he has to be on top of his game Saturday.

"Every opponent is different and you have to be ready to change and adjust to your opponent each fight," said Godeker

Shamrock Fighting Championship: Annihilation event will be held at the Lumiere Place Casino on Saturday. Doors open at 6:30pm. Amateur undercard starts at 7:30pm. This pro/am card features Garrett Gross against Nick Anderson in the main event.