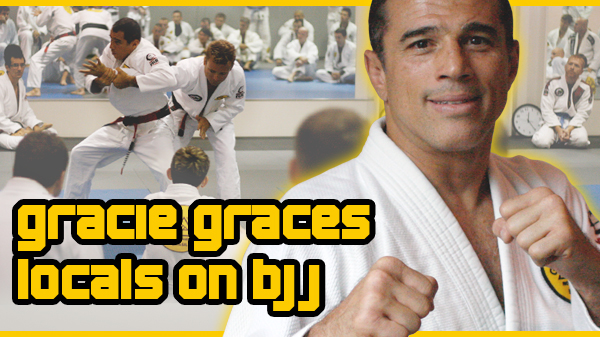 Gracie graces locals on BJJ
The young and the old, the stocky and the slim. From right next door to neighboring states, they poured into Xtreme Krav Maga in Fenton to learn from a bona fide jiu-jitsu icon.

Royler Gracie, son of Helio and brother of Royce and Rickson Gracie, returned the area on Saturday and nearly 90 gi-glad students were strewn across the mat ready to soak in as much as they could for three-plus hours.

"We always get a nice response," JW Wright, who helped sponsor the clinic, said.

"What's very unique about Royler is he is the son of the founder of what we do. It's a very special thing. You're getting the purest source of jiu-jitsu that you could possibly get. We have black belts who have driven in from Oklahoma today who have never trained with him before just to get a different feel, a different look."

Gracie's jiu-jitsu resume is unlike any others.

He competed in the black-belt ranks for over 20 years. He and Marcelo Garcia are the only individuals to have won the ADCC Submission Wrestling World Championship for three consecutive years. Royler is also a four-time World Jiu-Jitsu Champion in the Pena/Featherweight Black Belt Category.

He was the lead instructor at the Gracie Humaitá Academy founded by his father in Rio de Janeiro for over a decade. In 2008, he moved to San Diego, California and established Gracie Jiu-Jitsu San Diego where he is the lead instructor.

Gracie first came to St. Louis in 2006 and has been back every year since.

The affable Gracie was greeted by those who have grown to known him through these annual seminars while the newcomers adjusted to the initial wave of being star struck.

"For the first hour you see people who want to say hi to him but don't," Wright said. "But by the end of the day he's so personable and he's literally one of the nicest guys on the planet, that you just love him. He really tries to work with every single person here. He's sweating harder than anyone because he's working with guys, helping them feel what the pressure is like. It takes a little while for people to warm up but then it's pretty amazing."

For Gracie, seminars like these are a joy.

"It's my pleasure, always," he said. "I hope I can come back again. We always have a good seminar. It feels like I'm at home. JW does very good work here."

Gracie relishes the work and says the seminars fly by.

"Sometimes you don't realize, but my work is something I really enjoy," he said. "Sometimes you teach 3-4 hours and boom, it's gone. I feel very comfortable, especially with a group like this. These guys are a family. They're students and know what they're looking for."

Jiu-jitsu has been the go-to martial art when it comes to MMA and the reason for the can be attributed to the Gracie family.

"Jiu-jitsu helped MMA to grow up," Gracie said. "It proved the point that you can't go into a MMA fight without jiu-jitsu. That's the big turnaround for us. People see that if you don't know jiu-jitsu you're not going to go anywhere. Five years ago my father said, if you're going to train in MMA, make sure you train jiu-jitsu."

The sport of jiu-jitsu has resonated more than any other aspect of mixed martial arts and has been embraced by the white collar world.

"In jiu-jitsu, you can see from 3-years-old to 80," Gracie said. "The reach is much bigger. Sometimes you like to be a MMA fighter but it's not something that you want to go back home sore with a big (swollen) eye. Jiu-jitsu is something more softly and relaxed. It's amazing. You don't realize that when you step into an academy and train for an hour, hour-and-a-half and then you drive your car and you're so light and you leave all of the bad energy in the academy and then recharge for the next day."

Gracie's chest swells with pride when he talks about what his father and family has done for the sport. At 46-years-old, Gracie's competing days are behind him, for the most part.

"I don't say done, done," Gracie said. "Someone comes knocking on the door, business is business, but I'm not looking for normal competition anymore. For me, it's done. This is not my goal. I train for fun. My time has passed. Now, I'm going to be a good coach and run the association."

Gracie has a seminar pretty much every weekend and has more frequent flier miles than one can imagine. But even when he is back on the West Coast, it's all about getting a roll in.

"When I'm at home, I'm like everyone else with the gi on the shoulder and train a little bit," he said. "I'm just being a little kid at the academy."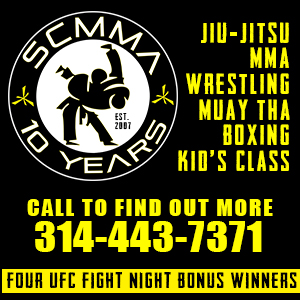 Shamrock FC: 317
| Sat, April 6th
Ameristar Casino, Kasnas City, MO
Nemesis Fighting Alliance
| Sat, April 13th
Casa Loma Ballroom, St. Louis, MO
Shamrock FC 318
| Fri, May 10th
River City Casino, St. Louis, MO
Shamrock FC 319
| Sat, June 8th
Ameristar Casino, Kansas City, MO

Tweets about "KnuckleJunkies OR @knucklejunkies"