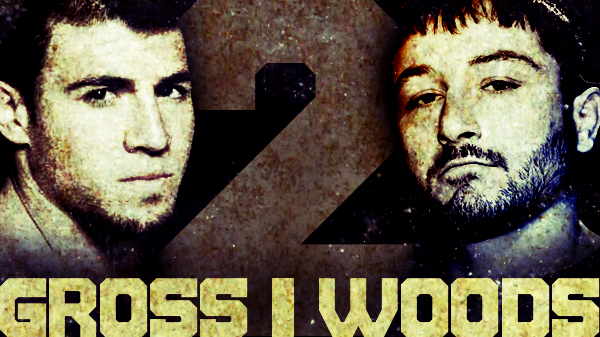 Gross, Woods Reboot
In March of 2012, Sal Woods and Garrett Gross squared off at the Ameristar Casino and the end-result was a wild change of events.

Gross and Woods traded knees early on with one from Gross catching Woods below the belt. After a brief stoppage, a visibly tired Woods was met with an onslaught of strikes. With Woods hanging on for dear life, the Granite City product endured even more punishment from Gross before finally securing a takedown. Once on the ground, the tides turned. Woods soon took Gross' back and from there secured a rear naked choke for a victory with 3:56 in the first round.

On Saturday night, the two will go at it again in the main event of Shamrock Fighting Championships: Revenge at a sold out Lumiere Casino.

A lot has changed in the two years since that bout.

Woods (9-13) has gone 1-2 since, losing to local standouts Chris Heatherly and Jimmy Donahue while garnering a couple of wins over TJ Thomas.

Gross (4-4) has gone 2-2 with wins over Dustin Pape and Nic Anderson sandwiched around losses to Arnas Sakocius and an undefeated Belal Muhammad.

"Saturday will be a new fight on a new night," Woods said. "I'm not the same fighter I was then and I'm sure he's not the same fighter he was on that night."

The first meeting was at welterweight. Saturday's bout will be at 155-pounds. Woods has fought at that weight before and was on-weight in January before a severe illness pulled him off a local card at the last minute. For Gross, it will be his first go at lightweight.

"He was big and shredded at 170," Woods said. "I feel like I may have the advantage having been at that weight two times before."

Woods, out of Granite City's CMMA, actually started his career at 205-pounds. A flag-waving member of the Dolce Diet team, Woods' change in lifestyle has found him at his most comfortable in his career.

"I like it a lot," he said. "I feel lighter with no loss of strength. It became obvious that I'm not a 170 fighter."

This will be Woods' second rematch, having fought Thomas twice. While like himself, Gross has grown and changed as a fighter, he feels he has a good grasp on what's coming at him on Saturday.

"His striking is tenacious," Woods said. "He wants to come to finish, he is coming to win."

At this point in 2014, Woods thought he would have a win or two under his belt. He looked at his 1-2 mark since the last meeting with Gross and decided some serious evaluation was needed. Not only did he tighten the diet, for this camp he turned to good friend and training partner Aaron Brown to tell it like it is.

"He cleaned up my trash," Woods said. "We've had many long talks. It's not practice that makes perfect, its perfect practice that makes perfect."

Like Rocky Balboa in Rocky III, Woods and Brown had to strip away the veneer and get down to the nit and grit.

"I was getting sloppy," Woods said. "I've worked diligently to tighten everything up. I had gotten away from the basics. I thought I was too good and loosened up too much."

Gross made a name for himself locally fighting under UFC superstar Tyron Woodley's ATT Evolution.

It was Woodley's connections with the original American Top Team that helped send Gross to Florida, where he's been hanging his hat the past 11 weeks.

"I moved to St. Louis in 2012 and Tyron sent me there for six weeks and I loved the training," Gross said. "I've been trying to get back ever since."

Gross' circle will be complete in May when his girlfriend and son move to Florida.

"It has been awesome," Gross said. "The level of training is a lot different. Tyron helped me out a ton but he has a lot going on. Not only would he be gone for his fights, he has a family and is a gym owner. Down here, there isn't just one guy great guy to train with there are 20 or 25. I've learned more in eight to 10 weeks than I have in my entire career"

Gross is making his first trip to lightweight and so far, so good.

"Previously, I did the cut all wrong," he said. "This is one of the best weight cuts I've had. When I was fighting at 70 I would walk around at 190-95 but with my height (5-foot-9) my reach just wasn't cutting it. There are some big guys, over six-feet, with long reach and I was just tired of dealing with that size. Fifty-five is just better for my frame, reach and size. My conditioning is great. I'll be big and strong at 155."

Gross feels that Woods is going to rely on his tried and true wrestling.

"He'll try to take it to the ground," he said. "But of everything I've learned since I've been here, my wrestling has improved the most."

While it was Woods who pulled out the wild victory in their first meeting, Gross is hoping to not let it reach that point again.

"Sal is a real game opponent," Gross said. "He doesn't back down from many fights. It frustrates me when guys won't take fights but that's how it is now. People won't take a fight unless the fighter has a certain record. I know I've taken fight that I shouldn't have taken. I don't know how many guys I've had back out a week before. I'm not really worried about that with Sal. He'll show and he'll be ready to fight."