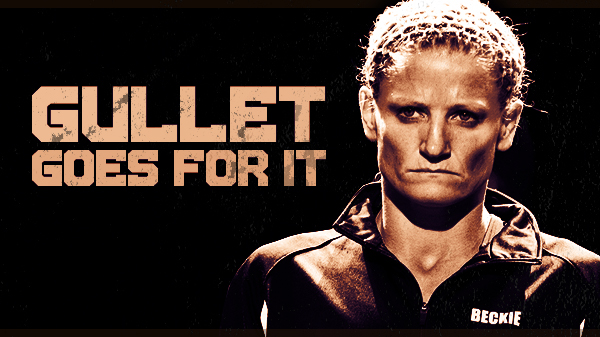 Gullet goes for it
By
Debo
| Knuckle Junkies
I often get caught up in the stories of fighters in their quest to achieve their goals and dreams in the sport of MMA.

So how does a mother of two children, who works a full time job as a security guard, have time to train and prepare for combat competition?

Rebbeca Gullet, 34, of 21st Century Martial Arts in Pacific is a great example of a goal-oriented athlete who has a solid understanding of the path she wants to carve out in the world of women's MMA.

Gullet will make her pro debut at the River City Casino at Saturday's Shamrock FC: Invincible when she takes on 22-year-old Briannah Coaster, who will also be making her pro debut. This flyweight bout will be the evening's co-main event. Gullet defeated Conatser by TKO in late March on a Shamrock FC card at 2:02 of the first round due to strikes.

Gullet is no stranger to combat sports. She began kickboxing in 2006 at the age of 28 and posted a 9-0 record in the amateur ranks. Gullet also has experience in the boxing ring. She was a St Louis Golden Gloves Champion in the 2011 with a 3-0 record fighting up a class due to a lack of opponents in her weight class.

Gullet is like numerous other athletes in the sport of mixed martial arts. She had a successful athletic career thru high school and college. The combination of skills acquired in other sports is always a plus in the cage. She played a variety of sports in high school including softball, volleyball and basketball. She would later move on to the college level and compete in softball at Meramec Community College and play NCAA Division I softball at Southern Illinois University in Edwardsville.

When asked about her age and being competitive in the sport, Gullet is quick to mention that she has been lucky and age is no factor and has never entered her thought process. The number one thing she detailed is training smarter. For example if she needs additional minutes to stretch, no big deal. She takes the proper time needed to prepare to train every single day of training camp.

She mentioned the number one positive during her preparation for her pro debut is she has grown as a person and combat athlete over the last four to five years. She has a better understanding how to deal with the positives in life along with the adversity that looms around the corner.

It has been an interesting path as she climbs into the cage for the first time as a professional. Although she always wanted to go pro in combat sports she understood the path for a woman was to make the switch to mixed martial arts. She was able to do so in late 2011 when she began training full-time at 21st Century Martial Arts. She was eager to test herself and her skills in the cage. She started looking for an exhibition match in 2012.

"I had my first amateur WMMA fight and was hooked," Gullet said.

Revamping her training and diet was a major key to become better in all phases to go with her strong standup.

She credits her corner and coaches; Eric Covert, Mikey Suntiger, and Dalton Voyles for putting together a productive training camp. But at the forefront has been head coach Benny Voyles.

"I put all the trust in Benny," Gullet said. "He is honest, looks out for his fighter and has them ready."

Part of being successful in combat sports is you have to love to train and prepare to have your hand raised. Gullet enjoys the feeling of coming in as a confident standup striker but loves the cross training part of training camp. Moving to the professional ranks means increased attention and time to wrestling, grappling, Brazilian Jiu-Jitsu and improving conditioning.

"I like to win and hate losing," Gullet said. "I love MMA because it is a mixed sport."

Excited for her pro debut and coming off a solid training camp, Gullet mentioned how her parents Danny and Mary Wilson have been tremendously supportive for the mother of two while she still maintains a full time job.

Be sure to get out to River City Casino Saturday for Shamrock FC Invincible. The main event features Ken "The Sensation" Porter against Jacob Akin. Plus the highly anticipated pro debut of Kain Royer as he squares off against Luke Nelson. Tickets are on sale now at tickmaster.com or visit shamrockfightingchampionships.com. Doors open at 6 pm and the action gets going at 7 pm.