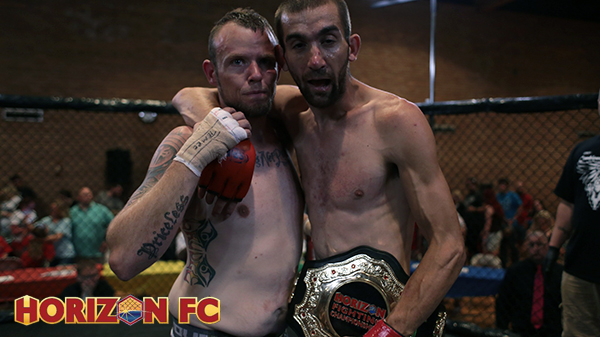 HFC: Fighting for Autism - Recap
Horizon FC: Fight for Autism Saturday at the Sokol Gymnasium dispelled preconceived notions.

In the main event, adaptive fighters David Steffan and JP Gillespie put on a performance that was as competitive, action-filled, and technically sound as any on the all-amateur MMA card.

Wearing shin guards and competing under adaptive rules, Steffan and Gillespie went at it in a rematch from their 2015 bout. This was the third adaptive fight in Missouri in just under two years. Missouri and Florida are currently the only states that sanction adaptive fighting. Gillespie and Steffan are both diagnosed with difference forms Cerebral Palsy. Steffan fought in the debut adaptive fight in November, 2014 and again when he and Gillespie fought last summer for a different promotion.

"St. Louis, are you entertained?" Steffan, from Nebraska said after the fight. "I consider St. Louis my second home. I have (trained) for 10 years and have only been able to fight these last two, all in St. Louis. This is my final fight. I hope I inspired you and I thank you."

Gillespie, who is non-verbal, thanked Steffan, the fans and the promotion, among others, through his coaches.

Gillespie's effective striking and precise boxing led to a second round stoppage and a victory over Steffan.

Gillespie found his range with punches early on in the first before Steffan pressed the fight against fence. Action was stopped due to an accidental low kick. Once reengaged, the pair exchanged positions along the fence and remained tied up. Once he got separation, Gillespie, out of Marion, Illinois, turned up the aggression.

Tavae "Southern Illinois Golden Boy" Lewis leaned on his wresting to win the Horizon FC 170-pound title in the co-main event via unanimous decision over Clayton Whaley.

In the third round, Lewis' explosive double started things off. Whaley eventually made it back up and connected with quick knee, before Lewis turned position. Whaley caused another scramble, took the back, and worked a brief rear naked choke. Whaley switched and started landing punches, dropping heavy bombs. Whaley landed a knee while pressed fence before Lewis turned and scored a confidence-taking takedown. From side control Lewis mixed in some knees and didn't relinquish position.

The second round featured more of Lewis' wrestling. He sucked in to Whaley and got the fight to the floor. There was not much offense while hanging out in guard. Whaley was reluctant to try any sweeps or submissions and Lewis was choosy with his offense as they were stood up. The pair quickly engaged and pressed to fence before Lewis picked up another takedown where both worked slowly.

In a pretty uneventful first round, Lewis ended up in side control early on. Whaley inched his way up and back to his feet and tried to land a knee, but Lewis got it back to floor, mostly staying in Whaley's guard.

In the evening's featured bout, James Dalton quickly pressed Matthew Matteson against cage and got the fight to the floor. Matteson locked down half guard and Dalton was fine with it. He began to rain down punches before getting the TKO.

The first fight on the main card, was billed as a 'money in the bank' bout between Nathan Stearns and Jeff Houska. Sam Tamayo was scheduled to fight Stearns but a case of food poisoning forced him off the card.

Houska, who took the fight on a phone call, started the fight with a nice trip and proceeded to smother inside Stearns' guard. Stearns went for a triangle and then caused a scramble. He landed a sharp head kick, swarmed and got the TKO at the 2:06 mark.

"Once the titles get filled up, if (Stearns) wants to go to '45, '55, '70, anyone he wants, he has a title shot," Horizon FC president Ace Anderson said. "Houska showed up from JD's gym. They are a tight team and whenever one cuts, they all cut, and they have that always-ready mentality. He showed up at weigh-ins at 170. He said, I know there is a catchweight, I know it's a title fight, let me in."

Anderson hinted at a Tamayo/Lewis bout in the future.

After a wild, caution-into-the-wind start, Mike Lamb settled down to land a nice combination that sent Aaron Fahr to the canvas. Lamb went in to swarm and Lamb did a nice job defending off his back before Lamb's pressure became just too much and he got the TKO win.

In a unique exhibition, Jason Teague and Aiden Woods fought two rounds of K1 and followed with two rounds of no-gi jiu-jitsu.

In a K1 bout, Parker Weathersby and Jack Reiff staged an crowd-approved slugfest. Reiff, who took the fight on six days notice and gave up 55-pounds, survived a brutal first round in which Weathersby connected on several short power punches. But in the second round, momentum started to shift Reiff's way. As Weathersby took advantage of Reiff's ploddy footwork, the Centralia, IL, heavyweight began to tire. Reiff chipped away, possibly stealing the round, and in the third, finished Weathersby at the 1:05 mark.

James McAffie needed just 28 seconds to finish Casey Brew.

After three youth grappling exhibition matches, Ben Wolf kicked off the preliminary card with a solid performance against Damon Weathersby. Weathersby started to open toward the end of the second round. Wolf ended the round with a takedown and a heavy knee from side control. Wolf's wrestling was the difference in the third, where he got the TKO finish.

Jeralyn Spear, one of the competitors in the youth grappling bouts, was join Mark "Wolf" McLean in the Horizon FC Hall of Fame.

Horizon FC returns to the Sokol Gymnasium in October.

"Everything went great," Anderson said. "The main event, the show itself, I'm glad everyone turned out to support Horizon."