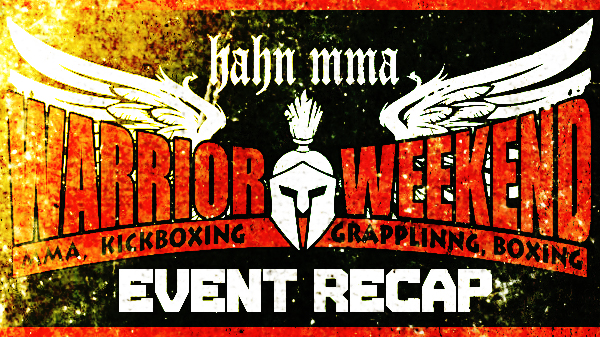 Hahn Warrior Weekend - Event Recap
Malcolm Smith and Shaine Moffitt made most in attendance forget the misfortune in the main event of Saturday's 2nd Annual Warrior Weekend presented by Hahn MMA and held at Surdyke Harley-Davidson in Festus.

Tony Souders and Ray Clayton were slated to meet in the final bout of the night. But Clayton, who weighed in the day before, failed to show up come fight night.

But Smith and Moffitt put together a main event-performance worthy of any card.

Despite having to wait in their respective corners for over 15 minutes while the cage side physician attended to - and then waited for an ambulance for - a fallen fighter in the lockerooms, the pair of featherweights gave fans something to remember.

In a fight that was determined in the final minutes of the third round, Smith earned his first win as a pro with unanimous 29-28 decision victory.

Moffitt looked dominate in the first. He landed a heavy head kick that sent Smith to the canvas. The Destruction MMA product soon took Smith's back and landed some stiff shots. He even locked in a body triangle before Smith transitioned to side control at the very end of the round.

In the second, Smith landed some significant strikes on the feet before he chopped away at Moffitt with several leg kicks. The pounding of the leg kicks started to take their toll as Moffitt was barely able to keep on his feet by the end of the round.

In between the second and the third round, Moffitt's coach, Joe Worden, implored him to get a takedown and that's exactly what he did to start the third. Moffitt eventually took Smith's back but couldn't find anything to stick and Smith got the fight back to their feet where he greeted Moffitt with yet another leg kick. From there on it was all Smith, who smothered Moffitt on the ground, attempting two submissions, and was pulling hard for an arm bar in the final seconds.

"This was kind of the debut of me trying to be a smarter fighter instead of a more aggressive one," Smith said. "After I took the head kick it gave me the sudden realization that I have to keep my hands up and think a little more. It rocked me a little bit and when I hit the ground I thought, 'my coach is going to kill me.' In the third round I told myself to slow down and not get caught in anything. I have to go step one to step two to step three not just bam, bam, bam."

Smith was in need of a victory after dropping his first two pro fights.

"This was a stepping stone," Smith said. "I have to keep building. I have to keep improving and keep my two-a-days and three-a-days up and keep my mind straight and off the girls and the bars and any other distraction. I have to keep my mind on my gym, my training, and the people I help train."

In the only other pro fight of the night, Smith's teammate at Hahn MMA, Lance DeClue, looked razor sharp in his victory over Gary Becker.

DeClue was on the receiving end of a knee below the belt to start the first round. Once he got his bearings, a short right hand sent Becker to the floor. DeClue went from one submission attempt to another before eventually getting the mount and throwing down strikes. Becker displayed some solid groundwork of his own to hold off DeClue, who dominated the round.

Both fighters looked spent to start the second and DeClue eventually got the fight back on the ground. From there he dropped several short elbows and had Becker trapped with nowhere to go. Referee Mike England eventually stopped the fight for a TKO victory with 2:20 left in the second round.

"I thought I did well but I not going to lie, I got a little tired," DeClue said. "The adrenaline got to me when that crowd erupted. I felt that I showed that I'm not just a jitz guy as everyone says. I showed that I have hands. I felt good but going from three to five minute rounds, that's tough, man. I'm going to have to push the cardio more and I'm going to have to stay calm. I had a huge adrenaline dump. I trained for a hard fight but you can't train for that intensity from the crowd. It was a good start and something to grow from."

In the night's feature amateur bout, Fit or Fight/Berger's MMA's Hannah McNitt continued her tear this summer.

McNitt picked up her third win in as many months when she made Bobbie Bedard verbally submit in the first round.

After a quick exchange to start the fight, McNitt powered through Bedard for a takedown and from there, Bedard was in deep waters with the former collegiate wrestler, who has finished all of her opponents in the first round. Once McNitt got Bedard down, she eventually worked her way to the mount and threw down several shots that led to Bedard calling for an end.

In the night's other action:

Destruction MMA's Pete Dugan put together a smothering performance and won by rear naked choke in the second round over a game Kory Johnson.

Heavyweight Zach Geruillus won in the second round by verbal submission over Johnnie Nixon. Geruillus was slugging away at Nixon while on their feet when Nixon called for the stop.

Irfan Mulabitinovic defeated Dylan Ford by rear naked choke in the first round.

Also winning by RNC in the first round was Justin Cotner over Austin Ganzinotti and Cristen Santana over Tim Lang.