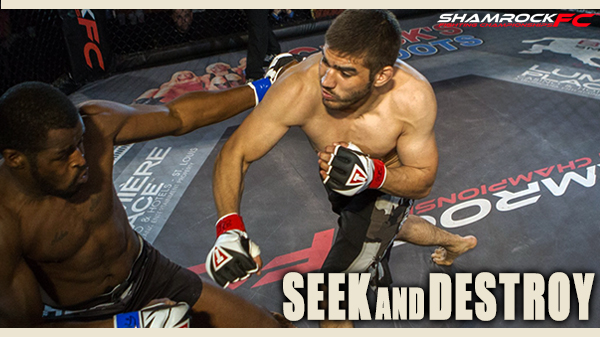 Highfill - Seek & Destroy
Aaron Highfill has been on a seek and destroy mission for the past 12 months. Now on the eve of the biggest fight of his career, the 26-year-old welterweight has never been busier.

Highfill will face the Shamrock FC welterweight champ Zak Bucia on Friday in a bout that's been heavily discussed on social media and among fight fans as a big step up in competition for one of St. Louis' brightest stars.

A sizable underdog, Highfill has been busy in the weeks leading up to the fight. In addition to his full-time job in the sheet metal industry, Highfill has a full plate of extracurricular activities.

"I've got a lot going on. I'm working full-time, going to school two nights a week for my apprenticeship," Highfill said. "That kind of hampers training a bit. I got a baby on the way. We are refinancing our house. My brother and my dad are moving so I had to help them with that. A lot going on for sure."

Working from six in the morning straight through to 2 pm, with no lunch break, much like many other fighters, Highfill starts his day early, so he has time to train in the evening.

"I've been working with Jeff Crotty and some of his guys up in Staunton," Highfill said. "I go there right after work. Sometimes I'll just come home and drive over to the Hit Squad to train there. It just depends. It's all over the place, but I stay pretty consistent and haven't ran myself ragged. No time to fuck around at all. I'm on a pretty strict thing right now, but I feel like it's kind of made me more prepared."

Entering into his eighth professional fight after a lengthy amateur run, Highfill has begun to draw from his past experiences.

"I've been trying to train smarter and let my body rest and not run it completely ragged," Highfill said. "This is my fourth fight in six months. I'm not going to fall that far off the wagon where I have to kill myself every day. I've been taking a lot different approach. Harder isn't always better. I'm trying to use my head a little more."

With the lack of a centralized gym, Highfill has had to travel a bit to address specific areas of his training.

"I do a lot of mit work with Moses (Flores)," Highfill said. "I train with Jeff Crotty a lot, and Ron Bessemer his old wrestling coach. I do a lot of strength and conditioning with George Stanich and Jordan (Dowdy) over at the Hit Squad, and I've been sparring at a bunch of different places. Actually, got to go over to St. Charles and spar over there, that was kind of cool. Still a bunch of fucking badasses over there."

Highfill's professional MMA career has been a series of ups and downs. After a 13-1 record as an amateur, Highfill would lose his pro debut, and then after things started to pick-up a serious injury would sideline him for almost a year.

"I came out and had the worst pro debut of all fucking time," Highfill said. "After that, I took a fight for Rumble Time against Kyle Kurtz, but I got staph infection real bad, had to pull out of that. I've had to deal with that for pretty much every fight. The shit keeps coming back every time I start cutting weight. I finally get back and get a win and the next week after that I get in a motorcycle accident and break my back, and then I'm out for a while. Somehow, I'll probably pay for it later, I come back and fight eight months later after the accident."

Earlier in the year, Highfill decided to be more active taking fights in both the middleweight and welterweight division. With wins at 185 over Ty Flores and Dewayne Diggs, the strategy seemed to be paying off, a loss to Jake Lindsey at 170, in a very close bout in March, being the lone blemish.

Coming into Friday's bout with Bucia, Highfill has won three out of four since deciding to take on all comers.

"I was like it's time to shit or get off the pot," Highfill said. "I'm just going to go for broke. I'm going to do whatever I can, fight whoever."

Despite Bucia's distinct experience advantage, a veteran of over ten years, Highfill likes this match-up.

"It's going to be a really exciting fight," Highfill said. "It's interesting stylistically, I think we're both good on the ground and the feet, but we're very different. I'm like a wild boxer almost, and he's more of a technical kickboxer. Then on the ground, I'm more of a top guy, more of the wrestling base where he's a little more of jiu-jitsu guy. I know he's well-rounded, tough experienced, smart. Anytime you can go a five round fight with a UFC veteran, you know he's a tough dude. Whoever can implement their fighting style is going to be the winner."

Bucia enters the fight with a record of 17-8, winning his last two including the emotional, five-round war with Bobby Voelker in May.

"I probably should be the underdog, look at how many pro fights this guy has had," Highfill said. "But, you know, every dog has its day. I think fans can expect, pure ecstasy. The whole fight card is really good, a lot of good amateur fights and some good pro fights."

The match-up between Bucia and Highfill will be for the Shamrock FC welterweight title and caps off a stacked main card of fights.

"Between Bucia and me it's going to be exciting," Highfill said. "We're both finishers and have a ton of shit to prove. We're both trying to get to the next level. He's been a pro for ten years, and he's trying to get to the big show and has been close. He's going to come in there with a lot to prove, and I have a ton of shit to prove myself. I got a kid on the way. I'm doing all this shit. I'm not fucking around. I try to have as much fun as I can, but I'm coming in there to win the fight."