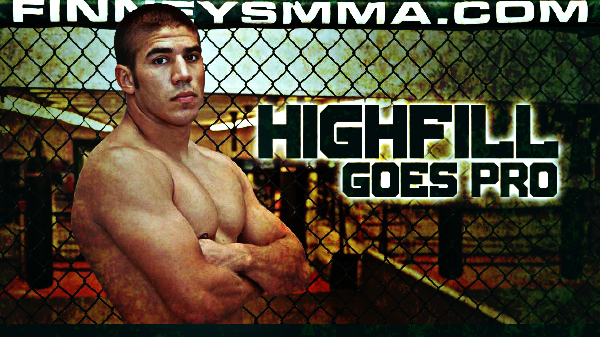 Highfill Goes Pro
Aaron Highfill doesn't have a nickname, but after spending a morning with the young welterweight, one might suggest "The Big Humble".

The soft spoken demeanor of Highfill is not what you would expect of a fighter who tore through the amateur ranks and is on the eve of making the jump to the pros. In a world of mo-hawks and tribal tattoos, Highfill has a quiet confidence that's endearing.

Highfill entered the sport of MMA without an extensive martial arts background, but instead as a gifted college athlete looking to try something he always wanted to do. A lifelong fan of the sport, he now finds himself on the cusp of a promising professional fight career.

"I played about a year of college football and I always wanted to start fighting." Highfill said. "So I just went into it. I hardly ever got into any fights (in high school.) We'd spar and wrestle and stuff like that, but never really got into fights with anyone."

Looking for a place to get started, Highfill enlisted the expertise of the team at the War Room. The Wood River, IL-based gym has had a lot of success recently with other blue chip prospects in Wendy Julian, Marissa Smith, and Brandon Lowe finding success.

"For that first fight I was training mainly at the War Room working with Adam Marburger, Brad Jones, and Moses Flores." Highfill said. "I talked to them and got the go ahead and took my first fight. It was actually on a Shamrock card at the Stratford Inn."

The fight saw Highfill score a second round TKO over Christopher Heck, and served as the start of his budding relationship with fighting.

"I didn't know how far I was planning on going with it, I just wanted to fight," he said "I just experienced it once, it kind of took off and I've been doing it for about three years now. I just started having fight after fight, haven't had more than six months without one. "

The 23 year-old would win three more fights before dropping his first loss to Anthony Livingston. He wouldn't lose again as an amateur. Now, three years later, he has a record of 12-1 and feels the time is right for a jump to the pay days.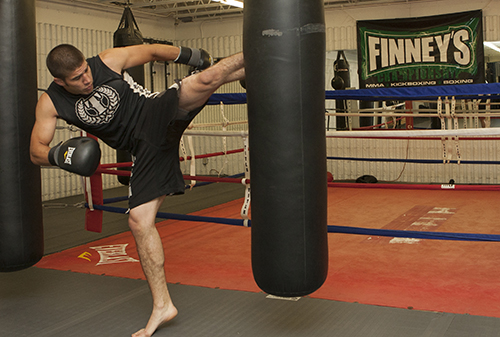 While the end goal is to reach the UFC, Highfill sees satisfaction in reaching his potential and continuing to improve.

"I put a lot of time into it and wanted to see how far I could go with it before I got too old and start having to worry about a lot of responsible stuff, like that." Highfill said. "Just want to go as far as I can, hopefully get into the UFC someday. If I don't that'd be a bummer, but as long as I do the best I can, and go as far as I can, that's the goal. Learn from every fight and improve in all areas."

On Saturday Highfill takes on Bryant West an undefeated amateur out of Indiana who will also be making his professional debut.

"I don't know to much about about him." Highfill said. "I saw some of his stand-up, he seems like a power grappler. He fights hard for the takedown and goes right for the submission. We both fought the same guy, and both finished him quickly. I'm just preparing for whatever."

In preparation for the fight Highfill has continued the same, successful recipe.

"Been working with Moses down at the Hit Squad for boxing and strength and conditioning," he said. "A lot of hard sparring there. Then been working with Jon Menke up at the War Room for my ground game and my overall MMA game. I've been splitting time between the two places, and they're making sure I'm ready and staying on task."

The added pressures of making the leap to the professional ranks hasn't had an affect.

"It's kind of just another fight for me," he said. "I try not to make too big of a deal out of it, Even though it is. I just try and go in there relaxed. I don't want to lose any fight no matter what it is so I treat every fight about the same."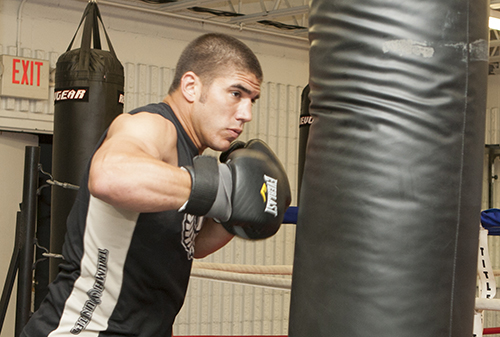 As is the case for most fights, Highfill has a day job cutting concrete near his home in Bunker Hill. It's grueling work that can take a psychical toll on just about anyone.

"I've always been busy from the time i started fighting." Highfill said. "I was in nursing school for the first two years I fought. I was working at the same time as that. I've always been kind of busy while I was training. You have to manage your time right. "

With his pro debut locked in, Highfill dreams of someday of fighting in Japan in the sport's biggest and grandest stage.

"I wished I could have fought in the Pride style fights with the big entrances and all that." Highfill said. "I always thought that'd be kind of cool. I think it's the Saitama Super Arena. I always thought it'd be cool to come out in a Pride style entrance and fight."

For now, Highfill will have to settle for the plush ballroom at the River City Casino in south city. Highfill will join his Finney's teammate Joaquin Buckley on the main card as both fighters will make their pro debut on the Shamrock FC: Nemesis card.

If he wins on Saturday, don't look for Highfill to bask in the victory for long, getting the blue chip prospect to boast about his talents is about as difficult as trying to dodge that blistering right hand of his.

Photos by Jimmy Range. Graphic by Chris Oth.