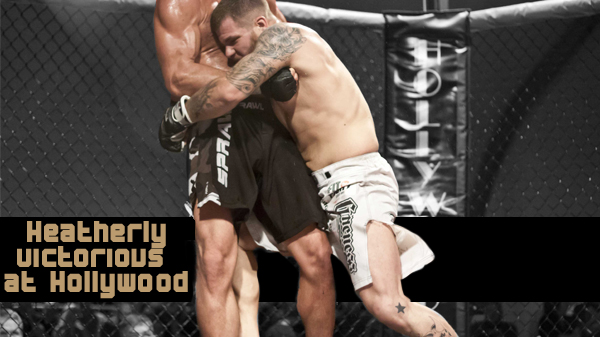 Hollywood Fights - Event Recap
Jason Halley and his partners at Hollywood Casinos made their St. Louis, MMA debut on Saturday night. Many have tried to do the outdoor event and thanks to cool weather and a 12,000 square foot tent, this one was smooth sailing.

Local standout Chris Heatherly got back to his winning ways in the main event, defeating a much larger Josh Tully by way of unanimous decision. Tully weighed in at 186 for the catch-weight bout with Heatherly barely making it up to 180. Credit goes to Tully for taking the fight on Friday after an illness sidelined Josh Weston.

Tully started off landing a thunderous leg kick which prompted Heatherly to switch gears and take the fight to the ground. Tully's neutralized most of Heatherly's ground offense; every attempt by Heatherly to pass into half guard was immediately neutralized by Tully who as able to shrimp back to guard every time. After three rounds "Stump" was awarded a unanimous decision, grinding out what was a slow moving, three right ground battle.

The evening's "pre-main event" featured Bo "Bad News" Kunz taking on Anthony Livingston with both fighters making their pro debuts. Livingston landed a vicious punch early that stiffened Kunz, but he was able to survive the early onslaught and take the fight to the ground. Kunz, out of St. Charles MMA, controlled the action for the majority of the first from a mounted position, occasionally working from the back where he nearly landed a rear naked choke twice in the round.

Livingston again came out firing in the second, landing another big punch that sent Kunz face first into the mat. Livingston, not wanting to waste another opportunity, jumped on Kunz's back and slapped on a rear naked choke for the victory.

The evening's third pro fight was scrapped as Cody Chamberlain was missing in action after the weigh-ins.

Raymond Gray from Hullet House got the better of TJ Casey in the amateur main event. Casey had no answer for Gray's takedowns, and the powerful wrestler controlled the fight when on the ground. Casey's stand-up was very unorthodox confusing Gray a bit, but really never had him in serious danger. Gray picked up the win, adding to his already impressive 2013 resume that includes victory over the previously unbeaten Chad Williams.

Zach Fears and Brian Graves came to fight, not a lot of finesse in this one, just two guys throwing with bad intentions. Fears broke his opponents nose late in the first to score a first round TKO.

Chuck Cox swarmed his opponent and won via TKO midway through the first, much to the delight of the fans which seemed there in support of Cox and his teammates at 3 Brothers MMA.

Jake Zech from Andre's scored a nice TKO against his opponent Montrel James in the second round.

Nick Hays wasted no time against his opponent, finishing just 43 seconds into the first in a heavyweight bout.

Also victorious on the night was Brandon Dillick (R1 TKO), Kevin Green (R3 TKO) in a heck of a fight, and Robert Cox (R1 TKO).

Lucky Almazar from Andre's survived three low blows in the first round to take home a decision victory in the night's opening match, a welterweight K1 battle.