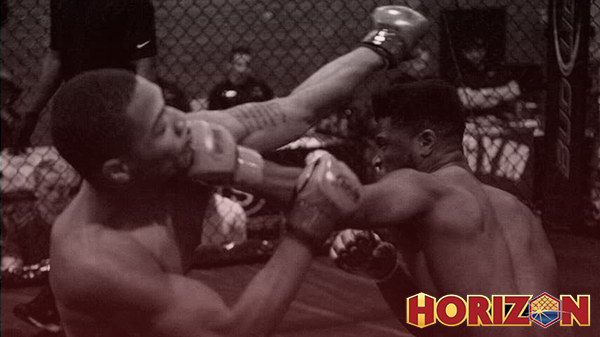 Horizon FC: Tribute to the Troops - Recap
Upstart promotion Horizon FC had its debut show "Tribute to the Troops" at Sokol Gym in St. Louis. The promotion, headed by Ace Anderson, Shaun Scott, and matchmaker Kain Royer, has the goal of providing a platform for amateurs to develop and compete with the pathway to get to the bigger shows of Shamrock FC and Fight Hard MMA

Set with vendor tables, announcer Dave Davis, photographer Sara Levin, a commentary crew composed of Drew Ingrande, Matt Pearlman, and KMOV's Anthony Kiekow, and showmanship-like lighting on the fighter entrance walkway, the big show feel was replicated as best as it could be for the more intimate venue. The show featured three title fights in its debut, as well as a highly anticipated number one contender's match.

A main event between LC Hamid and Steven Coleman for the Horizon FC Strawweight championship headlined the card.

A fast paced start saw Hamid land solid punches while Coleman looked to close the distance, clinch, and throw knees to Hamid's body. Coleman found some success with a couple right hands and a round kick. A hook from Hamid sent Colman to the mat, Coleman shot back to hit feet quickly and after some work on the cage, secured a single leg takedown. Hamid threatened an armbar that Coleman defended as the first round ended.

Both fighters were looking to land fight-ending hooks to start the second. A tie-up saw Hamid land on his back and threaten a triangle choke, but he was not quite able to get the angle to finish it, Coleman defended and postured in guard, looking to land strikes. Another armbar attempt by Hamid was thrown up, but Coleman shrugged it by to pass to side control and sit in scarf position. Hamid rolled away and got to turtle position to attempt a stand-up, but the round ended before he could look to work up.

After an even last round of standing on the feet, Coleman shot a double leg to put Hamid on the mat. From this position he landed some punches, before looking to take his back as time ran out. Steven Coleman was declared the winner by split decision, claiming the Horizon FC Strawweight Championship.

Keith Gorden challenged Brandon Pearson for the Horizon FC Featherwieight title. Some clinch work on the cage saw Gorden secure a Thai plum and bury a set of knees in Pearson. Pearson was able to break free and reverse position, putting Gorden's back against the fence. Pearson looked to punish the inside thighs of Gorden with short knees before another threat of a Thai Plum from Gorden made Pearson shoot for and earn a takedown, landing in guard as the round expired

Pearson looked to shut down the offense of Gorden in round two by once again pushing him to the fence and kneeing his legs. Eventually Pearson secured another takedown and ended up in Gorden's guard. Pearson moved to side control, but wasn't able to take advantage of it before running out of time in the round.

The third saw more back and forth on the feet before returning to clinch work off the wall. Pearson ate a knee from Gorden to the body, but then got the takedown and landed in half guard just before time expired. The split decision, and Horizon FC featherweight title, went to Brandon Pearson when the scorecards were read.

The Horizon FC bantamweight championship was on the line in a bout between Terrance Kaiser and Eric Ellington. A push kick from Ellington sent Kaiser to the mat early, but he recovered to his feet quickly. Ellington circled around the cage and landed some powerful round kicks before taking Kaiser to the mat. From the guard Ellington landed some hard strikes before passing to side control. Ellington then secured a crucifix and landed numerous punches to the unable-to-defend Kaiser, leading to referee stoppage in the first round. Eric Ellington becomes the Horizon FC Lightweight Champion by first round TKO.

An anticipated match-up between Tyler Madding and Yola Levar was scratched as Levar seemingly took an injury walking to the cage.

A lightweight contenders match between James Cowan and a returning Dillon Pousson garnered a lot of talk on social media coming into the fight. After some measuring on the feet Cowan pressed Pousson to the fence, but Pousson secured a switch and found himself pressing Cowan into the cage, landing some punches and also knees to the outside thigh. Cowan landed a hard knee from off the fence and was able to create the space needed to get off the cage. Pousson then landed a hard overhand right before eating a big return knee from Cowan, who then pushed Pousson to the fence. A big suplex by Cowan was immediately countered by Pousson who turned back in off the bounce and got on top in half guard right before the end of the round.

The start of the second saw Cowan press Pousson to the fence looking to land more strikes. Cowan unloaded punches on Poussons thigh while in the position before Pousson was able to get off the fence. On the feet Cowan then shot a takedown that Pousson defended before getting pushed right back to the cage again. Cowan went right back to punishing the legs of Pousson with knees, and landing punches both to the face and body of Pousson. Pousson found a moment to attempt a standing guillotine that Cowan had to respect and fight off before he landed another big knee to the body of Pousson. the round closed out shortly after an accidental strike landed to the groin of Pousson.

In the third Cowan once again pushed Pousson to the fence, picking him up, analyzing exactly the way to land this time, and ending up on top. Cowan moved to side control, while Pousson threatened a guillotine. Eventually Pousson was able to throw his legs up and obtain a legitimate armbar attempt that Cowan defended. Both fighters stood up, but Cowan kept Pousson pressured against the fence up until the end of the bout. James Cowan won by unaminous decision, and earned himself a title shot at the next Horizon FC event.

In his first return to competition since being diagnosed with cancer last year, AJ Siscoe took on Danny Quaite in an exhibition-grappling match. Siscoe was able to secure a couple rear naked choke submissions, and Quaite secured a guillotine during the bout.

SCMMA's Alejandro Wajner earned a quick first round TKO over Keith Rocheville. The former Lindenwood wrestler, Wajner landed a knee deep through the body Rocheville, dropping him to the mat. Wajner then pounced and unleashed a barrage of strikes from the top until referee stoppage.

Jack Reiff stepped up on a couple hours notice to take on Matt Matteson in a kickboxing match. A spinning roundhouse kick from Matteson landed in the first and created an early knockdown of Reiff. When back to the feet Matteson then bullied Reiff to the cage with punches and landing a solid knee. Throughout the bout Matteson was finding good success with his straight punches, creating flurries in his favor. Reiff pushed the pace to start the final round, landing some hard rights on Matteson as Matteson tried to keep distance or clinch, not wanting to stand right in front at Reiff's best striking distance. After the final bell, Matteson won by unanimous decision.

In a match between two military veterans, Jesse Keezer took on James McAffie. Keezer rushed and pressured McAffie to the cage, landing hooks and knees early. Eventually Keezer got McAffie to the ground and took his back. Keezer then slipped off, allowing McAffie to get back up and return the favor by pushing Keezer to the wall, landing a hard knee to the body, before attempting to get a takedown himself before the round ended.

McAffie started the second round by getting a clinch and landing some good knees on Keezer, who push it to the cage before bouncing off of the fence and ending up in the middle of the canvas and on top of McAffie. Keezer was able to stay on top and pin McAffie into a bad position alongside the cage, but McAffie created space at the last second and survived the round.

McAffie stuffed a couple takedown attempts and answered back with some knees early to start the final round, but Keezer was able to find success on his third attempt and move to a mount. The fight ended in this position as Keezer could not secure a finish. The winner by decision was Jesse Keezer.

The first MMA match of the night took place between Tavae Lewis and Orlando Sanders. Lewis secured an early takedown, but Sanders threatened with a legitimate heel hook attempt that seemed very close to being finished. Lewis was able escape the bad position and get back to the feet, as soon as he did Sanders then hit a double leg to take it back to the mat. The first round ended with Sanders on top in Lewis's half guard.

The second round started with Lewis having a straight kick from Sanders partially land on his face before he got another takedown. Sanders threated a triangle position and landed some strikes while trying to maneuver to create the finish. Lewis was able to throw strikes from the position at Sanders, and was able to survive, as Sanders could never quite close the gaps to finish the last portion of the choke

An attempted leg reap takedown from Lewis went awry and Sanders was able to end up on top and keep a side control position, moving to a crucifix and landing a handful of strikes. Lewis was able to escape the full crucifix just as the last bell sounded. The winner by unanimous decision was Orlando Sanders

In the first kickboxing match of the evening, Aaron Fahr landed a solid kick to the body before unloading on Eugene Swartz, sending him down to the canvas and earning him a first round TKO victory.

Jeralyn Spear out of AOC and Ryan Houge started the night with a youth BJJ match. After the time had ended, it was scored a draw.