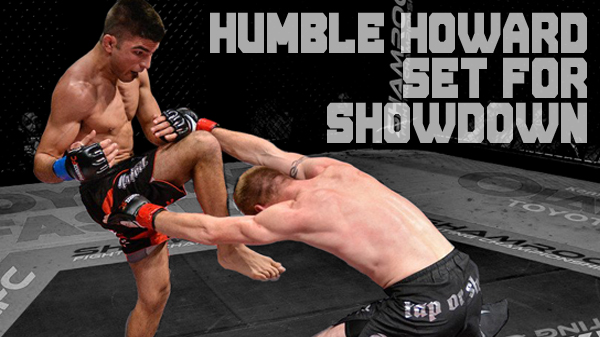 Humble Howard Set for Showdown
As Jordan Howard faces another rung in the MMA ladder, the humility he carries is not weight on his shoulders but rather the passion that has transformed his career.

Howard (7-3), of Jefferson City, will face Ray Grindtsaff (5-3) in the main event of this weekend's Shamrock FC: Showdown at the River City Casino. For the 25-year-old Howard, the fight provides another opportunity to display his continued growth as a professional.

Projected as a serious contender, Howard has taken the regional fighting world by storm by winning six straight matches en route to the Shamrock event. This weekend's match is miles away from the scene where Howard learned humility – both figuratively and literally.

A 20-year-old second-generation successful Tae Kwon Do competitor who had logged a 9-3 amateur record, Howard came out of the gate fast and furious, fighting three times in just more than three months in 2010. While he won his first match by arm-triangle choke submission at the 2:14 mark of the first round, Howard lost his next two fights by unanimous decision, the second against William McGlothlin in Conway, Ark.

It was the end of that fight when Howard admitted he had work to do if he were to continue his trek through MMA. What followed was two years away from competition, hard and quiet work that included training in Jefferson City as well as two trips to Columbia each week. The time away from the bright lights allowed Howard to reinvent himself both with additional skill and maturity.

"I fought in Little Rock," Howard said of his first fight in June 2010. "I wasn't very skilled. I got arrogant and I was walking around like I was hot stuff. I stepped back [after the loss to McGlothlin], took a long hard look at where I was at and decided the training I was doing wasn't what I needed to be doing at that level."

Howard returned to the cage on June 15, 2012, in suburban Kansas City to fight Jacob Akin. Though Howard displayed marked improvement from his two-year absence, a broken nose suffered in the first round ultimately led to another loss by unanimous decision.

"I broke my nose in the first minute," he said. "I was landing some solid shots on my feet. We just happened to come together and being taller I took a forehead to my nose. It was frustrating to take that long layoff, come back and lose. I feel like I had made a lot of strides in improving and getting better. That headbutt changed things; but it happened and you deal with it."

Howard "dealt with it" by returning to action just more than two months later and picking up a hard-fought unanimous decision against Nick Dioneda in the Cage Championships 39 at Sullivan. That win was the start of a renewed career by Howard, who has won five of his last six fights by TKO or submission and four of those in the first round.

"There was a lot of learning that had to go on between now and where I started. We've been playing catchup a lot," Howard said. "I feel that I'm caught up. Zach Lenon and the Cavallo Team, they've all helped me improve."

Howard has grown up outside the ring as well. He turned 25 last week, works full time at an Internet service provider and in May will marry his high school sweetheart.

Despite his full-time job, Howard has maintained his two-a-day training regimen along with the twice-weekly 60-mile round trip sessions at Columbia. He has remained grounded by his family; his father opened a Tae Kwon Do school when Howard was five years old and his younger brother, an accomplished high school grappler, was among the team that helped Howard round out his skill set.

Howard has steadily gained attention by winning three fights in 2013 and two more last year. He enters this weekend's bout off an eye-catching second-round TKO win against Owen Evinger on Nov. 22 in the Shamrock Productions: Destruction at the Ameristar Casino in Kansas City.

"I knew it was a great opportunity for me," he said. "I was probably the underdog coming into the fight. That gave me an improved work ethic. It did give me a lot of confidence after that."

Yet the larger venues and increased attention do not outweigh the history that keeps Howard even keel with his balance between confidence and arrogance.

"I'm going to take it one fight at a time," he said. "I know I still have a lot of work to do to reach [the next] level. Humility is one of our lives' biggest lessons. I'm not the guy that's going to come out talking a lot of trash. I'm not that guy. We're professionals. We need to act like it when we come into the cage."

Photo courtesy of Jerry Chavez Photography,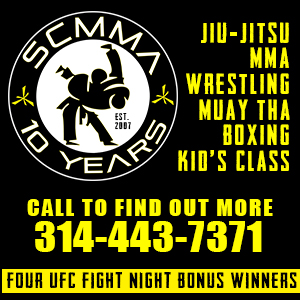 KCFA
| Sat, August 24th
Independence Event Center, Independence, MO
Shamrock FC: 322
| Fri, September 6th
River City Casino, St. Louis, MO
Sub 5
| Sat, September 21st
TBA
Nemesis Fighting Alliance
| Sat, October 5th
Casa Loma Ballroom, St. Louis, MO

Tweets about "KnuckleJunkies OR @knucklejunkies"