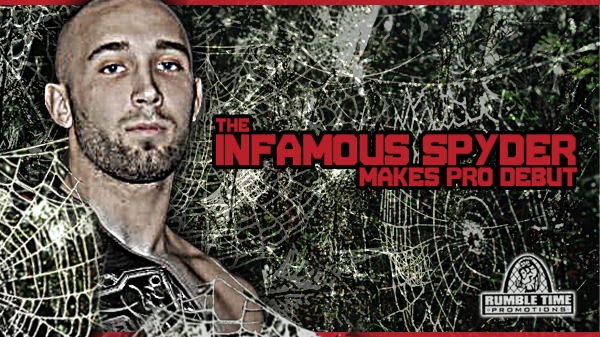 Infamous Spyder makes pro debut
By
Debo
| Knuckle Junkies
Passion, desire and sacrifice for a mixed martial artist are key elements in search of dreams and wins. In many cases, it is a matter of a settling environment and being with the right people at the right time.

Some upcoming hopefuls are blessed with great talent and never capitalize. Then you have fighter's who are considered late bloomers. On some occasions it can be a very positive factor in a career. This appears to be the case with Shaine "The Spider" Moffitt from Destruction MMA in Farmington. He will make his professional debut on the Rumble Time Promotions co-main event card at the Ameristar Casino in St Charles on Friday.

Moffitt will take on veteran Yohance Flager, (4-3) from Illinois in a co-main event. Flager is coming off an April 6th submission win over Jacob Ritchie. Flager (Berger's MMA) is no stranger to Missouri and has fought on two previous Rumble Time cards.

Moffitt is originally from Sioux City, Iowa and has been in Farmington for two years. While in Iowa during the spring of 2011 his coach became ill and was no longer coaching full time. On an invite from Destruction MMA's Joe Worden, the 23-year-old Moffitt traveled to Missouri in 2011. He then made the big decision in July 2011 to relocate with his hometown teammate and training partner from Iowa. Both began to train at Destruction MMA before his friend and teammate returned home to Iowa.

This proved to be a critical moment in Moffitt's career. He was able to focus and adjust to the move to Missouri on his own. This provided additional time for him to complete a plan and get serious about his MMA career. He is now coached by Worden and now lives in Farmington focused on life as a professional.

"I'm like a lot of fighters I want to post some wins in the cage and make some money and that all starts Friday." Moffitt said. "I have great training partners in or near my weight class. Eric Ervin has been a huge help to me and training for three months with the same guys helps."

The featherweight comes into his pro debut with a sound amateur record (25-14) and a solid number of rounds in the cage.

"I have four fights in Missouri all with Destruction MMA and I really feel like I'm ready to turn professional," Moffitt said.

One of the main things he has focused on over the last six weeks is increasing cardio and strength and conditioning to handle experienced professionals. Moffitt usually has a striking advantage in most of his fights. So he can be found in the center of the cage looking to standup and throw. He also features a solid arsenal of kicks and he particularly likes to use the head kick to setup striking combinations. He has a solid wrestling base which he acquired in Iowa wresting against varsity competition four years in high school. Coming off his last two wins as an amateur he also placed an increased emphasis on his kickboxing and jiu-jitsu.

Moffitt is confident in his takedown defense skills which he utilized in both of his last two amateur wins. He was able to defend several of Justin Langford takedown attempts before ending that fight successfully defending his NFA featherweight belt. In his second defense and final amateur fight, his win was setup after stuffing the takedown of Nate Oorlog then rocking Oorlog with a wicked combination after a takedown defense and ending that fight.

The last two years in Missouri have been productive for Moffitt who has more of a complete fighting style now to go with his striking and kicking. Coming off a great training camp Moffitt is poised to make his professional debut Friday.

Rumble Time Promotions MMA and Carfixx.com Cinco De Mayhem event will be held at the Ameristar Casino on Friday. Doors open at 6:00pm. Amateur undercard starts at 7:00pm. This pro/am card features Jake Collier against Quartis Stitt in the main event.