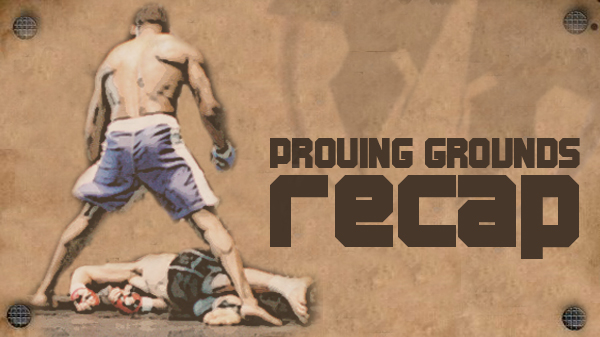 Inner Circle 4/20/12 - Recap
Fans piled into the South Broadway Athletic Club as Inner Circle Promotions returned with "The Southside Showdown". Fourteen matches on the bill including four K1 battles and three title fights.

In the main event, "Bad News" Bo Kunz had good news for his fans as he dominated every aspect of the fight. His superior wrestling defense prevented most of Brandese Powell's takedown attempts, and Kunz's striking scored points on the judges card. At one point in the second, Kunz nearly ended the fight with a rear naked choke before Powell was able to escape. After three rounds the fight went to the decision, Kunz was awarded the Interim 205 Title, and will now wait for Tony Souders to rehabilitate his knee.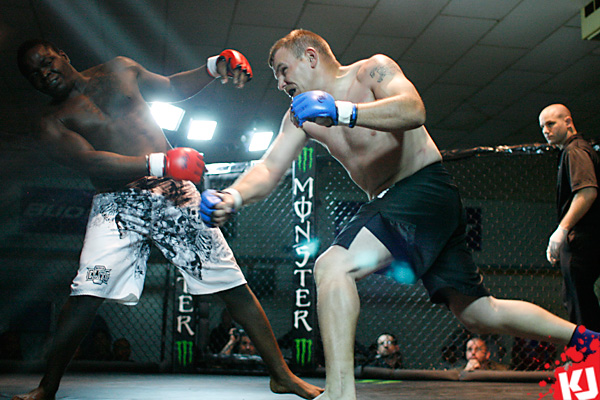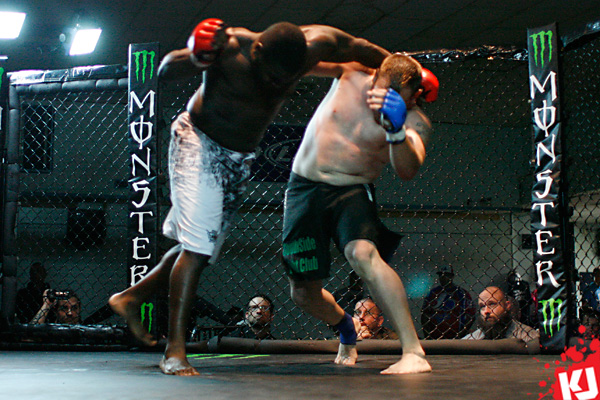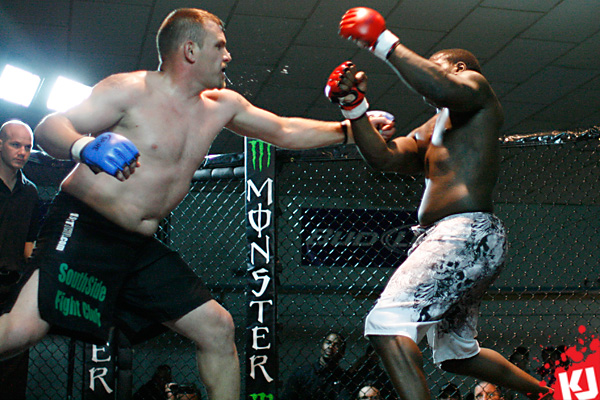 Ronnie Farmer and Demond Dorsey battled back and forth in a fight that tested both fighter's endurance. Neither fighter was in serious danger at any point in the fight, and the two evenly matched welterweights took the fight five rounds and into the hands of the judges. In the end it was Farmer winning the Inner Circle Welterweight title.

The fight of the night was between KJ "The Chosen One" Jones and Battlegrounds MMA's John Davis. These two battled tooth and nail and re-energized the crowd after a long night. Five epic rounds that many are already calling for a fight of the year candidate. The harder these two battled, the wilder the crowd seemed to grow. Jones ran out of steam in the later part of the fight which setup a Davis comeback. It the end it wasn't enough as Jones won a razor-thin split decision and is the new Inner Circle Lightweight champ.

Anthony Kuhn stopped ex-bull rider Chris Seip in the second after Seip took a blow south of the border. Seip covered up to protect himself and referee Dustin Severs was forced to stop the fight.

Ira Lukowsky cruised his way to victory over Jordan Collins.

Montuelle Prater had a brutal one-punch KO over Anthony Springman early in round one.

Kirk Huff showed off a very technical ground game as he weathered Ronny Harper's early storm and was able to maneuver into position to end the fight with a rear naked choke in the first.

Chris Eveland and Kevin Chatman battled to a bloody decision that left Eveland looking worse for wear. Chatman was awarded the decision by the judges.

Zach Scheerer came out very aggressive against Larry Turner. Scheerer dropped his opponent with kicks and stopped the fight with the night's only other submission.

Charles Davey stopped Kevin Simpson in the second.

In an exhiition of two rising stars, Jesse Gerringer's big right provided the only stoppage in four K1 matches. Jesse Farmer absorbed Gerringer's shots early and survived round one, then rallied in the second using combinations to confuse his opponent. In the final round Gerringer was able to land the big right early and often, dropping his opponent twice before Severs called the fight to an end.

Chris Heatherly surprised attendees taking a last minute tune-up fight before he turns pro on May 18th. His polished striking and evasiveness proved too much for Tony Webster in this preliminary K1 match. In other K1 action, Todd Mikel won a decision over Ronny Lewis, and George Suedan defeated Greg Schneider also by decision.

Full results:
Bo Kunz def Brandese Powell - DEC
Ronnie Farmer def Demond Dorsey - DEC
KJ Jones def John Davis - DEC (split)
Anthony Kuhn def Chris Seip - R2 TKO
Ira Lukowsky def Jordan Collins - DEC (split)
Montuelle Prater def Anthony Springman - R1 KO
Kirk Huff def Ronny Haeper - R1 RNC
Kevin Chatman def Chris Eveland - DEC
Zachary Scheerer def Larry Turner - R1 RNC
Charles Davey def Kevin Simpson - R2 TKO
Jesse Gerringer def Jesse Farmer - (K1) R3 KO
Chris Heatherly def Tony Webster - (K1) DEC
George Seudan def Greg Schneider - (K1) DEC
Todd Mikel def Ronny Lewis - (K1) DEC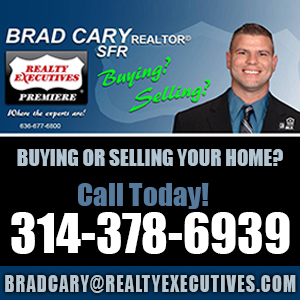 Shamrock FC: 317
| Sat, April 6th
Ameristar Casino, Kasnas City, MO
Nemesis Fighting Alliance
| Sat, April 13th
Casa Loma Ballroom, St. Louis, MO
Shamrock FC 318
| Fri, May 10th
River City Casino, St. Louis, MO
Shamrock FC 319
| Sat, June 8th
Ameristar Casino, Kansas City, MO

Tweets about "KnuckleJunkies OR @knucklejunkies"