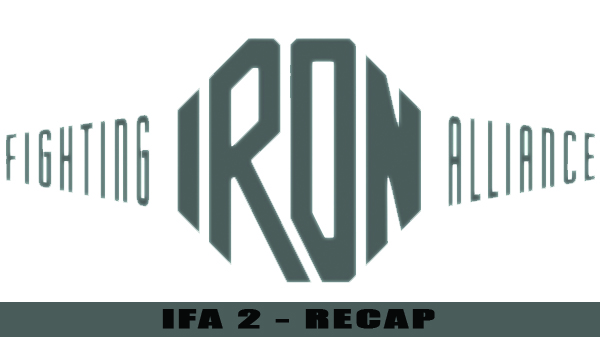 Iron Fighting Alliance 2 - Recap
Nathan Stearns is getting back on track.

In the main event of Saturday's Iron Fighting Alliance 2 held at the American Czech Educational Center in South City, Stearns - who had a breakout 2016 before stumbling in his only fight of this year, a submission loss to Elmar Umarov -cruised to victory over Jarrett Levette in a welterweight headliner.

In round one Stearns came out with a clinch and then hard knees to Levette's midsection. The fight quickly changed levels with clinching and takedown attempts by both and it was clear Stearns was the first to get his distance and timing.

Levette took hard hits early resorting to the turtle position. Levette then began shooting for takedowns, but Stearns was unrelenting and opportunistic, dropping hammer fists and strikes from every position, eventually landing a big Russian style takedown with an emphatic slam.

Levette never recovered from the damage.

The fight went to round two, but it was a short-lived. Levette, visibly fatigued and dazed, shot for several low single takedowns but to no avail. With Levette again in turtle position Stearns took side control and reigned down more strikes. Levette finally broke away and waved off the fight, giving Stearns the TKO win.

"For not being able to train for over four months now I feel pretty good," Stearns said. " Working two jobs I was just running for this fight. I felt his lack of pressure even in the first takedown, and when he started going for shots not trying to hit me at all, I already knew it was done."

The welterweight co-main event featured Zackery Knickman fighting out of JD's Gym in St. Louis and Max Boyd fighting out of North Broadway Jiu Jitsu.

The fight began with both competitors feeling out distance and timing. Once the clashes started, they were fierce and technical. Boyd threw hard jabs, and Knickman kept his distance. Both switched stances repeatedly. Knickman got in a hard body kick followed by solid knees in the clinch. Boyd eventually got range and threw a fast and precise spinning back kick to Knickman's body to end the round.

Round two started with leg kicks by Boyd, and a front kick by Knickman followed by a hard overhand right by Knickman. The fight eventually went to the ground where Boyd was faster, quickly transitioning through dominant ground positions. Boyd finally took the north/south position and finished the fight via submission.

Brain Guidry, owner of North Broadway Jiu-Jitsu and Boyd's Brazilian Jiu-Jitsu coach, was pleased with his pupil's groundwork.

"I thought (Boyd) did great once he got to the ground," Guidry said. "That submission is his move, I show it in class, but it is one of his signature moves."

Featured on the main card was a kickboxing bout long in the making. At 165-pounds, Dirk Lee Jones faced Jimmy Timmerberg fighting out of Watson Martial Arts in St. Louis.

Timmerberg took the fight with only one day's notice, but it was clear from the time they entered the cage that the animosity was running high.

Timmerberg was relaxed, even calm from the time the first bell rang. Following strikes they clinched, and Timmerberg got the best of the exchanges throwing knees to the Jones' body. Jones threw hard body punches, but Timmerberg seemed unfazed.

Once the clinch broke Timmerberg did not miss the opportunity to throw - and land - leg kicks, and he finished the fight with a leg kick as Jones collapsed.

"At Watson's we train a lot of boxing, Western kickboxing, and Muay Thai, all of it, and heavy low kicks," Timmerberg said. "I just kind of combined all of it and I threw heavy low kicks, I know he's not conditioned for that."

In an MMA bout - and the only fight that went to a decision - Kyle Ondo of Master Emile Wright's Martial Arts Academy fought Richard Jones.

The fight was clinch-heavy from round one. Both threw knees, and body shots and both found themselves against the cage.

In round two Jones came out swinging with hard lefts and rights and in the clinch landed uppercuts on Ondo. Both tried for guillotines, but neither could secure the neck and get the leverage needed to finish.

In round three Ondo repaid Jones for the uppercuts with hard knees in the clinch. Round three ended with a flurry of strikes from both and how they had any energy left was beyond anyone watching the fight.

The judges scored the fight 29-28, 29-28, 29-28 in favor of Jones.

Capping off the preliminary card was a 175-pound MMA bout between Thad Roush and Chico Bean.

Bean opened with leg kicks and a flying knee. Roush clinched with a body lock. Eventually, they broke, and Bean hit Roush with a hard leg kick. Roush wobbled, and Bean followed the kick with fierce strikes to Roush who was downed against the cage and earned the win via TKO.

In a 160-pound kickboxing bout "Ruthless" Robbie Oren fought Kody Magehee.

Magehee came out swinging hard and dazed Oren early, prompting a standing eight count. Magehee did not miss the chance to throw leg kicks, and while Oren threw some hard body shots out of the clinch, he could not match Magehee's technical striking and level changes. Oren dropped for a second standing eight count at the end of round one.

Round two opened with Magehee throwing hard again going to the body and head of Oren. Oren was dropped for the third and last time twelve seconds into round two giving Magehee the KO win.

In a 159-pound bout, Aaron Clarke took on Aaron "The Dark Horse" Lake of the Wolf Training Center.

Clarke opened with a beautifully executed takedown, landing in Lake's half guard. Lake eventually gained full guard and Clarke started in with his ground and pound.

Lake did not miss the chance to get a triangle choke started on Clarke. Clarke, in an attempt to break the choke, slammed Lake to the mat twice, hard. But in doing so, Clarke lost his posture and Lake never lost his triangle. Once Clark's posture was broken Lake secured the triangle choke and got the first-round finish.

In a middleweight rematch between "Messy" Marvin Bowden and Aaron Kuhl, Bowden clinched early taking Kuhl to the cage working a single leg takedown. Kuhl sprawled, fighting the takedown and eventually, through pressure and positioning pushed Bowden to the mat. Kuhl ended up in Bowden's guard and began fierce ground and pound and got the quick victory

In the first match of the night, featherweight Matt Kreutzman took on Jake Willyard.

Willyard took the fight to the ground early following violent strikes and attempted a head and arm choke but Kreutzman defended nicely, preventing Willyard from being able to finish the choke. Kreutzman eventually escaped and took Willyard's back. Kreutzman got his hooks in, secured back mount and finished Willyard with a rear naked choke.

IFA co-promoter Derik Scott was pleased with the promotion's sophomore showing.

"It went well," Scott said. "We had a couple of quick finishes early, I thought it was going to be one of those fast nights, then we got to the main card, and some of those fights went the full distance, they were really really good fights."