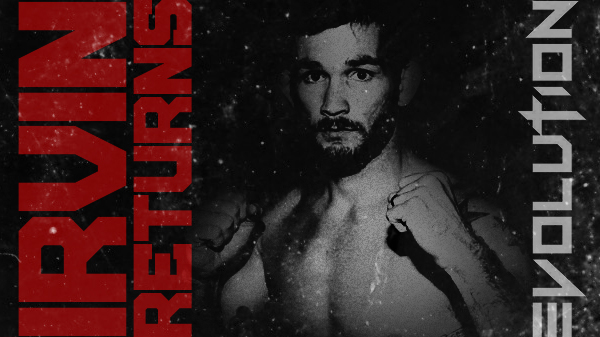 Irvin Returns
There are many fighting styles in the sport of MMA. Some like to consider themselves a freestyle fighter. Others might fancy being called a grappler, a striker, or a wrestler.

Combat sport announcers are oft heard proclaiming that a fighter is even versed in a made up style such as Thug-Jitsu. Although Eric Irvin is a very well rounded fighter that could fall into a number of these categories, there is really only one word that encompasses his style as a whole.

Grinder.

Ask anyone he trains with. Ask anyone he has competed against. at anything. The 28 year-old Quincy, IL, native is a grinder through and through. Whether he is tracking a deer, coaching and training a gym full of fighters, hiking a mountainside to spend a luxury free weekend in the wilderness, or punching faces, he is going to be the guy noticeably going just a little harder than anyone else around him. It's ingrained; it's the only way he knows how to do things.

Maybe he gets it from his dad, Vincent. Irvin gives Vincent the credit for him being tough, stating that he didn't let him get away with much. At 12, Irvin's parents split and he and his brother moved in with his mother. It didn't take long for both boys to become a little too unruly for Mom to handle and Irvin was placed under the care of his dad. Vincent, Irvin's biggest influence and hero, is a truck driver and brought him up to love the outdoors. An avid outdoorsman, Irvin can usually only be found indoors if he is training or working out. Don't bother asking him about what happened last night on your favorite TV show or if he has seen the new movie that you liked so much. The answer will most likely be that he was busy hunting, fishing, camping, or some other outdoor activity, and that suits him just fine. He prefers it that way.

Don't mistake Irvin's simple pleasures and love of the outdoors for him being just another tough country boy. Being the owner of a degree in multimedia and another in graphic design, he proves there are some brains behind the brawn. By day, Irvin is a graphic designer for Piro's Signs in Barnhart, Mo. He has also designed a handful of fighters walkout shirts, including his own. Fighting is what he loves to do, but when that is all said and done, he has a solid career to fall into. Being that it is something he is good at and something he enjoys makes it just that much sweeter.

Irvin is the type of guy that, even if he tried, couldn't hide the fact that he is a fighter. Some guys just have that look, and he certainly falls into that category. You can see it in the way he walks, his body language, his build, and maybe most noticeably, his ears. Years of wrestling and MMA has left Irvin with one of the most glorious cases of cauliflower ear. Its a badge of honor. A symbol of all the hard work, dedication, blood, sweat, and tears that he has poured into what he does best. Grinding.

Delving into Irvins amateur wrestling career will certainly give a bit more insight on why he is the way he is. Getting a bit of a late start, he joined the wrestling team his sophomore year. Training and competing against guys who had been doing this since they were small children didn't come easy to Irvin at first. Being the hard-nosed, gritty competitor that he is, Irvin didn't give up and by the time his senior year rolled around, he was a staple member of the team and qualified for the state tournament. He took this success to Labette Community College where he wrestled on a full scholarship. Now for the part that really pulls it all together; the catalyst in the formula that created Eric The Hedgehog Irvin.

Irvin's successful amateur wrestling career ended at the Junior College National Wrestling Tournament. In sudden death overtime, in the finals of the national championship match, he just came up short of winning the contest that would have made him an All-American. That loss still drives him. Its one of the biggest reasons he competes in MMA. The need to fill that void is what brought him to find the sport in which he now competes. Upon returning home from college, he found that some of his friends had started training in MMA. This would be the fix that he needed and his new outlet to feed his competitive needs.

Irvin hasn't taken the easy road at any point of this journey. As a matter of fact, for his first amateur fight, which was scheduled to be for 205-pounds, his opponent tipped the scales at 228 pounds. The Hedgehog agreed to take the fight anyway, and managed to beat his much heftier opponent via rear naked choke in the first round. Further evidence can be found from his first professional fight, set for 180. On a fight card also featuring the pro debut for standouts Lance Benoist and Matt Ricehouse, Irvin found himself toe-to-toe with Jeremiah Riggs. Riggs just happened to be cornered by UFC contender Robbie Lawler and MMA coaching legend Marc Fiore. No big deal, right? At one point during this barn burner Irvin thought the referee was stopping the fight in Riggs favor due to strikes. Irvin was dazed and would have understood had that been the case. As it turns out, the action was stopped because Riggs had been holding onto the cage and continually punching him in the back of the head. The referee then sent them to neutral corners where Irvin gathered his bearings and the action was reset. The slugfest ended up going to the score cards and all three judges ruled in favor of Irvin.

In his most recent outing, nearly a year ago, Irvin had an all-out three round war against a very tough Adam Ward. Irvin's performance was strong enough to see all three judges score it in his favor for a unanimous decision victory. Although Irvin would have preferred a finish, Ward is very hard to put away. This is evidenced by Wards previous bout, which was against Irvin's teammate and undefeated UFC prospect Alex White. This bout was a back and forth bloodbath that was a controversial split decision victory in Whites favor. The fact that Irvin was able to win over all three judges en route to victory is quite an accomplishment and a testament to how hard he works in and out of the cage.

Irvin is set to step in the cage Saturday night against Tyler Combs as the main event for Rumble Time Promotions show dubbed Evolution.

Combs, the Miamisburg, Ohio journeyman has compiled a 13-11-1 fighting the likes of Eric Koch, Bart Palaszewski, and Jamie Varner along the way. Combs is on a five fight skid and is looking at a victory over Irvin as exactly what he needs to get his career back on track.

Fridays bout is scheduled at a catchweight of 165. Irvin has fought as heavy as 205, as light as 155, and everywhere between. Most comfortable at 170, this bout will be what he would consider a pretty comfortable weight cut. His walking weight going into this camp was 192, and seven days out, he was 12 pounds off the mark.

Coming off of an injury and a fight cancellation, Irvin is chomping at the bit to get back to action. Stating that this camp is going awesome, he tells me that because his opponent is a lefty, he has been training with a lot of the areas most talented southpaws. With the likes of White and Austin Knight also fighting and training under the Destruction MMA banner, he doesn't have to look too far. Doing some cross training at a few other gyms, Irvin has also gotten some work in with local standouts Shaine Moffitt, Jake Roberts, and Benoist. He also gives credit to the gang at Calvary Fitness for helping his prepare.

"I wouldn't be where I am cardio-wise without those guys," Irvin said. "They really push me hard."

In a time where St. Louis area fighters seem to be making the jump to the Big Show at an exceptional rate, Irvin has certainly taken notice. Alongside Joe Worden, he has helped cultivate White into the fighter that just showed the world he was ready to take the UFC by storm. With the likes of Josh Sampo, Lance Benoist, Alp Ozkilic, and Adam Cella also making the leap, Irvin realizes that St. Louis is under the watchful eye of the UFC. Of course, he knows a good performance and a win on Friday are another step in the right direction.

"That is the eventual goal, Irvin said. The big picture. That's why I'm doing this."

When asked what he is going to do to get his hand raised Friday night, he offered the following response: "Whatever it takes. I'm going to work harder, fight smarter, and grind."

Not surprising.

"I know he cant match my mental toughness or my cardio, Irvin said. I'm comfortable wherever he wants the fight, but I know my wrestling and ground game are better and I plan on using that to my advantage."

Irvin will be accompanied by Worden, Moffitt, and White to the Ameristar Casino. These three have been alongside him most of the way and are a big part of his success. Irvin states the plan this weekend is as follows.

"Win. Celebrate with friends and family. Go to Cardinals game the next day for my girlfriends birthday."

That sounds like one heck of a weekend.

Rumble Time Evolution will take place at Ameristar Casino in St. Charles, MO on Friday. Tickets can be purchased by calling 314-662-2000 or online by clicking here.