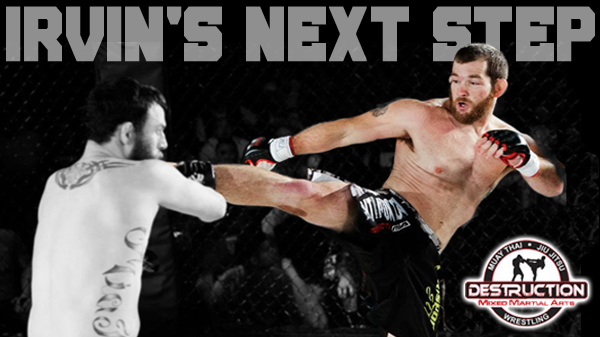 Irvin's Next Step
For Eric Irvin, with age has come much wisdom.

"We made some mistakes along the way, but I think we have the ball rolling in the right direction now," Irvin said.

Irvin, the 2014 St. Louis MMA Regional Pro Fighter of the Year, returns to action Saturday at Shamrock Fighting Championships: Showdown at the River City Casino. Irvin is a local stalwart who has seen his share of ups and downs in a five year professional career.

"I was Joe's first pro fighter. We were both just kinda jumping head first into this for the first time," Irvin said. "Between our inexperience and my 'Hell-yeah-I'll-fight-that-dude' attitude, we probably did a few things we should have thought through a little harder. Don't think for a second that I'm pinning my losses on Joe, because when I get in my head that I'm going to do something, it's pretty hard to talk me out of it."

Irvin is referring to Joe Worden; Destruction MMA's founder and head coach. Irvin and Worden have been together for nearly all of Irvin's combative career.

Irvin plowed his way through an undefeated amateur run before making his pro debut in 2010. He then proceeded to rattle off two solid wins and took a big step up in competition when he faced Ronnie Britt.

"I want to say he was 18-2 with 16 submissions," Irvin said.

That's a tall order to fill for any fighter, let alone a guy who was only three fights into his pro career. In that contest, Irvin suffered his first loss at the hands of Britt, a well-respected BJJ practitioner. Irvin doesn't regret the experience, but acknowledges that it may have been a little too soon.

"I believed I could beat the guy," Irvin said. "Losing that fight really motivated me because it showed me that there were guys out there a lot better than the guys I had been fighting."

Irvin went on to win three of his next four bouts with his lone loss being a somewhat controversial split decision. It's one that has really stuck with him.

"A clear-cut loss is one thing, but when it's a split decision, it makes you think that just one more takedown or a little more aggression and I wouldn't have that loss on my record." Irvin said.

Irvin's only other loss came two years ago at the hands of UFC veteran Charlie Brenneman. With a win over Rick Story and battles with the likes of Johny Hendricks and Anthony Johnson, Brenneman has credentials far exceeding that of any of Irvin's other opponents.

But he doesn't see these decisions as though they were mistakes, but more like lessons. This doesn't mean Irvin is now looking for easy fights and it doesn't mean that he still won't take any reasonable fight that he is offered. He is still the same stubborn, driven guy that he has always been, but is now more versed in what he needs to do to make it where he wants to go on the sport.

"The way I see it, is that if those fights were put in front of me again, I'd be more prepared for them knowing the things that I know now." he said.

Now the owner of a three-fight win streak, Irvin is preparing to step into battle Saturday against Mobile, Alabama's Joshua Thorpe. Thorpe has nearly 30 professional bouts under his belt, having faced the likes of UFC veteran Hermes Franca in his career. Although Thorpe's record is somewhere around the .500 mark (one site has him listed at 12-14, another at 14-14), his experience shouldn't be overlooked.

Irvin boasts an impressive training regimen despite carrying a full-time job as a designer for a sign company located roughly 45 minutes from home. Between Crosssfit, MMA training, jiu jitsu, and running, Irvin rarely takes a day off. His home camp is Destruction MMA out of Universal Fitness in Park Hills. He frequently makes the drive to Berger MMA/Fight or Fight to get in rounds and he sharpens his grappling skills with Leonardo Pecanha black belt Jason Smith and his crew at S2BJJ. Ever the perfectionist, Irvin rarely takes a break.

Drenched in sweat and mouthpiece in hand, the squatty Irvin walks in the room grinning from ear to ear. His cauliflowered ears prominent, he makes his way past his teammates slapping hands and patting backs. Seething energy, his confidence is noticeable in his body language.

"I just had one of the best sparring sessions of my life. At least in the last three or four years. I was on, man." Irvin said.

Fellow Destruction product Austin Knight shakes his head in agreement.

"Yeah man, he was feeling it," Knight said. "His timing is is crazy, I feel like we all just showed up tonight to get beat on."

As far as the long-term goal, Irvin had no hesitation in his response.

"The next level, man. To make the jump out of the regional scene," he said. "I've seen a lot of guys from around here make it onto the national shows, and I want that too."

Come Saturday at the River City Casino, Irvin will make the next step in that journey when he enters the cage for the first time under the Shamrock FC banner. Jesse Finney and Shamrock FC crew have recently seen a lot of media attention largely in part to an agreement with Bellator and a freshly inked national TV contract. A win on this show could be just the thing needed to propel Irvin right into that goal that he has set for himself.

Shamrock FC: Showdown is Saturday at 7:30pm at River City Casino and Hotel.

Get tickets to the event here:




Photo courtesy of Jimmy Range Photography.