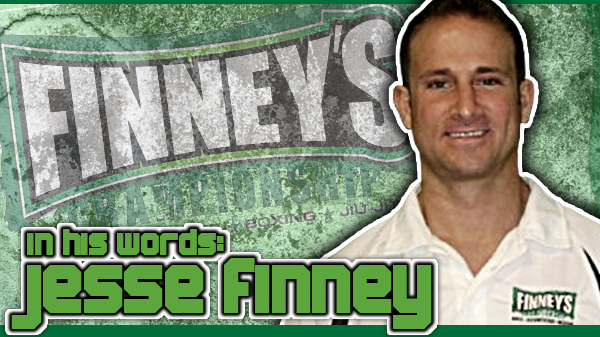 Jesse Finney, In His Words
In the world of St. Louis MMA, Jesse Finney has been there, done that, and is continuing to just do it. The 38-year-old St. Louis native has found bountiful success as a fighter, coach, gym owner, and promoter. In those cutthroat occupations, he has made his share of detractors. But for everyone who thumbs their nose at Finney, there is another proudly waving the green and black Finney flag. Through his promotional company Shamrock Promotions, the brand has spread throughout the Midwest and with two gyms already under his belt, a third gym is in the works to open in either late 2013 or early 2014. Days before another sold out show at Lumiere Place on Saturday; Knuckle Junkies sat down to talk about the past, present and future. Here is Jesse Finney, In His Words.

My dad is a carpenter and my mom is a real estate agent.

My step dad, Robert Biggs, was into karate, boxing, and kickboxing and that is how I got involved. That's where I came from. He never let me do any competitions until I was like 12. He had a karate school but wouldn't let me box or kickbox until I got my blue belt and once I did that I never took another karate class after that.

First and foremost, I played baseball growing up. I signed a letter of intent for the University of Kansas and I didn't make the grade. I ended up going to Jefferson College and playing two years down there. I got out and I just went straight to fighting and I eventually went an opened a gym when I was 22 years old.

I never went back to school and my mom could have killed me. I was training full, full time and working as a bartender and just making a hustle. When my stepdad closed his karate school in North County because they weren't doing well, and there really wasn't any kickboxing around, I went to a little 700-square foot gym on Bevo Mill. The rent was $325 and there she went

We put on our first show when I was 24-years-old. We were going to all these shows and I knew we could put on something a little more upscale and a little nicer and a little more first class.

Everyone has their ups and everyone has their downs from the promotion business to the gym business. I think slow and steady wins the race.

In 1998 we put on a kickboxing show for the Shriners in Springfield, Illinois with a crowd of 400 people and on that show we had Kevin Engle, Mark Hominick, Shawn Tompkins, Chris Horodecki, Sam Stout and they all fought each other.

No. 1 first and foremost, I've surrounded myself with good people. I've had Rob Donaker with me from day one. He's been key. And I've been with my wife - she keeps the books - for 12 years. Every day is a new challenge with (the businesses). We've been lucky enough to do it right. We try to focus on the positive for everybody. That is where a lot of people fall short. They want to focus on the negative.

There have been many times that I have taken my lumps in many different ways. But we've always reinvested right back into it and we keep reinvesting. I lived in an 1,000-square foot home until five years ago.

In 1998 I was training some local guys in standup and they were jiu-jitsu guys or wrestlers and they wanted to do MMA and I thought they were nuts. And they kept saying, 'you gotta try it, you gotta get into it."

I've only had 10 or 12 MMA fights. I just kind of did it. I was 31-years-old. I finally had a bunch of amateur fights and pro fights and at 35 or 36, I kept pushing the threshold and fighting better guys and then I lost. You can't ever say 'never' in the fight world but it's hard to hang them up. I'm not sure I wouldn't go back. You never know. Anything's possible, for sure.

Everyone is going to learn the hard way, just like we did.

In 1999 we worked with Tim Lueckenhoff to get amateur mixed martial arts legalized in Missouri. Mike Green trained with us and he took the first amateur MMA fight at the Rum Jungle downtown.

Now you're getting kids who have wrestled and kickboxed their whole lives and have done jiu-jitsu since they were 10. You're getting more of the guys starting younger and elevating the whole sport. Wait another five years and it will be even crazier. It's pretty awesome.

I guarantee you, call me at 5 a.m., I'm up. I'm working. You call me at 11:30, midnight, I'm up and it's not just hanging out. It's working. I've always been extremely goal oriented. I'm not one of the smartest guys in the world but I can guarantee you that I'm one of the hardest workers.

There are some good shows in St. Louis and there's some shows who are doing it right and then there are some shows that aren't doing it right. To see a lot of these shows and how they're ran, it sucks. You think people would take a little more pride; letting the fights happen in the audience and smoking going on. You're going to have some of those fans who will never come back because that is what they saw. There are a lot of people, not just me by any means, from the promotion side of things that work their butts off and have earned these fans. If the fans go to a show and see riots or a bunch of people who aren't handling themselves correctly, they'll never go back. And there are so many first-time people who will never go back because of that taste in their mouth.

It's not rocket science.

A lot of people hear one side of every story. They have not met me or been to our place. Until you meet me or until you deal with me, then judge for yourself. A lot of people are going to hate us or watch us because we're successful and they're envious and that's a shame because they should just try to learn.

Business has never been better. I'm extremely motivated and the competition drives me; just being the best and doing it right. The drive is there more than ever. If you would have told me we were in this position five years ago I probably wouldn't have believed it. In another five years I want to be even bigger and better.

At the end of the day, everybody hates the Yankees and we're the Yankees.