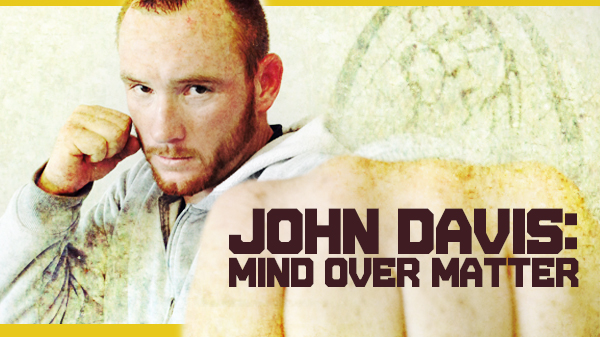 John Davis: Mind Over Matter
Much like his weight, John Davis' MMA career has had its ups and downs.

After two false starts, the 32-year old Davis will finally make his pro debut Friday night when Rumble Time MMA returns to the Ameristar Casino.

In his first crack at the pros, Davis' opponent left the building shortly before their scheduled fight and his second attempt was cut short by an injury he sustained in training. Davis was scheduled to make his pro debut on November 3rd at Cage Championships, but as fate would have it, his opponent had a change of heart.

"I had sold over 100 tickets, I had a great cut, I was in great shape," Davis said. "I showed up to weigh-ins, my opponent was there, everything was fine. Showed up to fight night, everything was fine, they called a rules meeting and my opponent decided to leave."

Fortune would once again turn on Davis as he was preparing for a second pro debut. Originally scheduled to fight Juan Parra for Rumble Time, Parra got injured a few weeks out from the fight. After an opponent change, Davis continued training.

"I was at 21st Century sparring with Pat Benson," Davis said. "A freak deal, I came down on top of his knee and separated my sternum from my ribs."

Come Friday, Davis will step into the cage against someone whom he's more than familiar with; former student and protege, Harlan Feutral.

"Harlan was my student for three years." Davis said. "We trained together, we bled together, we cried together, we fought together."

The two have a long history together having trained side-by-side for many years at Battleground MMA in Pacific until a rift developed when Davis made the decision to move his training to Steve Berger's gym just down the road.

Now, almost 16 months after his last amateur fight and departure from the team and in midst an ocean of bad feelings, the two will square off in the main event for Rumble Time Promotions.

"There was some bad blood exchanged when I came to Berger's to better myself, some feelings hurt over that." Davis said. "It became a situation where, if the situation presents itself, we'll take the fight."

After his last fight in April of 2012 with KJ Jones, Davis realized there were a few things he needed to work on, primarily his wrestling and jiu-jitsu.

"Down there I didn't have that." Davis said. "(Battle Grounds coach) Brian (Kain) is a cardio freak. Brian could get me in shape, but I was missing some things. I had to come here to get better. If I was going to turn pro and take this seriously, I had to get better."

While it was a difficult decision to leave, Davis sought out Berger, a St. Louis MMA legend, and his growing stable of pro fighters.

"I was the best at where I was, and to be better you have to go where guys are better than you." Davis said. "I had no wrestling, very little jiu-jitsu. I come here and now I wrestle with Chris Heatherly, Nick Zona, Tommy Sthair. Guys that are all collegiate level wrestlers. Chris Heatherly is a freak when it comes to wrestling. The jiu-jitsu from Berger and guys like Ryan Stocks. It just makes me better."

Friday night at Ameristar will be Davis' first official fight with the team from Berger's MMA,

"My corner has always been Harlan, Brian, and Sid (Gee)," he said. "When I fought 'Tuelle and KJ, those guys were in my corner. When I decided I had to get better is when people got pissed."

With the past being what it is, Davis is focused on the now. He feels he knows Feutral's game inside and out and one thing is for certain, Feutral is hard to put away.

"Harlan has a great chin," Davis said. "When I was coaching him there were several times he'd come back to the corner completely rattled. He's really long, 6 foot 1, he's just a tougher fight."

While Davis cannot control what happens with his opponents, one thing he's very capable of bending to his will is his weight.

"When I received this phone call from (matchmaker Mike) Rogers I went upstairs and jumped on the scale and was 212." Davis Said. "He called me back and said this fight is at '55."

With seven weeks to go until fight night, Davis knew a 60-pound cut would be a near impossibility. After discussing it with his camp and with Rogers, both fighters agreed to a catch-weight of 160. At ten days out Davis was 16 pounds over and on track to hit the goal, a weight cut of almost 52-pounds.

A three sport athlete in high school, he graduated at 172-pounds, but within three months he had ballooned up to 210.

"I just went from working out every day to drinking beer and eating pizza rolls." Davis said. "When I got married to my wife I was 225. I put on some more weight. My wife got pregnant with our son and I put on some more weight. Heaviest I was was 260."

After a suggestion from a friend, Davis joined 21st Century Martial Arts.

"I told Benny Voyles I just wanted to work out. I just wanted to lose some weight" Davis said. "Seven months later I fought my first amateur fight at 170 pounds."

Davis lost 90 pounds in seven months simply from changing his diet and working out at 21st Century. Though able to control it some now, his weight still yo-yo's.

"My weight is all over the place," he said. "I can be 200 pounds one moment, and 185 the next, and then be 170. For this fight I didn't cheat at all, I ate completely organic."

On weight, focused on getting his first official fight in the books, Davis is set.

Issues will be settled on Friday night.

"Harlan's tough, that guy has heart," Davis said. "That's one of the things I noticed when I coached him. That guy has heart. That's what makes the fight interesting. I will tell you one thing though, you will see a different John Davis on Friday night."