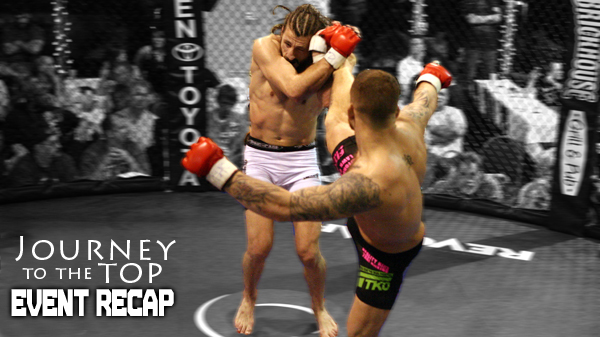 Journey to the Top - Event Recap
Two local pros continued their journey to the top on Friday night as Cage Fighting Events took over the Heart of St. Charles.

The five pro, seven amateur fight card showcased some of the best from the area and beyond. For video interviews with several of the night's winners, be sure to check back Monday.

In the main event, Chris 'Stump' Heatherly remained undefeated as he grinded out a unanimous decision victory over Gert Kocani in a welterweight showdown.

Heatherly, out of Fit or Fight MMA and South Side Fight Club, nearly finished the fight in the first round. After getting a takedown he eventually worked a head and arm choke that Kocani defended perfectly. Heatherly eventually took Kocani's back and began to reign down elbows. But Mike England stopped the fight, warned Heatherly for strikes to the back of the head and stood things back up. Heatherly followed with a head kick and a wild swing before securing another takedown to end the round.

In the second round, Kocani ended up in Heatherly's guard for some time and eventually sank a tight choke, but it was brief. Heatherly transitioned nicely and delivered some significant blows from half guard.

In the third, Heatherly secured another early takedown after a Superman punch. Heatherly spent the bulk of the round in Kocani's guard and pushed through for the victory.

The win improved Heatherly to 5-0.

"I think the difference was what we saw going into the fight, that Stump was a little bit better in every single aspect," Fit or Fight head coach Steve Berger said. "Obviously we knew he was going to be the better wrestler. When I watched (Kocani's) standup, the guy is tough, tenacious, had a longer reach, but I knew Stump's athleticism and his technique that he will be able to get in and all we really cared about was getting in and getting the body lock and taking him down, which he did very well."

Though not flashy or obvious, but Heatherly's showcased much-improved jiu-jitsu on the night.

"We've worked a lot and I think he's turned into a pretty good jiu-jitsu player," Berger said. "I think that he still has that wrestler mentality. He likes to sit in the guard and he likes to bang. I'm always yelling at him to pass the guard and go from there. I was very proud to see him take him down go straight to the side mount and he held tight there."

In the co-main event, and an early contender for Fight of the Year, Destruction MMA's Alex White gutted out a split decision victory over Chicago's Adam Ward.

Ward, out of Gilbert Grappling in Chicago, nearly handed White his first career loss in the first round.

Ward picked up an early takedown, pinned White against the fence, and delivered some devastating elbows that opened up a cut on White's head. Ward continued to do damage before the fight got back to its feet as White was bleeding profusely.

In the second round, White did a much better job of closing the distance and got the better of the exchanges. Ward worked from the clinch and eventually secured a nice takedown late in the round.

White came out in the third on a mission. He landed a nice knee followed by a handful of punches that began the reeling process for Ward. Ward was content to pin White against the cage, but once White broke free he pressed forward and landed some nice, crisp shots that had Ward wobbling. White continued to find a way to land punches and put constant pressure before Ward got a takedown in the final 20 seconds.

The win improved White to 5-0.

"That was a tremendous fight for Alex," Destruction MMA coach Joe Worden said. "What most people didn't know is that he came into this fight, three weeks ago he hurt his hand real bad. We thought it was actually broke but we took the fight any way because we needed the fight and (Ward) stepped up. He dug deep. Never in (White's) career has he been put on his back and cut like that. The second was close. That was where it was at. In the third round I didn't know how (Ward) was still walking. The kid had heart and he fought. Alex was more tired in the third round than I have ever seen him but he was still pushing the pace. If Alex is 100-percent, it's going to take a top-level guy to beat him."

After dropping his last fight to Chris Heatherly, welterweight Sal Woods got back on track in impressive fashion.

TJ Thomas shot in on Woods to start their fight and Woods (7-13) immediately sank a tight guillotine. Thomas barely had time to defend it as he went to sleep and Woods got the victory just 20 seconds into the fight. Woods is 3-2 in his last five fights losing to Heatherly, and The Black Spartan with victories over TJ Thomas and Garrett Gross.

Jake Buehler earned his first win as a pro with a devastating knee in the second against Josh Stewart.

Buehler had landed some nice knees to the body while in the clinch with Stewart pressed against the cage. Eventually, the Hahn MMA product saw is opening and landed a big shot that sent Stewart down and England stopped the fight.

Buehler showcased some sharp striking and much-improved takedown defense in the first round. Stewart finally got the takedown he had been looking for late in the round and also landed some nice shots to the midsection as it came to a close.

"We changed up some things with Jake. He's always had really good hands but people caught up with his wrestling," Hahn MMA's coach Kevin Hahn said. "We've been working his clinch game and tonight he put it all together and we have him wrestling better in the takedown areas. He finally really used his hands. He's always had them but was reluctant but tonight he looked complete. I'm very happy. You can't ask for much more than that."

Hugh Pulley made his much-anticipated pro debut and did not disappoint.

Pulley, out of Modern Combat System, secured a TKO victory 33 seconds into his fight with Malcolm Smith when he landed a big knee to the head after a brief scramble.

"Hugh has developed some knock out power know that he can use his other appendages," Modern Combat Systems coach Jared Daniels-Block said. "He's worked on his boxing skills a lot. Physically, he's really explosive and no one can hold him down very long in the gym. He did a good job of keeping his chin down and throwing those jabs out to create movement. When it did go to the ground, he was quick to take his back and quick to land those shots. When it stood up, he saw his opportunity and took it with the knee."

On the amateur side, Wally Eiskant defeated Brian Klenc by unanimous decision. Brian Duncan got a submission victory over Brian Edwards. Ben Chesser showed perserverance and nice jiu-jitsu in his win over Donte Butler. Antion Johnston won by decision over Quentin Garrison. Eric Vasquez won by unanimous decision over Derek Clardy. Scott Ettling got a second-round submission win over Bruan Graves. Hard-hitting Montuelle Prater won by decision over Aaron Brown.

Cage Fighting Events will return to the Heart of St. Charles on May 24.