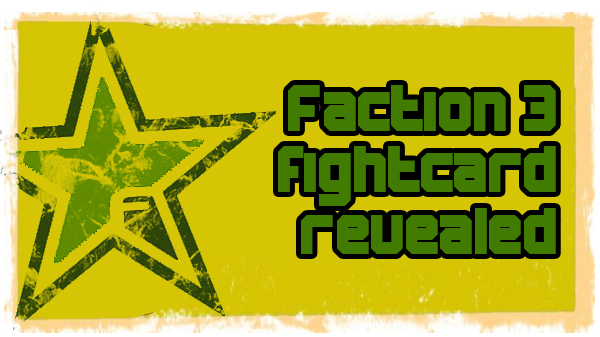 KJ Exclusive - Faction 3 Fight Card Revealed
Matt Jordan let us have a peek at the Faction 3 Fight Card, and it is stacked! It features amateurs from some of the best gyms in the area including: Destruction MMA, St. Charles MMA, Southside Fight Club, among others.

In the Main Event Wil Alfaro will be taking on the Spire #1 Bantamweight, Fierce Taylor for the Faction 135lb Title.

Taylor is fresh off a controversial draw with Damien Newman at Fight Me this past Friday and recently overtook Jake Constant as the #1 bantam in the region. Alfaro is the Spire "Rookie of the Year" after an incredible 2011 that saw him improve his record to 7-0.

In the co-main, Bil Dwyer out of Defiance MMA will challenge Josh McGrotty for the Faction 205lb Title. Both of these guys like to bang, so this should be a war.

Jake Duff will be taking on KJ Jones for the lightweight title, Donte Butler and Lucas Fulk will do battle for the flyweight belt, and Charles "Kong" Rodgers will take on Brandon Gibson in a match-up of two super heavyweights.

Also fighting Damien Newman, Brandon Howard, Travis Draper, Scott Furtell, and Cory Hunter.

Here is the full card:

Fierce Taylor vs Wil Alfaro - Faction 135lb title
Josh McGrotty vs Bil Dwyer - Faction 205lb title
KJ Jones vs Jake Duff - Faction 155lb title
Donte Butler vs Luke Fulk - Faction 125lb title
Charles Rodgers vs Brandon Gibson - Faction 265+ title

Brandon Howard vs Damien Newman
Thomas Campbell vs Cory Hunter
Travis Draper vs TBA - K1
Chris Gideon vs Nick Darnell
Cory Tinnon vs Justin Yacko
Eugone Jones vs TBA
Tim Brazzle vs Scott Furtell
Dustin Beardsly vs Zach Tieberis
Devon Thomas vs Bryant Hurt - K1
Adam Muffler vs Jayson Pohlman
Chris Causey vs Mike Lobosco
Ryan Green vs Jason NEwman
Josh Augustine vs Tyler Motes
Tony STanley vs Clifton Stock

Faction 3 will take place on May 11th at the Moolah Shrine Temple in West St. Louis County.