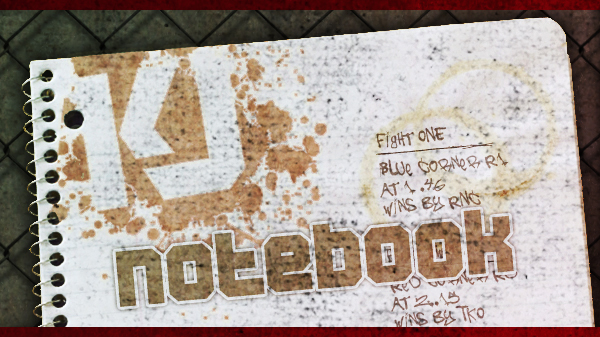 KJ Notebook: 2014 Pro Previews
By
Staff
| Knuckle Junkies
News dropped earlier in the month that local welterweight Tyron Woodley would finally get the fight he's been asking for: Carlos Condit.

Woodley launched a full on assault on the UFC President Dana White campaigning for the fight. The ATT welterweight took to social media to make his case with a barrage of tweets, and interviews. White referenced "15 text messages a day" from Woodley in the UFC on Fox 9 post-fight interviews.

Woodley vs Condit will be the co-main event to the UFC welterweight title between Johnny Hendricks and Woodley's teammate Robbie Lawler at UFC 171 in Dallas, TX.

Although currently unranked, a win over Condit could put Woodley next in line to challenge for the title.

---

Wasting no time, St. Charles MMA flyweight Alp Ozkilic will return to the octagon next month. Ozkilic will take on newcomer Louis Smolka at UFC Fight Night 35 slated for Jan. 15.

Held in Daluth, Ga., UFC Fight Night 35 is headlined by Luke Rockhold vs. Constantinos Philippou. The night's main card will air on FOX Sports 1, with prelims (where Ozkilic is expected to fight) streaming on the UFC's soon-to-launch digital network.

In his UFC debut, Ozkilic, a former Turkish national wrestling champion, defeated Darren Uyenoyama by split decision to kick off the UFC on Fox preliminary card on Dec. 14.

Smolka (6-0), out of Hawaii, turned pro less than two years ago but has already earned six victories via stoppage, with four by submission and two via TKO. His past four fights took place under the Pacific Xtreme Combat organization.

Ozkilic is 9-1 and has won four straight.

We caught up with "the Turkish Delight" this past weekend, here is what he had to say:



---

Light heavyweight Tony Souders will be doing a re-do on his pro debut for KC Fighting Alliance on January 25th. The sister company to Titan FC, KC Fighting Alliance has consistently featured some of the best Midwestern talent.

Souders out of Fit or Fight/Berger's MMA will be taking on Timehin Babaloa, also making his pro debut and was 8-2 as an amateur. Babaloa fights out of Crawford's MMA in Kansas City.

Also in January, a pair of Souders' teammates will be making the trip to Wisconsin to compete for North American Fighting Championships. Making the trip will be Yohance Flager and Jesse Geringer.

---

Rumble Time Promotions will begin their third year of MMA shows with four dates at the historic Chase Park Plaza. The luxury hotel in the Central West End has been home to the iconic Wrestling at the Chase which saw professional wrestlers like Buddy Rodgers, Ric Flair, Bob Orton and Lou Thesz do battle.

Local phenom and undefeated featherweight Alex White will headline the first of the Rumble at the Chase series on January 18th.

One of the featured bouts on the night will be between Sal Woods from CMMA taking on a very tough Vincent Eazelle from Geyston's Martial Arts in Springfield, IL. Woods is looking to rebound from a June loss to Jimmy Donahue. Eazelle is riding a 5-fight win streak since dropping his only career loss to Brian Davidson at Sharkfights.

Also on the card will be the pro debut of super heavyweight Charles Rodgers.

---

Shamrock FC will kick off it's 2014 also on January 18th. Coming off arguably their best year ever, Shamrock FC will continue to grow their company with up to four events at their marquee location River City Casino. Although no matches have been announced as of yet, Robert Washington is being advertised as one of the participants.

The "Beast" gave local fans the fight of the year with his clash with Zach Freeman from St. Charles MMA. Washington and Freeman slugged it our for three rounds before going to the jduges card. Despite the loss, Washington would parlay this into an opportunity fighting for Miami-based CFA before returning home in October to face Charon Spain.


Stay tuned to KnuckleJunkies.com for more information on upcoming cards, previews, interviews, and more.