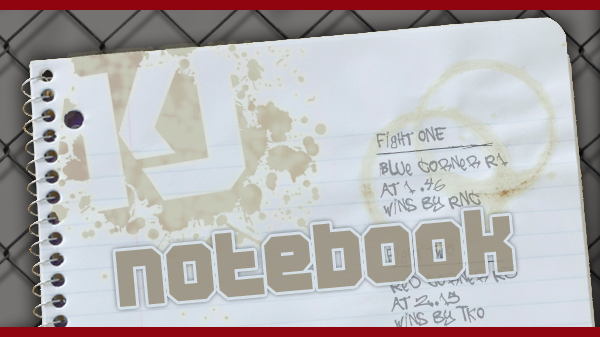 KJ Notebook: December 14th
Area fighters, here's another opportunity to display your wares for a national audience.
Global Proving Ground continues its search for the reality series "Warrior Island." Three casting calls for the show have been announced for the month of December, including one here in St. Louis. Casting calls will take place at Renzo Gracie Fighting Academy in Brooklyn, NY on December 15, Power MMA & Fitness in Gilbert, AZ on December 18 and Finney's MMA in St. Louis, MO on December 21.

Gym owner and coach Jesse Finney will host a casting call for fighters – which is open to all fighter from any gym – and it will take place at Finney's MMA in St. Tryout videos will be filmed from 10am - 2pm and from 4pm - 8pm.

All competitors that plan to attend open castings are encouraged to RSVP in advance. Every competitor that registers in advance will receive an email confirmation along with a questionnaire that will help them prepare for the casting call. Fighters attending in Missouri can pre-register by e-mailing James Jefferson at jefferson.j@globalprovingground.com

During each open casting call, show hopefuls will be required to demonstrate their fighting skills and then show of their personality when they tell why fight fans should vote them onto the show in a 1-2 minute video. All experienced fighters with a combat sports background are encouraged to try out. Training gear will be available for fighter use during filming and coaches are welcome to attend.

GPG will release additional casting call dates and locations in the coming weeks. Fighters that can't make it out to one of the open casting calls can personally submit a try-out video through the GPG YouTube page. Please visit www.GlobalProvingGround.com for video guidelines and additional details. If you are a martial arts gym owner or fight promotion that is interested in hosting an open casting call for 'Warrior Island', please contact James Jefferson at Jefferson.J@GlobalProvingGround.com. Like all GPG projects, the fans will decide who makes the cut by voting for their favorite casting call videos. The top 16 fighters, along with 4 alternates will be sent to 'Warrior Island.'

Weekend Warriors

While there are no local MMA events until January that doesn't mean the action has stopped. Several area fighters will be touching gloves this weekend.

First off, David Sharp makes his Bellator debut tonight against Eddie Castillo at Bellator 84 in Indiana.

This is a huge card for the organization as it features the finals of the heavyweight, lightweight and featherweight tournaments at the Horseshoe Casino in Hammond, Ind. This is also the last Bellator event televised on MTV2 as the organization will make the jump to Spike in January.

Also on Friday, Mark Fiore / Watson Martial Arts team member Benny Alloway will be competing on FuelTV as part of the UK vs Australia Ultimate Fighter prelims.

The former Fight Hard competitor recently competed as part of Team Australia under coach George Sotiropoulos on the regional version of the Ultimate Fighter. Alloway made it all the way to the semi-finals before losing to Team UK's Brad Scott. "Blanco" will be competing against former TUF teammate Manny Rodriguez, and making a bit of history as the first ever Aussie vs Aussie match in the UFC. A war of words has broken out on the social networks between the two leading up to the fight, and has many fans eager for this bout.

Kyle Watson has helped train Alloway and tabbed him a fantastic student.

"Benny is a great guy who is always upbeat and optimistic," Watson said. "But what makes him a tough fighter is that he has an open mind and not only listens carefully to his coaches, but he learns quickly and applies it."

Watson believes it's the young welterweight's work ethic that makes him stand out from the rest.

"That keeps him grinding it out at the gym, day after day," Watson said. "I am thankful that I have had him as a training partner."

Chicago plays host to Flawless Fighting Championships 2- Hated on Saturday.

ATT Evolution's Garrett Gross (2-2) will take on Arnas Sakocius (3-1) in a welterweight bout and Finney's MMA fighter and BJJ coach Lucas Lopes (26-15) will take on Petras Markevicius (29-8).

In an intriguing main event, Egidijus Valavicius (24-9) will face Cully Butterfield (11-3). Butterfield lost recently to top St. Louis prospect Jake Collier at a recent Rumble Time event

In the co-main event, Chase Beebe (22-8), who defeated JaVon Wright at Fight Hard, will face TUF alum Chris Tickle (8-5)

The fights get underway at 6 p.m. and can be watched live at www.flawlessfc.com.

Upcoming

Destruction MMA's Eric Irvin has the opportunity of his young career right in front of him. Irvin will face former UFC welterweight Charlie Brenneman on January 19th at Valley Fight League 40 in Altoone, Pa. Prior to making his UFC debut in 2010, Brenneman fought and won all three of his bouts with the Valley Fight League promotion. In the UFC, he went 4-4 as a welterweight before his release following a TKO loss to Kyle Noke at UFC 152. After 20 professional bouts at welterweight, Brenneman (15-5) has decided to drop down to lightweight.

Irvin is 5-2 and is coming off a fractured rib suffered in October. He is currently on a two-fight win streak with wins over Charon Spain and .

NFA Charity Planned

Following up on a very successful year for the Farmington-based Nemesis Fighting Alliance, the group has posted their first event for 2013. NFA's Beejay Smith announced the group will lead off their season with a charity event for Project Graduation. A follow-up to something the group started last year, raising money for the Fredericktown High School Senior class.

This past March, NFA raised over $5000 and donated a considerable amount of time to the Fredericktown High School Senior. This event will take place at the Fredericktown National Guard Armory on Saturday, March 9th. As of yet no matches have been announced.

Keep 'em coming

Voting is still underway at knucklejunkies.com for 2012 St. Louis MMA awards. Head on over to the main page and look toward the upper right corner for the icon. Voting is underway for Fighter of the Year, Breakout Fighter of the Year, Amateur of the Year and pro and ammy Fight of the Year.

Winners will be announced during the first week of 2013 and the two Fighter of the Year winners will receive gear from Fastest TKO as well as recognition from the community as the best of what St. Louis has to offer.