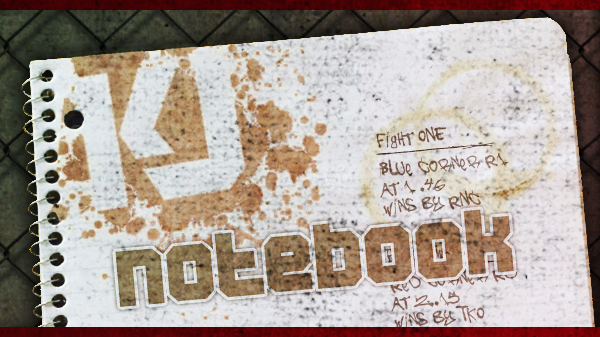 KJ Notebook: Giant-sized News
By
Staff
| Knuckle Junkies
Shamrock Fighting Championships is poised to end the year with a bang with three pro/ams at three different casinos in three months.

First up is Oct. 12 at Lumiere Place Casino, then SFC heads west to Harrah's in Kansas City. all before wrapping up the year with its second-ever show at St. Louis' River City Casino.

"We have some good stuff coming and we want to keep ramping it up," SFC chief Jesse Finney said. "This is what the TV people want to see; consistent pro shows in different cities at different venues."

The Oct. 12 card will feature the St. Louis debut of Luigi Fioravanti. Fioravanti is a nine-time UFC vet and will face another veteran in Josh Thorpe. Hard-throwing Rob Washington will take on Charon Spain in the co-main event. Diehard STL MMA fans may recognize Spain from his bouts with Zach Freeman, Eric Irvin, and Alex White. Other bouts on the main card include Bo Smith vs. Kyle Walker and Marc Godeker vs. Dennis Reed.

Two of Finney's, and St. Louis', best amateurs, Dustin Fischer and Joaquin Buckley, will highlight the undercard.

"Luigi and Rob are two of the top names in St. Louis and they are both fighting tough guys," Finney said. "I'm really excited to see Kyle Walker fight."

You can count on a few St. Louis fighters making the trip in November to Kansas City, including a possible headliner. The lineup for that card is expected to be released next week. In December, former "The Ultimate Fighter" contestant Adam Cella is slated to headline the River City card, in which 300 tickets were sold the day the event went on sale.

"The brand is doing well," Finney said. "People know what they're going to get. It's an experience, not just one or two fights. Everything from the weigh-ins to fight night is fun and exciting, they run on time and I think that is what sets us apart."

***

Always looking to up the ante, Jim Jenkins plans on doing twelve professional fights in November marking it the largest number of professional bouts from one promotion in a single month in recent memory.

Jenkins and his partners from MMASF will be hosting two pro/am events in the November with the first taking place on November 1 and a second to follow two weeks later. One of the best little fight venues in the area, the Heart of St. Charles, will play host to these events.

"My dream was to do 10 pro fights in one evening, but that didn't happen so we're doing six twice," Jenkins said.

MMASF had planned to run the event on September 21st, but after the closure of the St. Louis Sports Center the event had to be rescheduled.

"When it closed down the next available venue was the 1st and 15th," Jenkins said. "So I cut the card in half. Instead of 5 and 5 I bumped it up."

After it's all said and done, Jenkins will have put together over 62 professional MMA bouts over the course of five years in the business.

The November 1st card will feature Zach Freeman in the main event as well as local phenom Alex White who will participate in the co-main event. Both fighters will be taking on out of town competition.

Matches announced for November 1st:
Zach Freeman vs Brady Hovernale
Alex White vs TBA
Dan O'Connor vs Ken Porter
Corey Barriero vs Hugh Pulley
Matt Collum vs Malcolm Smith
Malshon Ball vs Wil Alfaro

The second card will follow two weeks later and will feature a busy Fioravanti taking on Tiawan Howard.

Matches announced for November 15th:
Luigi Fioravanti vs Tiawan Howard
Tony Souders vs Jacon McVey
Adam Meredith vs Joel Blair
Scott Futrell vs Clay Mitchell
Mateo Callazo vs John Davis
Cory Hauter vs Bo Kunz

***

St. Charles MMA's Josh Sampo will defend his Championship Fighting Alliance flyweight championship on Oct. 12. Sampo, whom many media outlets consider one of the top flyweight in the world, will face Sam Thao in the evening's main event, which will air on AXS TV.

The Wisconsin-based Thao is 7-1 with 4 KO/TKOs and is riding a four-fight win streak.

Sampo steps in at 9-2 and has won six of his last seven fights including victories over Alexis Villa and Antonio Banuelos.

***

Former Missouri Tigers wrester EJ "The Pretty Boy" Brooks returns to the cage October 25th in Des Moines, Iowa. Brooks (7-1) will be a part of the Resurrection Fighting Alliance card taking on local lightweight champion Johnny Case (12-4).

Brooks was KO'd on October 19, 2012 by Darrell Notched on the Bellator Fighting Championships 77 card in 21 seconds.

"I was knocked out with the first punch and didn't get to show anything" said Brooks.

Case has won his last six fights and is a tall opponent who is known to be a potent striker in the Hawkeye State.

"I have been training with tall guys like Case in Zach Freeman and Jimmy Donahue. It has been a great camp and I'm ready," Brooks said.

Another familiar name on the co-main event will feature UFC veteran and former The Ultimate Fighter 15 contestant, Justin "The American Kid" Lawrence. Lawrence now 4-2 will be squaring off against featherweight champion Luis Saldana (7-1). The RFA event will be held at the Hy-Vee Hall in downtown Des Moines, Iowa and televised on AXS TV starting at 7:00pm CST.

***

After a successful night under the stars at Forest Park on Saturday, Rumble Time Promotions heads back to the comfy confines of the Ameristar Casino for a one-of-a-kind night.

If you like striking, then there is nowhere else to be on Oct. 11.

Rumble Time will be putting on a unique event; on its main card there will be two pro Muay Thai fights and four pro boxing matches. According to Tim Lueckenhoff, the Executive Director of Missouri Athletics, pro Muay Thai is a rarity in this state, with only a handful of pro fights held in the last five years.

The Rumble Time undercard will feature seven or eight K-1 and MMA bouts

***

Keeping up on what has shaped up to be a prosperous 2013, Jimmy Donahue will be traveling to London, Ontario, CA to take on the undefeated Chad Laprise. Donahue will be making his promotional debut for Provincial Fighting Championships, the Ontario-based fight promotion, on October 25.

Donahue is no stranger to international fights, having competed in Brazil for the Jungle Fights organization as well as competing on an Ultimate Fighter-like reality show in Mexico. Donahue is riding a two-fight win streak, both coming this year, and has won five out of his last six fights, all in the first round.

Laprise, a Bellator alum, is considered one of Canada's top lightweight prospects and sports a undefeated 7-0 record including five first round stoppages.

***

Farmington-based Nemesis Fighting Alliance returns October 19th.

Last April the NFA matched amateur MMA and national recording artist The Greek Fire to provide a full night of entertainment to the 1600+ at the Farmington Civic Center.

No stranger to charitable work, the NFA will be partnering up with the St. Francois County Shop With a Cop program. Shop With a Cop provides a way for underprivileged children to shop for holiday gifts, play games, mentorship and a whole lot more. Proceeds of every ticket will go directly to the organization as well as raffles, and other fund raising to occur at the show.

In his last amateur fight, Damian Newman will drop to 125, where he will compete as a pro, and fight Sheldon Smith in NFA's main event.

***

A special shout-out to Finney's MMA Brazillian Jiu-Jitsu instructor Ezra Lenon. Lenon recently received the prestigious invitation to compete in the 2013 Abu Dhabi Combat Club Submission Wrestling World Championship in Beijing, China.

Joining Lenon will be Gracie Humaita purple belt Nick Schrock who won the World Pro Trials in San Diego on Sunday and will be receiving a spot in the prestigious ADCC tournament.

***

Editor's Note: Do you have an item you would like mentioned in an upcoming KJ Notebook? Please submit info to info@knucklejunkies.com or call us at 314-669-4MMA. If we do not publish a notebook prior to your event, then we will gladly mention it on Facebook and Twitter.