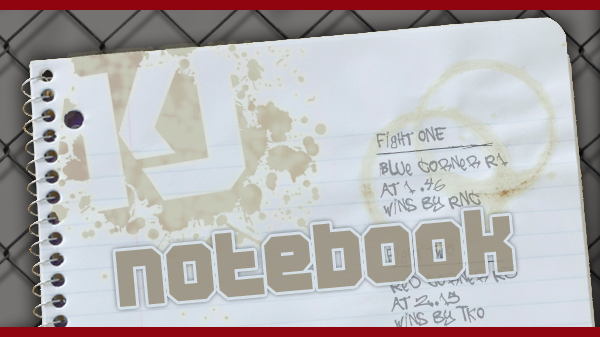 KJ Notebook: Journey to the Top postmortem
Gert Kocani made his St. Louis debut in last Saturday's Cage Fighting Events main event and waiting for him was a stout and sturdy 'Stump.'

Chris Heatherly (5-0) earned a unanimous decision victory and in doing so, controlled every aspect of the fight, especially on the ground.

On the night, Kocani was a lightweight walking around in a welterweight's clothes and the difference showed as Heatherly wisely used his advantage in both bulk and power.

"Gert walks around at like, 168," Lugi Fioravanti, Kocani's coach and owner of Kakuto Dojo MMA said. "He had to eat a lot more just to get to 170 but he needed the fight."

But Fioravanti was quick to add that there was more to the outcome than just a weight advantage.

"I was really impressed with Heatherly's ground game," the American Top Team BJJ black belt and 9-time UFC veteran said. "The head and arm choke he had in the first round was very impressive. Gert has trained a long time against some high-level guys and he was still able to get that. I was also impressed with the way Heatherly passed the guard. He just smothered Gert. Gert said (Heatherly's) hips were real heavy and he just couldn't move him. Chris stayed heavy and he really brought the fight to Gert."

Hopefully Kocani will get back on the horse soon and grab a local fight against a lightweight. As for Fioravanti, he returns to the cage on May 18 for Flawless Fighting Championships in Inglewood, Calif. It will be his first fight since losing to Paul Daley in 2011.

Was this the best 'Stump' we've seen?

Many think so. Thanks to a more diligent strength and conditioning commitment, Heatherly looked fairly fresh for all three rounds, which was far stretch from his three-round decision performance against Sean Huffman in 2012. He was also more controlled, disciplined and patient. Heatherly has fought at many weights and while this one was at 170, he has flirted with the idea of lightweight as well. To these eyes, Heatherly looked strong as a weltwerweight. Would another 15-pound cut take away from that? Physically, Stump is small for 170 but his strength and athleticism is greatly overlooked.

White + Ward = war

Alex White and Adam Ward's tremendous fight at 145 in the co-main event all came down to how you saw the second round.

No question Ward dominated the action in the first, putting the Destruction MMA standout on his back for nearly the entire five minutes, dropping bombs, and splitting White open with a nasty elbow.

Same could be said of White's third round, where he nearly knocked the Chicago-area fighter out on his feet. You could see referee Mike England was seconds away from stepping in and calling a halt.

But back to the second round, which was nearly divided in half. In the first portion, White came out seemingly unfazed from the punishment he suffered just minutes before and started to work his combinations. In the second portion, Ward secured another patented takedown and once again went to work, but near with the same ferocity that was in the first.

The judges earned their paycheck with the fight alone as White walked away with the split decision victory as the fight could have easily gone the other way. White injured his hand three weeks prior to fight and banged it up pretty good again early on against Ward. Will there be a rematch on the horizon? Very unlikely. But Ward (10-5), who nearly made the cut for the Ultimate Fighter in early 2012, has nothing to hang his head about. He lost a close decision, on the road, against one of Missouri's top up-and-coming pros.

Let's hope White's (5-0) hand heals soon and he's back in action.

What's next for Pulley?

Was Hugh Pulley just simply too much for Malcom Smith? It certainly appeared so as "The Wolverine" came out firing on all cylinders with a win by TKO in just over 30 seconds in his pro debut. Smith is no slouch by any means, despite his 0-2 record and 49 seconds of cage time as a pro. It just may mean the Pulley is that good.

Hopefully with such a quick win under his belt we will see Pulley back in action again very soon. Jimmy Donahue, who was scheduled to fight Sal Woods on the CFE card before a nasty staph infection forced him to pull off, comes immediately to mind as an opponent for Pulley. The two were rumored to be slated for a fight on this very card. Donahue is a much more seasoned fighter with dynamic striking ability. But there's no denying Pulley's athleticism and explosiveness.

Whoever the welterweight tangles with next better be prepared.

Powerful Prater

There was plenty of hum behind the scenes over Montuelle Prater's performance during the amateur undercard.

Prater won a unanimous decision over Aaron Brown. What got most people's attention was the devastating power Prater possesses in his two hands. We won't go as far as to call it Tyson-esque, but as far any other amateur on the undercard, there was distinct difference in Prater's power and ferocity. Credit goes to Brown for hanging in there after a brutal first round. A glaring hole in Prater's game could be his cardio. There was little left in the tank in the third round and after the fight it looked as though the Southside Fight Club was going to unleash his breakfast and lunch all over the cage floor. Instead there was little celebrating as Prater nuzzled up with a trash can back in the locker room for a considerable period of time.

Once Prater puts all of the tangibles together, look out.

Slick Sub

Donte Butler was giving Ben Chesser fits. Butler repeatedly popped quick jabs and his striking was a step or two ahead of his opponent. But Chesser wouldn't fold that easily, showing a solid a chin and reinstalling the fact that with sound jiu-jitsu, you're never out of a fight. Chesser was looking for a submission during the first round but it wasn't until the second when he sank it in tight. Butler got a little sloppy in Chesser's guard and Chesser locked in a nice triangle variation that sealed the victory.

Chesser's resiliency and talents on the ground is going to make for a bad matchup for any area amateur.