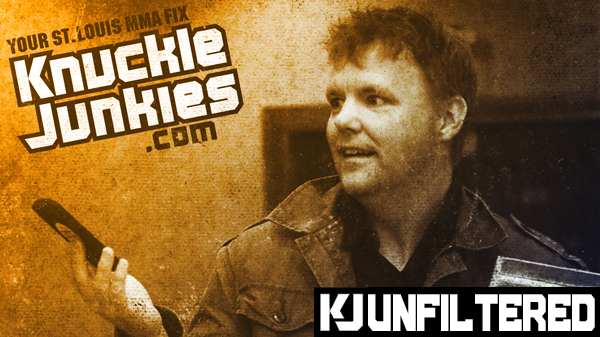 KJ Unfiltered - Episode 10: Jim Jenkins
Jim Jenkins is a lot of things and passionate about the sport of MMA is right up near the top.

The longtime promoter and current head of MMA Sport Federation, Jenkins is nearing the century mark for the amount of shows he has been involved with.

Always known for his nose for good matchmaking, Jenkins is having a monster of a show, Sept. 20 at the St. Louis Center in Affton. Those who purchase $25 tickets will enjoy an evening of eight pro fights and six amateurs. The pro side of the card features some of the most respected talent in the St. Louis region.

The card is highlighted by the return of Zach Freeman in the main event. Freeman was the 2012 STL MMA Awards Pro Fighter of the Year. Freeman jumped out to a 7-0 start to his career before losing to Jake Lindsey on a June 2013 Titan Fighting Championship show. Freeman will face submission ace Mike Budnik (13-7).

Jenkins was guest No. 10 on KJ: Unfiltered where we talked about the card and also the St. Louis MMA scene, he gives a promoter's perspective on what young fighters should watch and much, much more.

For ticket information for Freeman vs. Budnik, call 34-267-2204 or visit http://www.mmasportfederationusa.com/




And remember, iTunes users can subscribe by clicking here. Each episode will be automatically downloaded to your device as soon as we upload them.