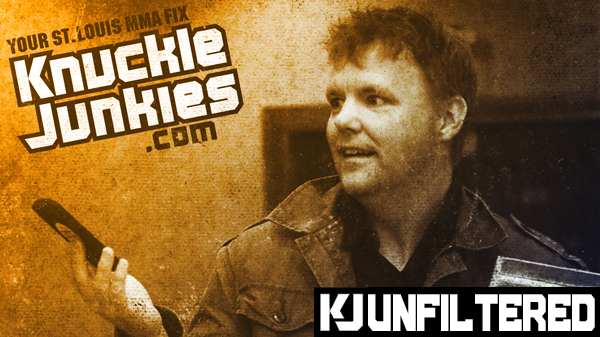 KJ: Unfiltered Episode 4 - Ezra Lenon
KJ: Unflitered welcomes its fourth guest, Brazillian Jiu-Jitsu ace, Ezra Lenon.

Lenon is the lead BJJ instructor at Finney's MMA. He came to St. Louis from American Top Team in Columbia, MO., and is a black belt under Francisco "Kiko" France. Lenon received his black belt from Ricardo Liborio. Lenon, who received his black belt in less than five years, has gone on to win dozens of tournaments and grappling matches.

His most notable win so far was against BJJ legend and top-ranked grappler Pablo Popovitch at the Pan-Am's in New York.Some of Ezra's other accomplishments include: Pan-Am Best Of The Best Absolute Gi Champion, 4-time Arnold Grappling Championship Advanced Division No-Gi Winner & Absolute winner, 10-Time NAGA Champion, Missouri State BJJ Championship Super-fight Champion, and has won numerous absolute tournaments.

One of the most decorated feather's in Lenon's cap came in October when he was invited to compete in the prestigious Abu Dhabi Combat Club) Submission Wrestling World Championships in China

So, before you stuff yourself full of turkey and dressing, belly up and listen to KJ: Unfiltered where Lenon talks about his background in rural Missouri, the importance of diet and nutrition, and, of course, some BJJ.



And remember, iTunes users can subscribe by clicking here. Each episode will be automatically downloaded to your device as soon as we upload them.