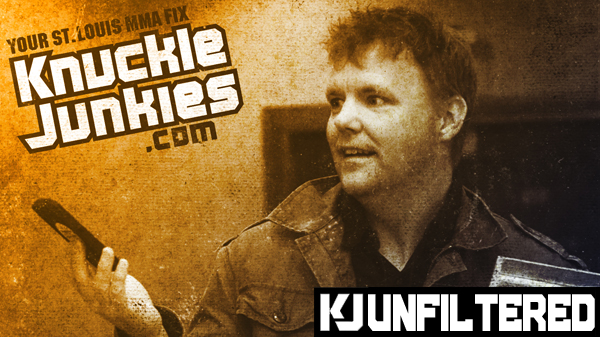 KJ: Unfiltered Episode 5 - Matt Ricehouse
After a couple weeks off pounding food and running up our credit card debt, KJ: Unfiltered returns.

For Episode 5, we corralled St. Louis pro Matt Ricehouse.

Ricehouse, one of the superstars at St. Charles MMA, is 6-1 in his career with five fights under the Strikeforce banner. Along the way, Ricehouse earned wins over the likes of Ryan Couture, and Bill Cooper. In his last fight, Ricehouse took on and lost a decision to Bobby Green (who has gone on to win three-straight, all in the UFC) in August of 2012 for the first and only loss in his career.

UFC flyweight and teammate refers to Ricehouse as, "the coach whisperer" and that Ricehouse has "the loudest mind of any person I know." Hopefully, you will get a snippet or two of that in this conversation.

The Vaghi brown belt delves in his career, gives some insight into Sampo's UFC debut, dropping to 145-pounds, and answer's the questions that everyone asks (though, he doesn't mind hearing); "Dude, when are you going to fight again?"



And remember, iTunes users can subscribe by clicking here. Each episode will be automatically downloaded to your device as soon as we upload them.