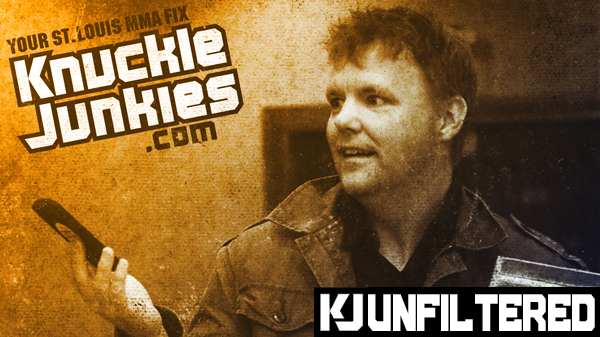 KJ: Unfiltered Episode 6 - Kyle Watson
We tracked down guest No. 6 at his brand new gym in the Central West End.

Kyle Watson has set up Watson Martial Arts at a new location at 3942 Laclede Ave. in St. Louis and it features over 2,500-square feet of mat space.

Watson is the former head Jiu-Jitsu instructor for the H.I.T. Squad, a gym run by nine-time UFC Champion Matt Hughes. After three and a half years of successful development of students and fighters at that gym, Kyle moved on to pursue his dream of owning his own school.

Watson, a BJJ black belt under Jack McVicker, is a former cast member of "The Ultimate Fighter" and has fought professionally all over the globe.

We talk to Kyle about the new gym, life back in the day at the H.I.T. Squad, and much more.

You can find out all you need to know about Kyle at http://watsonbjj.com/.



And remember, iTunes users can subscribe by clicking here. Each episode will be automatically downloaded to your device as soon as we upload them.