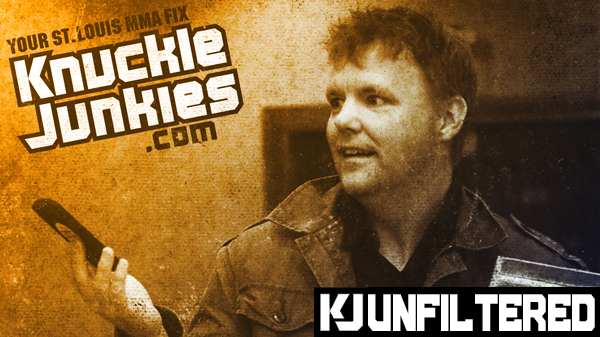 KJ Unfiltered: Episode 9 - Lance Benoist
Six hundred and twenty-three days.

That's how long it has been since St. Louis' Lance Benoist has stepped into the UFC octagon.

The St. Charles MMA welterweight makes his long-awaited return to action Saturday in Albuquerque, New Mexico when he fights Bobby Voelker at UFC Fight Night.

Voelker, out of Kansas City, hasn't won a fight since July 2011. Benoist himself is looking to snap a two-fight skid after starting his career with six-straight wins. Voelker throws punches in combinations, landing just over four and a half strikes per minute, but what generally hurts him is his lack of defense. He defends only 41.34 percent of strikes against him, and he absorbs 6.59 strikes per minute, which means for every strike he lands, he's eating two in return.

We sat down with Benoist last week for the latest episode of KJ: Unfiltered. Always colorful and candid, here are some excerpts and you can listen to the whole podcast below.

"I never really stopped training even when I broke my leg …I'm kind of tired of all the training and I'm ready to see some sort of result from all of the time I put in."

"There's always pressure. It wouldn't make it any different if I had won my last two fights or if I had lost my last two fights, there's pressure to perform and pressure to succeed. You just want to win and I know I have done my best to prepare and I know I will go out there and give my best."

"I think that's why I still have a job. I do think I'm an entertaining fighter and I take pride in that."

"I'm a huge gamer. Part of fighting and training is relaxing and recovering. They go hand in hand and I choose to do part of my recovery sitting on the couch playing video games. Everyone has their own thing. I never mind a great video game. It's a great way to escape out of your own head and go to another world for awhile."



And remember, iTunes users can subscribe by clicking here. Each episode will be automatically downloaded to your device as soon as we upload them.