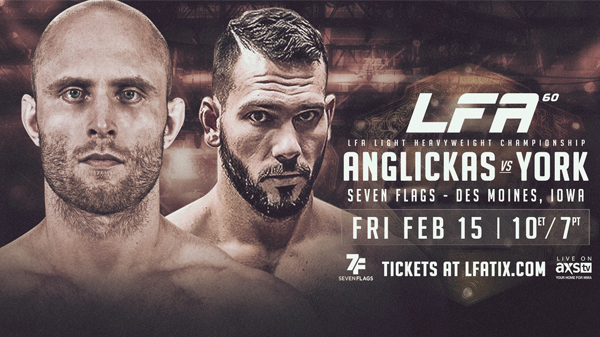 LFA 60 - Anglickas vs York
Julius Anglickas has seen this pathway to MMA esteem twice before.

Jake Collier and Andrew Sanchez were two St. Louis-area fighters who parlayed winning an RFA world championship into a career in the UFC.

Now it's his turn.

On Friday, Anglickas (5-1) will face Clayton York (5-0) in the main event for the vacant light heavyweight championship at Legacy Fighting Alliance 60.

"I was there when Sanchez won his," Anglickas said. "It makes me feel like I am on the right path to getting somewhere. They did it and then the next stop for them was the UFC. So I'm kind of on the same path, lets hope."

LFA 60 takes place at the 7 Flags Event Center in Clive, Iowa. The main card airs on AXS TV. Also on the card is another local prospect as Dakota Bush (5-1) faces Jordin Hinman (7-4) at lightweight as well as heavyweight Byron Stevens from MCS will kick off the live televised portion of the card. Anglickas will be competing with a heavy heart, his grandmother passed away on Monday.

Anglickas has won four straight and all five of his pro wins have come by stoppage, including a third-round submission of Erick Murray Jr. at LFA 42 in June 2018. The 27-year-old most recently picked up a first-round TKO win in a Nemesis Fighting Alliance event in December.

The talk surrounding York is geared around his athletic prowess more so than his cage prowess. He has four of his first five pro wins by stoppage. The Oregon-based 28-year-old starred as a fullback and special teams player for Oregon State University before getting into MMA two years ago.

"I think I will be his hardest fight," Anglickas said. "He's a big, strong kid. He has a good jiu-jitsu game, but I don't see him as a big striker. When he takes you down he depends on jiu-jitsu. He slowly takes inch-by-inch-by-inch and secures the move or dominant position. He doesn't posture up and punch, punch, punch. I think he will have a harder time dealing with me. I'm not saying that my jiu-jitsu is better than his, but I do work with a lot of jiu-jitsu guys and wrestlers and I feel we will cancel each other out (on the ground) or at least I will give him a helluva time."

While York may be the better athlete, Friday night is not the NFL combine. There will be no bench presses or 40-yard dashes ran. Anglickas feels his overall combat sports skill level will trump anything thrown his way.

"I do feel that the only way that he's going to get me is if either all of the butterflies in my stomach are not aligned and I'm just freaking out and there is an adrenaline dump or he gets me in a jiu-jitsu move," he said. "Pretty much all day I have people taking my back because that what he likes. I'm sure he has some tricks up his sleeve. So for right now, I'm just assuming he's stronger than everyone else I've ever faced and his jiu-jitsu is better than anyone else's so, in reality, most likely when I go in, it will be something I can deal with."

Anglickas fights out of St. Charles MMA, a gym that has produced four different fighters that have gone on to the UFC and dozens of others who have dominated the regional circuit. Anglickas was born in Lithuania, moved to the United States in the summer of 2005 and went high school in New York. After wrestling in high school, Anglickas would wrestle two years at the College at Brockport in upstate New York and then at Missouri Baptist in St. Louis. It was at Mo-Bap that Anglickas met Alp Ozkilic, who was helping with the wrestling team there. Ozkilic was a staple at St. Charles MMA and fought four times in the UFC, becoming the first Turkish-born fighter to compete for the organization. Through Ozkilic, Anglickas was brought to SCMMA and his MMA career was born.

Anglickas won multiple titles as an amateur and was a two-time Golden Gloves boxer. His lone MMA loss, via submission in the summer of 2016, matured him. He knew if things were going to turnaround, it would be up to him and him alone.

"I expected the coaches to do things for me but at the same time there is like a hundred people at the gym with a hundred different interests," Anglickas said. "I realized my job is to recognize what I need and go up to the coach and let him know, yo I need more of this. I was cruising through practices. I may have been working hard but I wasn't going through those hard, grimy wrestling practices because I was getting tired in a lot of other ways. I can't wait for them to come up to me. I need to come up to them and let them know I need more of this or more of that and they can make it happen."

Anglickas is counting on getting his hand raised and bringing the LFA strap back to St. Louis will substantiate his place in the sport.

"I feel this validates all of the work I have put in," he said. "I'm in the main event, for a title, on a televised card, and on all the promotional posters, my face is on it. I need bigger things to open up and a win will put me on a different radar and it will open some different doors. I'm hoping to make (MMA) my job, to make this pay my bills. People say to keep MMA as a hobby but this what I'm trying to do so this is sort of like, all or nothing. There is no option except to win."

In 2017, RFA and Legacy FC merged to form LFA. The combined forces of LFA launched the careers of over 150 athletes that have reached the UFC.

The entire main card of LFA 60 will be televised live and nationwide on AXSTV at 10 PM ET / 7 PM PT. Visit LFAfighting.com for bout updates and information.