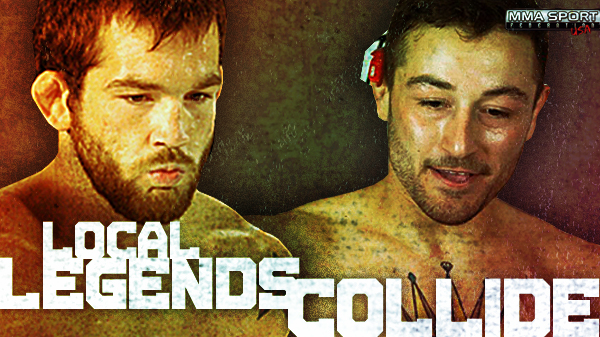 Local Legends Collide
In sports, particularly combat sports, it seems things have a way of falling into place. Most sports tend to operate off of a schedule. You know that your favorite baseball team is going to play every team in their league at some point in the season, and all the other teams in their division multiple times. Combat sports are different. Typically, it takes the desire for two combatants to want to fight each other, their management and coaches to agree on the match-up, and a promotion to want to host the bout.

On Saturday, Sept. 20, MMASF will host a bout that most would be surprised hasn't met all of the criteria mentioned above. Two super-tough, scrappy fighters who have been competing in the same scene, with over thirty pro bouts between them, and they have yet to face off.

Destruction MMA product Eric Irvin and CMMA's Sal Woods will square off in the co-main event for Jim Jenkins' MMASF: Freeman vs Budnik. The event will take place at Center St. Louis in Afton. The venue was formerly known as St. Louis Sports Center.

"As long as we have both been fighting in and around St. Louis, it's pretty surprising it's taken this long." said Irvin. "We've both fought in multiple weight classes too, so that hasn't been the reason. It just never happened."

Until now.

Woods was recently scrolling through social media and saw that Irvin had a fight that had fallen through, so he took the opportunity to open the door.

"I saw that a fight he was scheduled for had been canceled for some reason," Woods said. "I think it's a great match-up that the fans would love to see. So I said something along the lines of 'Maybe one day we can dance'."

That was just enough for Irvin to accept the proposal and shortly thereafter, Jenkins jumped on board and made it the co-main event for his biggest show to date.

Irvin and Woods have a lot in common when it comes to MMA. They have both been around the St. Louis area fight scene for quite a while, both have strong wrestling backgrounds, have the same scrappy nature, and have faced a lot of the area's top competition. Another thing they have in common; huge weight cuts.

Before training camps, both fighters were tipping the scales just north of 190 pounds. With the bout scheduled to be a 155 pounds, they have long roads ahead of them before stepping on the scale on Friday. At the time of interview, both had made a lot of progress and were around the 170 pound mark.

Although both fighters have a lot of confidence heading into battle, they have the utmost respect in each others abilities.

"I'm taking this fight very serious." Irvin said. "People probably don't give him enough credit because of his record, but the dude can fight. He's fought a lot of super tough guys. I mean c'mon, the guy fought Michael Chandler, Steve Berger, Tyron Woodley....."

Woods' opinion of Irvin is similar.

"He's a tough guy. I know he's dangerous," Woods said. "He's fought a lot of tough guys and he always comes to fight. He's a bit shorter and stockier, and he throws bombs. He's got a mean overhand."

Irvin feels that he is the more well-rounded fighter.

"Our styles are very similar, and we have the same major strength (wrestling). I just feel like mine is a little better," he said.

Woods' opinion of the same topic varies slightly from that of his opponent.

"I think the only way he can beat me is if he catches me with something big," he said. "I feel I'm a better all-around fighter, but I know he's dangerous."

Woods, born and raised in Granite City, trains under Steve Knogl, who was also his high school wrestling coach. One day at a practice, Woods saw some of the older guys getting each other in chokes and other submissions. When he asked Knogl what they were doing he said that he would show him once he was a little older. As soon as Woods reached adulthood, he came back to his coach and hasn't turned back. He never tested the waters of amateur MMA, turning pro right away.

Contrary to the 7-15 record Woods appears to have posted on a couple websites, he says it's not very accurate.

"There are a handful of fights from the state of Illinois that never got recorded," Woods said. "I'm pretty sure I'm actually 13-13 or somewhere close to it."

Irvin has also been with the same coach for his entire pro career. Joe Worden has been Irvin's coach, trainer, and friend since very early in his amateur endeavors.

"I was Joe's first pro fighter and we learned together. We made some good decisions, but we also made some mistakes along the way." Irvin said. "I think we have a better idea of how to handle things now and we are going to continue to make the right decisions to help me get to the next level."

Irvin sports a grizzled look about him. Built like a fire hydrant, cauliflower ear so severe it pushes his ears away from the sides of his head, and a majestic mandible mitten (beard) all let people know without having to ask that he is not a man to tussle with.

Woods possesses quite a surly look himself, though longer and more wiry. At 5-foot-11 with a 73" reach, he is the owner of a pretty gnarly pair of ears himself, a true badge of honor for those with a wrestling past.

The bulk of Irvin's camp has taken place at Destruction MMA, his primary training facility. Irvin has been putting in countless hours rolling and sparring with training partners Austin Knight, fellow Destruction pro Shaine Moffitt, UFC featherweight Alex White, and others. Understanding that it is good to get as many looks as possible, Irvin has made the trip north to Valley Park to get some work at Berger's MMA/Fit or Fight, and ventured west to Kansas City, visiting Glory MMA to work with UFC fighters Zac Cummings and James Krause. If that weren't enough, he also regularly frequents a local gym to do crossfit and is training for a half-marathon.

Woods, under the watchful eye of coach and trainer Knogl, has really been busting his hump to make sure his wrestling is in tip-top shape. Aside from getting reps from usual training partners Jordan Dowdy and Nick Dioneda, CMMA has brought in former Mizzou standout EJ Brooks and Nebraska All-American wrestler George Kirgan. Hugh Pulley, coming over for MCS, has stepped in to help Woods prepare for battle as well.

Both of these warriors appear to be set to test each others resolve and find out who is the standout veteran at 155-pounds in the St. Louis area. Don't miss out on this one, as it is sure to be an epic match-up. Tickets start at $25 dollars and can be purchased from any of the fighters on the card, Jim Jenkins at 314-267-2204, or at the door.

Photos courtesy of Sara Levin Photography.